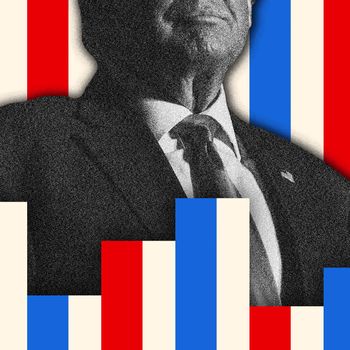 Still the one.
Photo-Illustration: Intelligencer; Photo: Getty
It's usually not a great idea to focus too much on any one political poll. But I'd make an exception for the New York Times/Siena survey published on July 31 for three reasons: (1) It's a high-quality, large-sample national survey, (2) it's top-line findings almost perfectly reflect the national polling averages (with Donald Trump at 54 percent, Ron DeSantis at 17 percent, and no other candidate above five percent), and (3) it arrived with a wealth of cross-tab data providing unparalleled insights into the perspectives of likely 2024 GOP primary voters.
What this poll demonstrates with relentless consistency is that this very much remains Donald Trump's Republican Party. Aside from the hard kernel of unshakable MAGA supporters (which the Times' Nate Cohn puts at 37 percent of likely GOP primary voters), sizable majorities of Republicans and Republican-leaning independents have internalized Trump's distinctive worldview. They don't just think America is on the "wrong track." They think the country is bound for destruction. They strongly mistrust political, economic, and cultural elites. They are opposed to ancient Republican shibboleths like free trade, internationalism, "entitlement reform," and immigration reform. And they aren't bothered by Trump's growing number of indictments.
The poll helps explain why Trump's most formidable rival for the nomination, Ron DeSantis, decided he had to try to "out-Trump Trump" with right-wing issue positioning and harsh culture-war rhetoric to have a chance. But it also shows DeSantis has failed completely to win over the very voters he has targeted. Despite his constant recent efforts to get to Trump's right, among self-identified "very conservative" voters, Trump's lead over DeSantis has swelled to 50 percent (65 percent to 15 percent). Trump has called the six-week abortion ban DeSantis signed in Florida "too harsh." But Trump is the preferred candidate of 70 percent of those who strongly support a six-week ban. Trump has quarreled with conservative Evangelical leaders, especially in Iowa where they are very powerful. But his lead over DeSantis is almost identical among both white-Evangelical (56 percent to 18 percent) and non-white-Evangelical (53 percent to 16 percent) voters.
There are fundamentally two sources of hope left for DeSantis: He still has strong favorability numbers among Trump supporters (69 percent favorable, 17 percent unfavorable) that could boost him if somehow Trump's campaign founders, and he can theoretically appeal to the quarter of Republican primary voters who are not "open" to supporting Trump for the nomination. But as Cohn points out, DeSantis's effort to outflank Trump on the right have cost him support among anti-Trump Republicans:
Mr. DeSantis has become a very familiar kind of conservative Republican. As with the Ted Cruz campaign in 2016, Mr. DeSantis has run to Mr. Trump's right on every issue. In doing so, he has struggled to appeal to the moderate voters who represent the natural base of a viable opposition to Mr. Trump ….




Overall, Mr. DeSantis holds just 32 percent of voters who aren't considering Mr. Trump, with the likes of Chris Christie, Tim Scott, Mike Pence, Nikki Haley and Vivek Ramaswamy each attracting between 5 percent and 10 percent of the vote.




Among the "Never Trump" group of voters who don't support Mr. Trump against President Biden in a hypothetical general election rematch, Mr. DeSantis only narrowly leads Mr. Christie, 16 percent to 13 percent.
DeSantis has also lost his lead among college-educated Republicans, now trailing Trump by a 23 percent to 40 percent margin in that demographic. DeSantis's shallow base of support is reflected in his poor showing in a hypothetical two-man race against Trump, whom he trails 31 percent to 62 percent. Perhaps not coincidentally, DeSantis's original "electability" argument for being the nominee is not faring very well: in the Times/Siena survey, 58 percent of likely GOP primary voters said Trump was best able to beat Joe Biden, compared to only 28 percent for DeSantis.
While the "rest of the field" candidates have pockets of strength and have made certain inroads in early states, the Times/Siena survey makes it clear how very far they are behind the front-runner, whose current percentage of the likely primary vote has meant certain victory in the past, as CNN's Harry Enten observes:
No one in Trump's current polling position in the modern era has lost an open presidential primary that didn't feature an incumbent. He's pulling in more than 50% of support in the national primary polls, i.e., more than all his competitors combined.
According to Times/Siena, Trump's lead is very nearly uniform in every region of the country and is obviously ahead among Republicans who would walk over glass to vote for their favorite. His lead over DeSantis among the over-65 voters most likely to turn out is 60 percent to nine percent.
All in all, it's time for those who assume Trump's legal problems or accumulated misconduct will trip him up between now and the time voters start voting next January to reconsider yet another underestimation of the 45th president. Sadly enough, he embodies what the bulk of his party wants for itself and its country. And while he may ultimately be brought down by the weight of his horrific legacy in a November 2024 general election, Republicans either don't believe that is true or really just don't care.