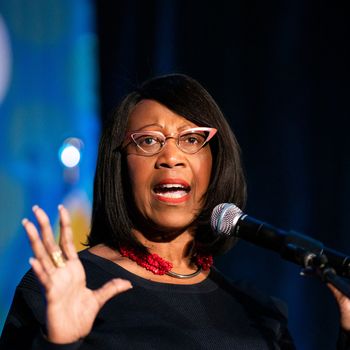 Photo: Eduardo Munoz Alvarez/Getty Images
New Jersey lieutenant governor Sheila Oliver died suddenly at the age of 71 after a brief hospitalization, Governor Phil Murphy's office announced Tuesday. Her cause of death has not been made public.
In a statement, the Oliver family asked for privacy as they mourn the loss of "our cherished daughter, sister, aunt, friend, and hero."
Oliver's death came as New Jersey's governor, Phil Murphy, is on vacation in Italy. He was not expected to return until August 13, but CBS News reports that he is making plans to come back early. In a statement, Murphy mourned Oliver's loss, calling her a "trailblazer in every sense of the word."
In an unusual situation, state senate president Nick Scutari assumed the duties of the governorship on Monday when Oliver was hospitalized at Cooperman Barnabas Medical Center in Livingston and could not fulfill her role as acting governor. Scutari, who has been a member of the state senate since 2004, has served as acting governor twice since becoming president of the chamber last year, the New Jersey Globe reports.
Oliver was first elected to state office in 2004 when she joined the state assembly and later served as the chamber's speaker for four years, the first Black woman to hold that role. Murphy selected her as his running mate in 2007, and she became the first Black woman to hold statewide office in New Jersey when she was sworn in as lieutenant governor the following year.