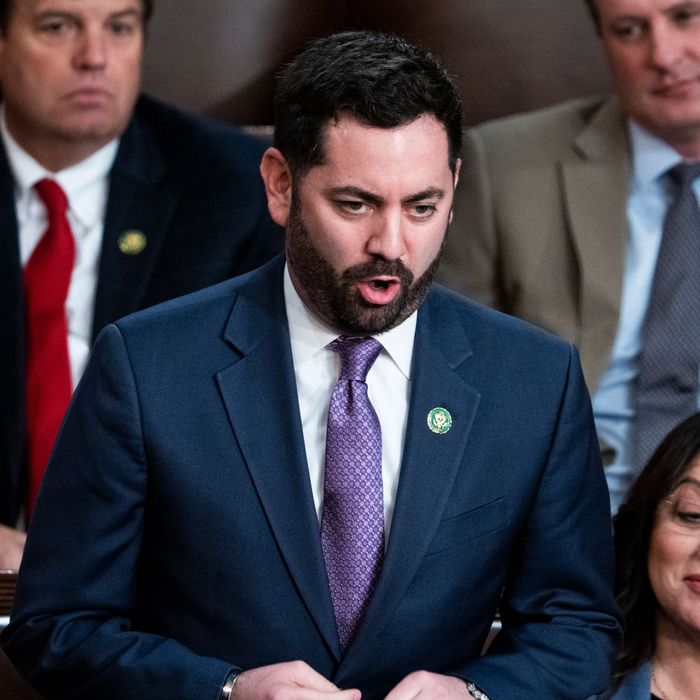 Photo: Tom Williamses/CQ-Roll Call, Inc via Getty Imag
A New York congressman had his personal account blocked on Wikipedia after making too many edits to his own page.
The Daily Beast reports that Congressman Mike Lawler, who represents the state's 17th District, made a series of changes back in 2021 while he was serving in the state assembly. The 26 edits made by the account "MichaelVLawler" largely involved the lawmaker's résumé, according to the Daily Beast. Lawler reportedly listed some of the committees he serves on in the House and added data from a past electoral victory. He also added himself to the "Notable Alumni" section on the page of his alma mater, Manhattan College.
Wikipedia doesn't explicitly prohibit individuals from editing their own profiles on the site, but advises against what it refers to as conflict-of-interest editing, saying it "undermines public confidence."
Lawler was seemingly given a public warning back in May 2021, being told that he might be running afoul of the website's conflict-of-interest guidelines. But after adding edits over the following month, Wikipedia blocked him from making further changes, in that case telling him it was doing so to discourage impersonators.
After the Daily Beast published its report, Lawler appears to have submitted requests for his account to be unblocked, which Wikipedia administrators have so far denied.
Lawler flipped his district red in 2022, defeating Congressman Sean Patrick Maloney, the then-head of the Democratic Congressional Campaign Committee. The Republican freshman is seeking a second term and may end up facing off against former Democratic congressman Mondaire Jones, who previously represented the district.
Jones offered his opinion on the story, tweeting, "Mike Lawler is so insecure about his resume he was banned from Wikipedia for embellishing it."