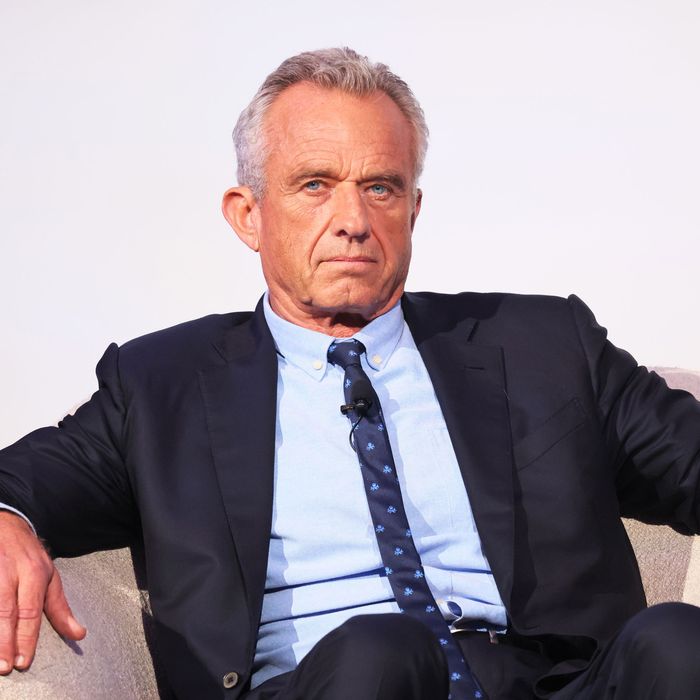 RFK Jr: anti-vaxx hero or a friend of baby-killers?
Photo: Michael M. Santiago/Getty Images
This week, two GOP presidential candidates gave us a dramatic example of the difference between old-school and new-school culture-war politics, both of which are still a big deal in today's Republican Party. Someone in Ron DeSantis's online-obsessed circle thought it would be great fun for the candidate to tell sports-politics personality Clay Travis in an interview that he'd consider a big role in his administration for Robert F. Kennedy Jr., who is running for president as a Democrat. The Hill reports:
During an interview with Clay Travis, DeSantis said his views align with Kennedy's on COVID-19 policies and the "corruption" with federal health officials.




"If you're president, sic him on the FDA [Food and Drug Administration] if he'd be willing to serve. Or sic him on CDC [Centers for Disease Control and Prevention]," DeSantis said in response to a question about whether he'd consider making Kennedy his running mate. 
Never mind that DeSantis aligning himself with a career anti-vaxxer might be problematic to some voters or that it would be irresponsible to treat two major federal health-care agencies with wide-ranging responsibilities as "corrupt" institutions that need to be vandalized. "Owning the libs" by giving credibility to this Biden-tormenting charlatan is worth the risk. You can almost hear the chuckling from Team DeSantis.
Clearly, Mike Pence didn't get the joke. The former veep has been a conservative ideological commissar since DeSantis was a wee lad, and he instantly rebuked the Florida governor for rank heresy.
"When I am president, I will only consider pro-life Americans to lead the FDA, CDC, or HHS," Pence said, per the Washington Examiner. "To be clear, pro-abortion Democrats like RFK Jr. would not even make the list."
And so the inherently mistrustful anti-abortion activists of the GOP now have to wonder if the real Ron DeSantis is the pro-life champion he's professed to be on the campaign trail in heavily Evangelical Iowa or instead the sneaky politician who signed a six-week abortion ban in the dead of night and wouldn't talk about it for weeks. It doesn't help that the news is full of jabbering about a DeSantis campaign "reboot," as though everything he's said and done is back on the examining table.
Meanwhile, poor, bedraggled Mike Pence has nothing but his dogged convictions and a determination to impose them on the whole world. Sometimes that's enough to trip up the purveyors of snark for whom "culture war" is just another term for annoying and provoking one's enemies. Who knows: The contretemps may even help Pence make the August 23 candidate debate stage.