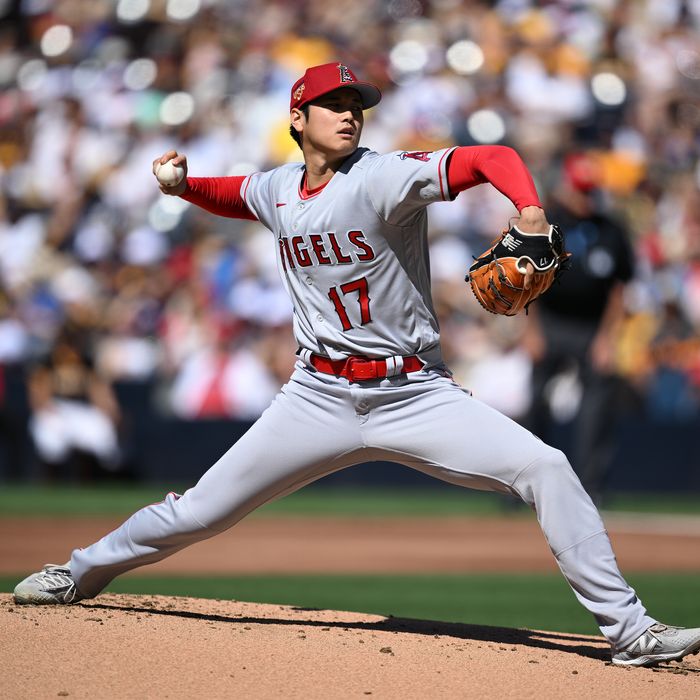 Photo: Orlando Ramirez/Getty Images
Writing about Shohei Ohtani is a little like trying to file an exclusive report from a collective UFO sighting: Everyone's witnessed it, no one can really quite describe it, and it's all a little too much to comprehend. He's the sort of athlete you want to accost people on the street about. Do you see what's happening here?
As Major League Baseball gets ready to hold the All-Star Game today with the focus almost entirely on Ohtani, perhaps it is worth trying, once again, to put the Los Angeles Angels superstar in some sort of perspective. Because the guy who can literally do everything on a baseball field is about to be the only thing that matters in the sport. He has become baseball's top ambassador and, perhaps, a referendum on its future.
If you weren't paying attention to baseball in June — and honestly, it's fine; there were other things going on — you missed Ohtani having probably the best month in MLB history. He hit 15 homers, which only seven men have ever surpassed in a month (and here's your reminder that June only has 30 days, plus the Angels had three of those days off). Per Matt Snyder at CBS, he put up the 25th-highest OPS of any month ever and the highest since Jason Giambi in 2005. But of course, that's not all Ohtani did. He also made five starts on the mound, recorded a 3.26 ERA, and struck out 37 hitters in 30 1/3 innings, numbers that essentially put him among the top ten pitchers in the game during that span. In June, Ohtani was one of the best hitters of all time, and he was a better pitcher than Gerrit Cole and Justin Verlander.
It's not like that was an aberration, either. The 29-year-old Ohtani has the highest OPS in baseball this year and the fifth-best ERA-plus in the American League. He is often compared to Babe Ruth, but Babe Ruth was never a great pitcher and a great hitter at the same time. He's Babe Ruth, and he's peak Noah Syndergaard. Simultaneously. There is simply no context for Ohtani. He's like a gold-medal-winning swimmer who also won the Scripps National Spelling Bee. He's so good that the game itself seems almost beneath him.
Beyond his black swan abilities, there's another reason the entire All-Star Game will revolve around him: the fact that his team stinks. The Angels head into the break having lost five in a row, nine of their last 10, and are in complete free fall: After spending most of the year in the thick of the playoff chase, they have fallen to a lowly 10.3 percent chance of making the playoffs, according to Fangraphs' Playoff Odds. That's even probably being too generous: The two most important Angels players other than Ohtani — Mike Trout and Anthony Rendon — both went on the injured list just before the break, and even Ohtani missed a mound start because he's dealing with a blister issue. (It's why he'll only be hitting, not pitching, in the All-Star Game.) The Angels haven't reached the playoffs since signing Ohtani in 2018 and have only done so once throughout the tenure of Trout, the greatest hitter of his generation. They're increasingly unlikely to add to that pathetic tally this year.
This matters more than ever because, in about four months, Ohtani is set to become a free agent the likes of which we've never seen. Any team that signs him will essentially get two superstars, the best hitter in the game and one of the best pitchers, for much of the prime of his career. Every big spender will be all-in for him: The Dodgers (probably the current favorite), the Yankees, the Giants, the Mariners (who almost got him when he first came to the majors six years ago), and, of course, Steve Cohen's Mets, whose owner worked all those years in the coal mines of hedge-fund land precisely to be able to pay a player like Ohtani whatever he wants. The competition for him over the offseason will resemble the infamous LeBron cattle call of 2010. It will dominate headlines for most of the winter.
But since the Angels may soon fall out of the playoff hunt — and since Ohtani has been explicit about playing for a winner — he's likely to dominate headlines the rest of this season as well. The MLB trade deadline is July 31, and he's the only player who could completely change the trajectory of the pennant race. The Angels have said they won't trade Ohtani, but, as they sink lower in the standings, this becomes an increasingly irrational stance: If he's leaving anyway — and he is — the Angels must get what they can from him while they can. How do you even value a player like Ohtani? We will find out over the next few months and then again over the winter.
All this hubbub raises something of an existential question: How big a star can a baseball player really be in today's sports landscape? Baseball is, by design, less individual-oriented than any other sport: The team that has the best basketball player on the planet is going to be a clear championship contender, but in baseball, the Angels struggle to even reach the postseason. This limitation, along with the NFL's dominance, the NBA's brilliance at marketing its stars, and baseball's decline in cultural importance over the last couple of decades, has put a ceiling on how much fame a star can really achieve. But Ohtani appears to be changing that. In March, in the wake of his dominant performance at the World Baseball Classic, he briefly passed Michael Jordan as the most famous athlete on earth, according to Q Score. (It helps to have a huge fan base in another populous country.)
That's not sustainable, of course — other than a year or two when Tiger Woods had the top spot, Jordan has led those rankings for more than three decades. But it speaks to what Ohtani can be, which is the kind of ubiquitous public figure baseball hasn't seen in a long time. (Ohtani's teammate Trout, by contrast, has been the league's best player for a decade, and the average American has no idea who he is.) It's no wonder that MLB is putting him front and center, not just for the All-Star Game, but for the entire trade deadline, offseason, and hopefully, many years to come. Surely, the top baseball brass is hoping the Angels change their minds and ship him off before July 31; there's no better way to get the world interested in the postseason than to have Ohtani be a part of it for the first time.
And again: He's only 29. He's about to be everywhere. Ohtani is the most famous baseball player in the world and the best baseball player in the world. It is rare that those two positions line up as perfectly as they do for Ohtani and for the sport itself. It's an unprecedented opportunity, and baseball better take full advantage of it. Because even if he's two players all by himself, there's only one Ohtani.