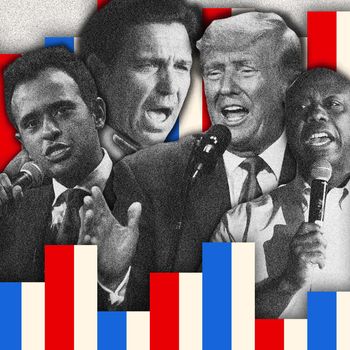 Trump still leads the pack, but DeSantis has company in the second tier.
Photo-Illustration: Intelligencer; Photos: Getty
With the 2024 Republican presidential primary revving up, public polling remains relatively sparse. But it definitely matters now. We're in the brief window when poll results are part of the Republican National Committee's criteria for making the stage during the first candidate debate in Milwaukee August 23. Just as important, the polls are beginning to frame the dynamics of the race in the eyes of political media and the GOP opinion leaders, donors, and activists still mulling their preferences.
Two national polls (both from Morning Consult) and three early state polls (Fox Business polls of Iowa and South Carolina and a University of New Hampshire survey of the Granite State) have met the RNC's strict sampling requirements for debate qualification. Seven candidates (Donald Trump, Ron DeSantis, Nikki Haley, Vivek Ramaswamy, Tim Scott, Chris Christie, and Mike Pence) have achieved the requisite one percent showing in two national polls and two early state polls. All but Pence have also met the RNC's required threshold for demonstrating a national donor base (40,000 donors with at least 200 of them from 20 states). The bigger question involving the debates is whether front-runner Trump will bother to show up at all.
Debates aside, polls are beginning to reinforce the widespread sense that Ron DeSantis's campaign is in trouble, though hardly terminal trouble. He's in a squeeze between Trump's steady grip on about half the primary electorate and improved showings by a couple of the dark-horse candidates eager to replace him as the principal challenger to the 45th president.
The national polling averages from RealClearPolitics show Trump at 51 percent and DeSantis at 19.3 percent. Trump has now led the Florida governor by more than 30 points in the RCP averages since May 9. More significantly, DeSantis has lost more than a third of his support since the end of March, when he was at 30.1 percent in these averages. And while no other candidate is in immediate striking distance of DeSantis nationally, biotech entrepreneur and anti-woke agitator Vivek Ramaswamy is on the rise and is now third (just ahead of Mike Pence) with 5.9 percent in the RCP averages.
As recently as a couple of weeks ago, the DeSantis campaign was telling nervous donors and other supporters not to worry about national polls because it was totally focused on the early states that would actually shape the race. That's why recent early-state polling should be particularly troubling to Team RDS. The new UNH survey mentioned above wasn't that bad: It showed DeSantis picking up one point since UNH's last New Hampshire poll in April, while Trump lost five points, leaving the former president up by 14 points (37 percent to 23 percent). But the rest of the field has gained ground significantly with Scott at 8 percent, Christie and Doug Burgum (who has been advertising heavily in New Hampshire) at 6 percent, and Ramaswamy and Haley at 5 percent. If, as one might expect, some of these candidates get "culled" by Iowa, the non-Trump, non-DeSantis vote might consolidate around a survivor or two.
But the bigger dose of bad news for DeSantis comes from those two Fox Business surveys in Iowa and South Carolina. Sparsely polled Iowa has been a source of much optimism for the Florida governor's campaign. He started strong there in May with a ton of state-legislative endorsements and an unmatched dedication of resources to the kind of intensive field operation that often works well in caucus states. He has benefited from very good relations with popular and theoretically neutral Iowa governor Kim Reynolds (whom Trump criticized for not endorsing him) and with conservative Evangelical leader (and the backer of three straight caucus winners) Bob Vander Plaats. And most recently, he performed quite well at a July 14 candidate cattle call sponsored by Vander Plaats's Family Leader organization that Trump skipped and where moderator Tucker Carlson savaged some of his rivals (notably Mike Pence).
So it must have come as a double disappointment to DeSantis that the Fox Business poll showed him still trailing Trump in Iowa by 30 points (16 percent to the former president's 46 percent) and only leading Tim Scott by five points. Scott is a particularly dangerous rival to DeSantis because his favorability ratings are typically the best in the field, and he's planning a $40 million media blitz in the early states this fall.
It was less surprising that Fox Business News showed DeSantis really slipping in South Carolina, the home base of both Scott and Nikki Haley. He's in third place there with 13 percent (compared to 14 percent for Haley and 10 percent for Scott). All of them badly trail Trump, who's at 48 percent.
It's obviously early in this race; we're still over five months away from voters voting (the Iowa caucuses are scheduled for January 14), and both the debates and Trump's legal problems create variables that are hard to predict with any great confidence. But not that long ago, DeSantis was a co-front-runner with the 45th president while the rest of the candidates had to hope for a stumble by one or both of them before they could even begin to espy viability somewhere on the horizon. At this point, Trump is the sole and dominant front-runner, and the rival hoping to displace him as the favorite Floridian of MAGA-land very clearly needs the reboot his backers have promised is on the way.