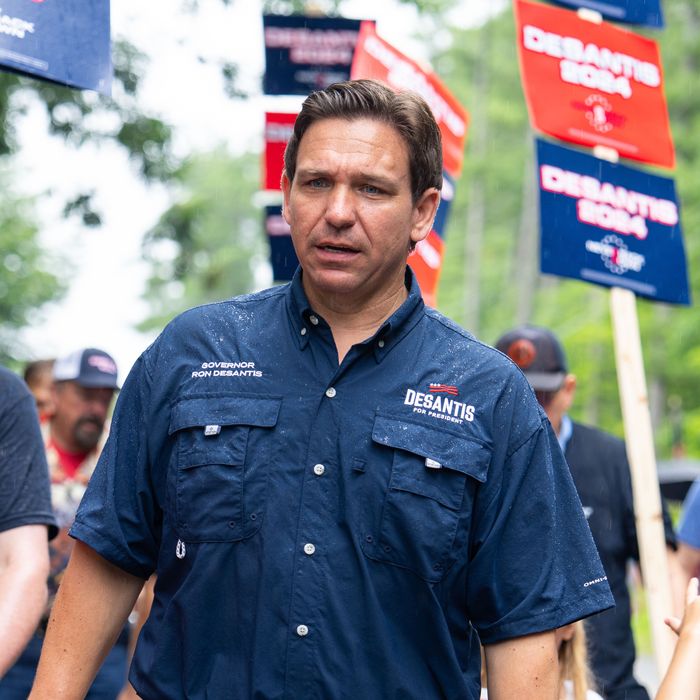 Ron DeSantis can't afford anymore mistakes as he chases Donald Trump.
Photo: Mel Musto/Bloomberg via Getty Images
If you talk to just about anyone in Republican politics who is not already firmly in the camp of Florida governor Ron DeSantis, you get the sense the man who once inspired comparisons to the triumphant authoritarian Viktor Orban is teetering on the edge of political disaster. Yes, he has tons of money that he's spending with abandon on Ted Cruz–style field operations in the early states. Yes, he's finished second and never lower than that in every public poll of the 2024 GOP contest, both nationally and in the states. And yes, having positioned himself as a less erratic and more effective version of the 45th president, he would be the obvious beneficiary of any hypothetical collapse in Donald Trump's support.
But the fact remains that DeSantis is no closer to the presidential nomination than he was a year ago, as veteran conservative journalist Byron York reminds us:
Looking at the RealClearPolitics average of polls beginning July 1, 2022, Trump had a 34-point lead over Gov. Ron DeSantis (R-FL). Trump had 52.8% of the vote in those national surveys, with DeSantis at 18.5%, and Mike Pence, Nikki Haley, and Tim Scott all farther back.
Since then, DeSantis won a midterm landslide reelection victory that left him with lots of electability talking points and giant sacks of money, and was briefly the near-unanimous favorite of all but the Trumpiest of Republican elites. Also since then, Trump got off to a slow 2024 start, was indicted twice, lost a civil suit for defamation and sexual abuse, and faces an almost endless series of investigations and prosecutions.
Yet Trump's lead over DeSantis in the RCP national polling averages is now 32 points (Trump is at 53 percent; DeSantis is at 21 percent). Worse yet for RDS, he has failed to chase off rivals for the limited non-Trump vote; instead, a massive field has assembled, with every single candidate clearly calculating that DeSantis will stumble and fall. And in the shadowy precincts of GOP donors and validators, the DeSantis campaign is constantly being watched closely and found lacking in some respect or other. Their dismay is clearly reflected in a new assessment from the New York Times:
Mr. DeSantis, who has not shown that he is a natural campaigner, has failed to take off in the polls, and his carefully choreographed public events have offered few headline-generating moments, as his campaign, until recently, has worked to shield him from potentially awkward unscripted interactions with voters and the news media.
Still, the Floridian soldiers on, having made the strategic decision to run to Trump's right while still claiming (without much evidence other than his now-distant 2022 reelection) superior electability. If he can get through the next few months unscathed, he'll have a chance to show that all his planning and expensive investments in campaign infrastructure can pay off. But there are several possible developments in the campaign that could send the DeSantis operation into a deadly free fall if he mishandles them:
A rival could break from the pack.
It was just one poll, and quite possibly an outlier at that, but the undercurrent of unease about DeSantis this week was deepened by a national survey suddenly showing that DeSantis had some unwelcome company in the second tier of candidates, as The Hill reported:
Biotech entrepreneur Vivek Ramaswamy is narrowing in on Florida Gov. Ron DeSantis in the GOP presidential primary as former President Trump leads the field, according to a new poll.




A poll released by Echelon Insights this week found Trump as the frontrunner at 49 percent while DeSantis notched 16 percent in second place and Ramaswamy 10 percent in third….




The development comes as some Republicans have expressed concerns about DeSantis's viability as a candidate since his campaign rollout over a glitchy Twitter Spaces event in May. 
For all of DeSantis's resources, it's not totally implausible that he could face competition from a current also-ran: Tim Scott and Nikki Haley have the potential to build ideologically diverse coalitions, while the whiz kid Ramaswamy and North Dakota governor Doug Burgum are immensely wealthy self-funders. While the large candidate field that has formed is a sign of weakness for RDS, it's vital for him that they more or less cancel one another out and stay in the single digits nationally and in the early states. If one of them rises above the pack, look out!
A bad poll from Iowa could make the vultures gather.
While DeSantis is definitely running a national campaign, he's understandably very focused on Iowa, where voting will begin next January. Certainly the Ted Cruz '16 veterans dominating his campaign feel they know how to beat Trump in the Hawkeye State. The caucus system rewards intensive organization of the type Team DeSantis has spent so much money building. And DeSantis's heavy rightward tilt of late on abortion and LGBTQ+ issues seems tailor-made for Iowa and its large conservative Evangelical voting base. If it doesn't work there, it probably won't work in New Hampshire, which is distinctly less conservative on cultural issues; DeSantis's efforts there so far have been clumsy and almost half-hearted. So the Florida governor really needs to win, or at least exceed expectations, in Iowa; if Trump wins both of the first two contests, it may all be over (no Republican presidential candidate in a competitive nomination contest has ever won both states).
Unfortunately, public polling in Iowa has not been abundant so far this year. A May survey from Emerson (a pollster that seems to find enormous Trump margins everywhere) showed the 45th president with an incredible 42-point lead over DeSantis. But a June poll from National Research put Trump's lead at a much more manageable 15 points, perhaps because the RDS money machine began spending heavily in the state. The next poll to appear, which could be the highly reputed Iowa Poll from Ann Selzer, will be important. If it shows DeSantis trailing badly, and particularly if one of the lesser candidates is gaining altitude in Iowa, it could get ugly fast.
Another surge in Trump's support could make him all but unbeatable.
As Byron York put it: "Trump has a lead over the Republican field that is somewhere between that of a dominant candidate and an incumbent president." If he starts polling in the high 50s or even the 60s, it's unclear anyone could have a realistic chance of catching him, and Republican elites may begin calling for other candidates to withdraw and begin preparing for a vicious general election. And remember: DeSantis's ace in the hole is his quiet support from elite Republicans convinced that Trump can't beat Joe Biden. If the Florida governor loses that, he's lost.
A conspicuous stumble by DeSantis could be deadly.
The most dangerous political gaffes are those that reinforce negative stereotypes about the candidate who commits them. In DeSantis's case, he needs to be on guard against additional evidence that he doesn't much like voters or that he doesn't actually believe what he says. The latter weakness should not be underestimated, given the heavily calculated nature of his campaign. After noting the very big differences between DeSantis's political messaging before and after he was elected governor, the Dispatch's Nick Catoggio casually observed: "It's anyone's guess who 'the real Ron DeSantis' is at this point, if such a thing exists." This sort of perception is not helpful for a candidate trying to displace the founder of the MAGA movement.
The candidate debates could be the ball game.
Unlike several of his rivals, DeSantis doesn't have to sweat making the debate field on August 23. But the GOP candidate debates will be important events for everyone on the stage, including RDS. If Trump chooses to skip the first or subsequent debates, that could give an opening to others to shine, but in DeSantis's case, he may also become the target for everyone around him; politicians just don't fear him like they fear Trump. And needless to say, DeSantis cannot afford big debate gaffes. He was steady and competent in gubernatorial debates in 2018 and 2022, but the scripted press conference is really more his forte. He would be advised to take a long look at the disastrous New Hampshire debate performance by fellow Floridian Marco Rubio in 2016, when the over-scripted senator came across as robotic. It all but finished him as a viable candidate. And DeSantis is close enough to the edge to fear any big mistake.