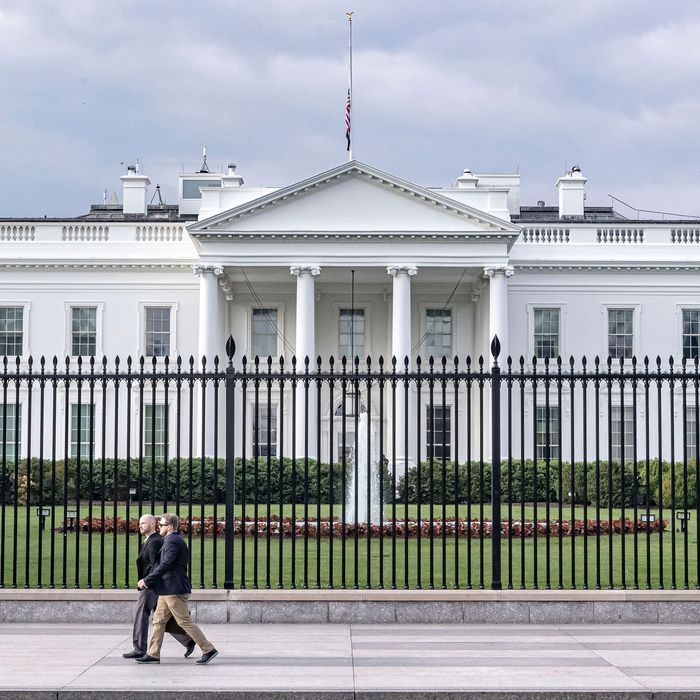 The house where some white was found.
Photo: Nicolas Economou/NurPhoto via Getty Images
It appears we may never find out who left that bag of cocaine at the White House.
The U.S. Secret Service announced Thursday that it had completed its investigation into how a small plastic baggie of cocaine, discovered on July 2, made its way into a storage cubby just inside the White House — but was ultimately unable to determine who put it there. The Secret Service said in a statement that it had closed the investigation "due to a lack of physical evidence," explaining that "without physical evidence, the investigation will not be able to single out a person of interest from the hundreds of individuals who passed through the vestibule where the cocaine was discovered."
There had been a good deal of speculation regarding the owner of the White House coke — former president Donald Trump has repeatedly suggested it was in fact President Biden's nose candy — but none of the speculation has been based on actual evidence. The Secret Service said it did a full analysis of the substance found (definitely cocaine) and conducted other tests on the baggie, but the testing "did not develop latent fingerprints and insufficient DNA was present for investigative comparisons." The agency also said it found "no surveillance video footage that produced investigative leads" and had reviewed visitor logs and conducted "a methodical review of security systems and protocols," including "a backwards examination that spanned several days prior to the discovery of the substance and developed an index of several hundred individuals who may have accessed the area where the substance was found" — but again: bupkes.
The Secret Service reportedly told House lawmakers in a briefing on Thursday that "it had to sort through a list of roughly 500 people that includes both staff and visitors" and that "they had found roughly .007 grams of cocaine" (i.e., a very small amount) in the baggie.
CNN reports that a source familiar with the investigation "said that the leading theory remains that it was left by one of the hundreds of visitors who entered the West Wing that weekend for tours and were asked to leave their phones inside those cubbies." The White House has previously said that there were staff-led tours over the weekend before the drugs were found (the Biden family was out of town).
Needless to say, there are already plenty of critics who think the Secret Service blew it. Inconclusive evidence and unofficial leading theories are unlikely to satisfy anyone who sees the incident as a serious security breach and/or a brazen cover-up.
This post has been updated.