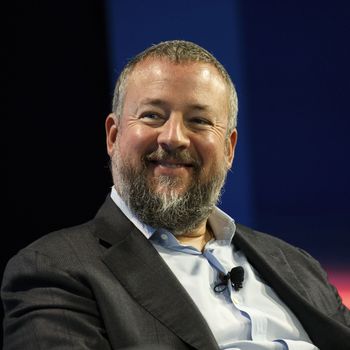 Always be closing.
Photo: Patrick T. Fallon/Bloomberg via Getty Images
This article was featured in One Great Story, New York's reading recommendation newsletter. Sign up here to get it nightly.
When Vice Media filed for bankruptcy this May, the digital-media conglomerate, once worth more than the New York Times, was reduced to the mere sum of its parts. None of the hope, optimism, or growth projections that had been crucial for securing its $5.7 billion valuation in 2017 showed up on lists of assets and liabilities in court filings. What was left was a collection of media and creative-agency operations, some of which make money and some of which incinerate it. After the filing, they were all up for grabs, either to be bundled together or spun out. When everything was put through an M&A banker's valuation model, the new baseline value of the company was $225 million — 95 percent less than its peak six years before.
Is that really what it was worth? The next step was a bankruptcy auction — a chance for anyone who thought it was worth more than that to put their money behind their convictions. This process is overseen by the courts and shepherded by bankers and lawyers whose job is to get the highest price from a group of competitive bidders, but in the 39 days between Vice's initial bankruptcy filing and the end of the auction, one would-be owner after another fell away. The company was still operational during this time — and not doing much that was different — but the media business was harder, the ad markets less lucrative. Online traffic had fallen from a stable 35 to 39 million to about 23 million in the previous few months, according to one person familiar with the internal metrics. (A Vice spokesman said there was a 14 percent annual increase across social-media platforms this year.) Then, on June 23, with no qualifying bids, Fortress Investment Group, the hedge fund that already owned a controlling interest, bought Vice out of Chapter 11 for $350 million. You would have to go back to 2011, maybe earlier, to find a time when the company was worth so little.
Today, the main question is whether Vice, in any recognizable form, has a future at all. The answer will come down to the assets and liabilities listed in the auction and how Fortress chooses to handle them. According to former employees, internal documents, and others familiar with the business, one of the company's biggest and most important bets has been — and continues to be, post-bankruptcy — its rich and incentive-heavy contract with Shane Smith, Vice's co-founder and former CEO. Now executive chairman, Smith is on track to be paid around $8 million in salary and potentially far more in bonuses and commissions under the terms of a five-year deal scheduled to end in 2024.
Smith's contract, which has been kept private and wasn't directly referenced in the court documents made public this week, was negotiated around the time Fortress effectively took a controlling financial stake in the company. Since Vice emerged from bankruptcy, I was able to directly obtain the details of his employment. The hedge fund is now doubling down on its strategy that Vice's charismatic founder — and his ability to bring in big media deals — remains key to the brand's future. 
When Vice filed for bankruptcy on May 15, it was the end of a monthslong cascade of financial problems that started when Antenna, a Greek broadcaster, pulled out of a distribution contract — depriving the already cash-starved company of a $34 million quarterly payment, according to court papers. Chapter 11 gave Vice protection from creditors including suppliers, vendors, and freelancers who were owed money. Reports that the company wasn't paying its bills were widespread and have continued to the present day.
Fortress, an Emirati-owned fund that focuses on scooping up distressed companies, has been one of Vice's biggest investors since 2019, putting in a total of about $480 million (alongside two other hedge funds, Soros Fund Management and Monroe Capital) that kept the media company operational even as its financial situation deteriorated. The hedge fund came to own most of Vice's senior debt, putting it first in line to be paid back in case of bankruptcy — with standard shareholders like private-equity shop TPG, Rupert Murdoch, and Disney, as well as the Vice employees who were expecting to cash out on their share rewards, all getting wiped out. Fortress was appointed by the court to run the auction that would decide the next owner.
At first, it looked as if there might be some competition for Vice: Antenna was interested in buying it, and Group Black, a private-equity company focused on Black-owned media, was prepared to pay $400 million. But each fell away — the former lost interest, and the latter's funding structure wasn't attractive, one person familiar with the proceedings said. In the end, there was GoDigital, a California firm that owns a Latin-music channel and a record label for Janet Jackson and T.I. as well as the discount chain Bob's Stores and Eastern Mountain Sports. According to three people familiar with the negotiations, the talks between GoDigital and Fortress were unproductive and sometimes icy, ending with both sides feeling the other was playing games.
Fortress, these sources said, ultimately didn't take GoDigital seriously as a bidder; the California company wanted to pay $300 million in a mix of cash, debt, and preferred stock. But in the end, GoDigital would commit only to a roughly 1 percent deposit — far below the 10 percent required by the courts, the sources said. On the last day of the auction, Fortress didn't even bother to send over the finalized paperwork to GoDigital until it was too late, canceled the auction, and declared itself Vice's owner. Fortress ultimately filed paperwork showing it would pay $350 million for the company, the midpoint between the Group Black and GoDigital bids. GoDigital walked away empty-handed and unhappy with the way Fortress had handled the auction. "By its nature, the flawed bidding process and the sellers' own behavior precluded our bid from complying with some of their own technical requirements, but that did not impact our bid's viability or credibility," said Craig Greiwe, GoDigital's chief strategy officer and president of marketing. (Fortress declined to comment.)
Fortress hasn't gone public with its plans for Vice's next stage, but one person familiar with the strategy said that Smith, who had helped secure an ever-escalating series of valuations for Vice in the past decade, will keep his role as the company's key dealmaker. 
Smith, a 53-year-old with a demeanor that's about equal parts aggressive and affable, has long been the face of Vice. When he was pushed out of his CEO role four years ago following revelations about a culture of sexual harassment at the company, Vice announced that he would focus on making large deals. It was a job that took him, for the most part, out of the spotlight. While he stopped doing the kind of gonzo reporting Vice had built its brand upon — going to North Korea, talking to cannibals, and so on — former employees said he had an office at the company's L.A. space and would occasionally show up at the New York headquarters. A handful of top lieutenants were still seen as loyal to him, even as new management under his successor as CEO, Nancy Dubuc, took over. (She left earlier this year, and Vice and Smith declined to comment.)
According to a copy of his contract, Smith had a deal with no ceiling on how much he could be paid and multiple sources of payment that funneled him millions of dollars in compensation — including a $1.6 million annual salary and potentially millions more through a 5 percent cut of the net margin of deals he brought in. Plus, there was a complicated set of stock grants. (The contract was updated on August 15, 2022.) While the base salary is certainly generous by the standards of the digital-media industry, the commissions were structured to be the most lucrative cash element of his package. Estimates from the draft suggest he could have been paid $2.8 million in commissions in 2020 and about $2 million in each year after — though he would make more if he brought in bigger deals.
According to an undated draft version of the commission agreement, the contract "incentivizes Shane on large-scale deals." And giant deals were the point: The final contract shows the commission kicks in only for those deals with a 25 percent net margin — meaning a quarter of the total revenue is profit. (Vice's definition of net margin doesn't include costs like overhead and compensation that isn't directly attributable to the deal.) During the period in question, Smith brokered a multimillion-dollar content-distribution deal with Saudi Arabia's largest broadcaster, MBC, according to the contract and people familiar with the deal. He was also crucial in brokering the deal with Antenna, which is also backed by Saudi money, one person familiar with that deal said.
Smith's agreement covered a period when, in addition to struggling to pay vendors and freelancers, Vice resorted to round after round after round after round after round of layoffs. And though he was no longer in an operational role, Smith was making more than other executives who were running the company day-to-day, records show. Jesse Angelo, the former global head of news and entertainment, made $815,254 for the 12 months ending in May — including a $134,850 bonus on July 15, 2022, according to records filed in New York bankruptcy court on July 10. Bruce Dixon, the co-CEO, made $783,373 during that period, which was boosted by $173,832 spread across two bonuses. Hozefa Lokhandwala, the other co-CEO, made $836,988, which included a $133,356 retention bonus. (Smith is not listed on the document.) The top 17 executives made a total of nearly $10.6 million that year. The difference between the outsize compensation packages and the cost cutting throughout the company made some current Vice employees balk:
In theory, Smith stood to make the most money through his stock grants — though cashing in on those would depend on Vice being sold at a high valuation or going public. When he signed, he was on track to own about 2 million shares, according to his contract. (About 1.75 million of those were in restricted share units, a kind of IOU, that would convert to preferred shares, which Vice valued higher than common ones.) A person directly familiar with the overall ownership situation said Smith likely owned about 3 percent of the company or less. He was on track to double his shareholdings through four stock grants that started to vest in January 2022. The deal explicitly allowed Smith to cash out his shares upon a "change in control" — meaning Vice being sold or going public. (One element of the deal also allowed him to cash out if Virtue, Vice's ad agency, was spun off.)
"Shane was making a bet that he was going to take it public for several billion dollars," said one person familiar with his contract. That scenario may technically still exist under the terms of the deal: Fortress could still restructure Smith's stake in the company so that, if it sells, he could make more, according to two people with knowledge of the contract. For now, though, his shares remain worthless.