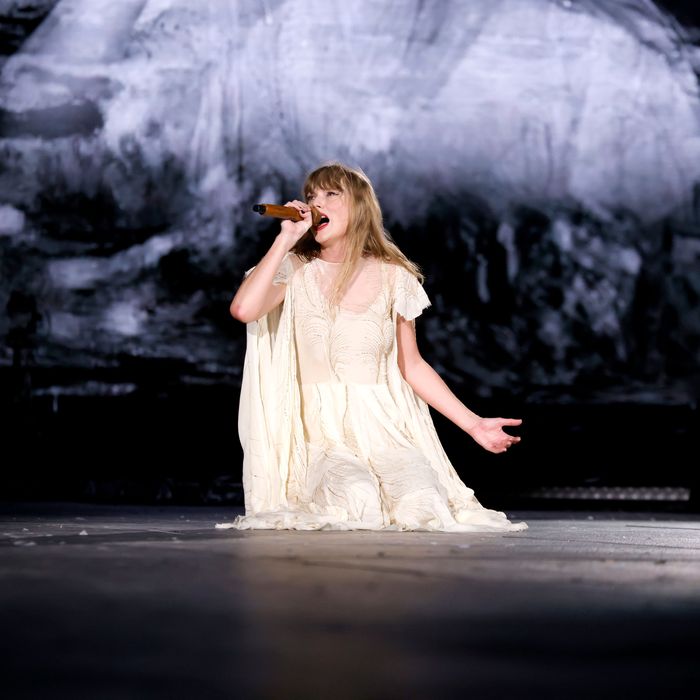 Photo: Taylor Hill/TAS23/Getty Images
In April, during the early days of her record-shattering Eras Tour, Taylor Swift got some good press from an unexpected place. The attorney Adam Moskowitz, who is leading a class-action lawsuit against FTX and its celebrity spokespeople for defrauding investors, claimed on a podcast that Swift was the only famous person who did their due diligence when considering an endorsement deal with the allegedly fraudulent crypto exchange. Moskowitz said that unlike investors such as Tom Brady, Gisele Bündchen, Larry David, and Shaquille O'Neal, Swift did her homework. He quoted a specific question he claimed she asked: "'Can you tell me that these are not unregistered securities?" Her prospective endorsement deal never happened.
But it turns out Swift never asked that astute question. In a New York Times story on Thursday, which details the many celebrities who have egg on their face from jumping too eagerly into the speculative world of cryptocurrencies, Adam Moskowitz amends his comment. He says that he didn't actually have any inside information on the negotiations between Swift and Sam Bankman-Fried's failed company. In fact, according to sources close to the deal who spoke with the Times, Swift had signed on to be an FTX sponsor after six months of talks. It was Bankman-Fried himself who decided to kill the deal, and Swift's team was the party left feeling disappointed.
Negotiations most likely fell apart because of the high cost of getting Swift to sign on. Other celebrity spokespeople, like Brady and Bündchen, were paid $30 million and $18 million respectively — in FTX stock that is now essentially worthless. But the Financial Times reports that Swift was looking for $100 million, which one employee accurately described as "really fucking high."
The news that Swift wasn't uniquely savvy is a blow for the subset of Americans who both know all the words to "Anti-Hero" and are familiar with Gary Gensler. But in hindsight, it shouldn't be that much of a surprise. In the great crypto hype cycle of 2021 and 2022, few celebrities didn't want a piece of the easy money.