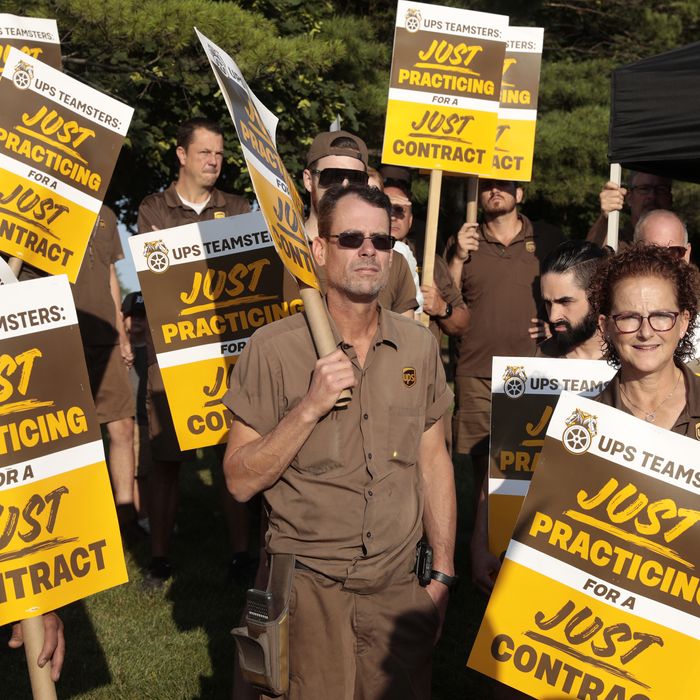 UPS workers and Teamsters members practice-picket outside a UPS distribution facility in Madison Heights, Michigan, on Tuesday, July 18.
Photo: Jeff Kowalsky/Bloomberg via Getty Images
In a small town outside Albany, Jeffrey Palmerino starts his workday early. He is a full-time package car driver for UPS and a shop steward for the Teamsters, and his responsibilities are twofold. In the morning, he checks the shop for safety issues and handles grievances or workplace disputes among his members. Then, at around 9 a.m., he climbs into a familiar brown truck and begins a 150-mile roundtrip. No day — and no truckload — is the same. Sometimes he has to deliver dozens of tires to a business. Other times, there are futons and bookshelves and mattresses. The work exacts a physical toll on Palmerino and workers like him. "Using a hand cart is a good tool, but also you're still having to handle the package to get it on and off the hand cart," he explained. "So, it does present a challenge with the amount of stuff we deliver and the weight of the stuff."
Then there's the heat. "We just finally had a beautiful Memorial Day this year, and we had almost 90-degree weather, but you're driving around in a tin box," he said. Dirt and dust collect in the back of the truck, and though he sweeps daily to keep it under control, it's never enough. "I guess the best way I could put it is just a tornado and a pizza oven," he said. Heat-related illness can strike when packages shift, and a driver must dig around to find what he needs for a delivery.
Though Palmerino makes $39.57 an hour, his days are long, and they are taxing. He hopes a new contract will improve conditions for everyone, including the company's lower-paid part-time workers. "Our part-timers are the backbone of our company," he said, adding, "They do an awesome job, but they need to be afforded the time to do it, and the money, obviously, as well to do it." To get a better contract, though, he may have to fight — and soon. Palmerino says he's ready. "This didn't just pop up on the calendar," he said. "This day has been coming, because the last contract, through the former administration, was an absolute disaster."
UPS is a behemoth. The company delivers goods that amount to 6 percent of U.S. gross-domestic product, and it counts another giant, Amazon, as its biggest customer. The company's contract with the Teamsters is the largest private-sector collective-bargaining agreement in the country. Package deliveries would be subject to serious disruptions: On Tuesday, FreightWaves reported that the company's pilots, represented by the Independent Pilots Association, would not fly if the Teamsters strike. UPS is a heavyweight, but a strike would be costly for the company. A 15-day strike in 1997 cost UPS around $850 million and sent some customers to rivals like FedEx, Reuters reported.
The Teamsters could still reach a deal with UPS, but time is running out. The contract will expire at midnight on July 31, affecting 340,000 workers. Rank-and-file Teamsters voted to authorize a strike with 97 percent support in June, and the union has pledged not to work a day beyond the expiration of the contract. Negotiations have so far produced some progress. Teamsters inked major tentative agreements that would put air conditioning in trucks, end mandatory overtime on drivers' days off, and eliminate a much-loathed dual wage system that created a lower-paid category of worker. The Teamsters had pushed for a deal by July 5, and UPS agreed to put a contract offer on the table by that date. Nevertheless, there were sticking points, like wage increases for part-time workers, and negotiations broke down. Teamster leaders said UPS "walked away" from the bargaining table at 4 a.m. after refusing to give "a last, best, and final offer, telling the union the company had nothing more to give."
In a statement, UPS pointed fingers at the union. "The Teamsters have stopped negotiating despite historic proposals that build on our industry-leading pay," a company spokesperson said. "We have two weeks left to negotiate. We have not walked away, and the union has a responsibility to remain at the table." He ended with a warning: "Refusing to negotiate, especially when the finish line is in sight, creates significant unease among employees and customers and threatens to disrupt the U.S. economy. Only our non-union competitors benefit from the Teamsters' actions. We're proud of what we've put forward in these negotiations, which deliver wins for our people. The Teamsters should return to the table to finalize this deal." (On Wednesday, the Teamsters announced that UPS had "reached out" to resume negotiations next week.)
Right now, UPS and the Teamsters appear far apart, and workers have real leverage. Though any strike is a major undertaking, but the Teamsters have been preparing members for over a year now. When Seamus Hogan, a Massachusetts-based regular package-car driver provider for UPS and a shop steward for the union, spoke to me last week, he was getting ready for a practice picket line the following day. "We're going to have our signs. We're going to have strike captains," he said. "We're going to show everybody, not just the company, but the general public, that we mean business."
"We certainly don't want to strike," he added. "We want a fair and just contract agreement. But if UPS strikes themselves, we will oblige them."
Hogan's sentiments are felt by many. On Friday morning in the Canarsie neighborhood of Brooklyn, members of Teamsters Local 804 met in front of a UPS distribution center to practice their own picketing skills. "Teamsters united will never be defeated," they chanted, undaunted by the summer rain and the occasional thunderclap. They blew whistles and waved signs that read, "Just practicing for a just contract." Workers gathered, also, to hear remarks from Teamsters general president Sean O'Brien and State Senator Jessica Ramos, a Democrat who chairs the Committee on Labor. "It's like I said to someone earlier, a baseball team doesn't just show up on Saturday and decide to play," O'Brien told me in an interview. "We're going to practice. We're going to prepare and get ready."
Part-time workers make up over half of the UPS workforce. Though many are eligible for benefits like health insurance, they're guaranteed a mere three to four hours of work a day and they're often low-paid. "While CEO Carol Tomé boasts to the press that '[UPS] drivers make $93,000 a year … and they pay nothing for health care,' part-timers often make less than half their full-time counterparts — as low as $15.50 per hour in some areas," journalist Teddy Ostrow reported in Jacobin. Ostrow added that according to Teamsters for a Democratic Union, starting pay for part-timers would be over $25 an hour had wages risen with inflation since 1982.
Ian Malabre, a part-time package-sorter at the Canarsie facility, said his shifts can be back-breaking. "Sometimes I scan, sometimes I work on the shortline, sorting the packages for the different belts and stuff," he said. When the belts speed up, he must sometimes toss 70-pound packages as quickly as he can. "That's like slavery," he said. There's no time to breathe, he said, no time to make sure that he and the package are all right. Supervisors pressure him to work as quickly as he can, he said, though the speeds can be dangerous and even violate company procedure. "The working conditions are really bad. When it's summer, like now, they close the whole building up with no AC inside," he said. He also finds it difficult to survive in Brooklyn on his pay. UPS slashed hours for workers like him over the last few years, he told me.
Malabre had a message for UPS executives — a message he's also tried to communicate to his supervisors. "I asked at least three or four supervisors, would they allow their kids to work here?" he said. "And they tell me straight up that their kids could never work in there." If UPS was "doing good for you, you would definitely want your kid to be in that position," he said, and added he and his fellow workers want to help the company grow. "All they have to do is respect us," he said.
Respect is simple, according to O'Brien. UPS should pay workers accordingly "and treat them like human beings when they're working in these facilities," he said. UPS can afford higher pay for part-timers like Malabre, as the Teamsters see it. While part-timers struggle, UPS makes record profits off their labor: In 2022 the company's revenue reached $100 billion, the highest in its history.
The UPS contract is set to expire at a critical moment for American labor. As the Teamsters prepare for a potential strike at UPS, they're challenging Amazon, too. In April, drivers at Battle-Tested Strategies, an Amazon delivery service partner, voted to join Teamsters Local 396. BTS voluntarily recognized the union and agreed to a contract, but as Labor Notes reported in July, the contractor couldn't give workers a raise without approval from Amazon, which promptly canceled its contract with BTS. The Teamsters have argued that Amazon, which controls nearly every detail of the drivers' working lives, is a joint employer with BTS, and must therefore recognize the union and come to the bargaining table. But Amazon has refused to do either, leading the Teamsters to file unfair labor practice charges in May. The Teamsters have also organized rolling picket lines at Amazon facilities nationwide to protest the company's intransigence.
Elsewhere, Waffle House workers in South Carolina organized a three-day strike after managers failed to respond to a list of demands. The workers want better security, consistent scheduling, and an end to meal deductions from their pay, The State reported. The Union of Southern Service Workers, which formed last year and represents the workers, has filed an unfair labor practices complaint against Waffle House, alleging retaliation from management. And on Thursday, a day before the Teamsters held their practice picket in Canarsie, SAG-AFTRA announced that it would join the Writers Guild of America in a historic two-way Hollywood strike. "I cannot believe it, quite frankly, how far apart we are on so many things — how they plead poverty, that they're losing money left and right, while giving hundreds of millions of dollars to their CEOs," said SAG-AFTRA president Fran Drescher at a press conference. "It is disgusting. Shame on them. They stand on the wrong side of history at this very moment."
O'Brien, the Teamsters general president, sees fresh opportunities for solidarity. The moment "means we're standing tall, we're ready to fight," he said. "You know, this is a long time coming in corporate America. You can see all the profits that these corporations are making, especially in the motion-picture industry." With the rise of streaming media, labor "knew that at some point in time all they're going to be concerned about is the bottom line of their balance sheet," he added. "I think it's a great time for labor. It's a great time to fight."
Back in rural New York, Palmerino is preparing his members for a historic showdown. He, too, had a message for UPS. "They have no problem telling the public about what heroes we were, the essential workers who worked through COVID and delivered the vaccines before they were able to even get vaccines," he said. "And it's nice to be told that you're an essential worker, and it's nice to be said that you're a hero. But I'd rather be treated like a hero than be told I'm a hero."
Correction: An earlier version of this story stated that a UPS strike would be the largest against a single employer in U.S. history.