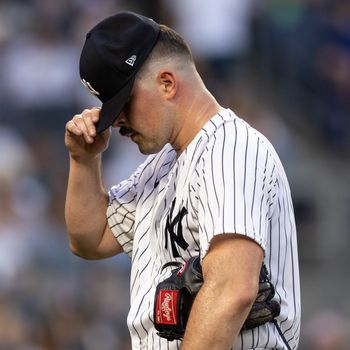 Photo: Dustin Satloff/Getty Images
On a recent July night, I arrived at Yankee Stadium early. I strolled around the press box and the cafeteria and watched the Yankees take batting practice in the sultry hours before their game against the Chicago Cubs. A Major League BP session inspires eternal hope: Josh Donaldson, hitting a putrid .140 entering that game, thwacked home runs far over the center-field wall, and Anthony Rizzo, mired in a monthslong slump, repeatedly slashed line drives to left.
Then the clock struck 7:05, the game began, and reality set in.
The Yankees fell 3-0 that night to the Cubs, a team that currently sits at five games under .500. Yankee hitters managed just two singles  — no doubles, no homers, nothing that even appeared to be a threat — against a pitcher named Jameson Taillon who had, at that point, an ERA close to 7. Taillon is a former Yankee, a genial mediocrity best remembered, to me at least, for once telling The Athletic he very much enjoyed the Jasper Johns exhibit at the Whitney. That night, he was suddenly Tom Seaver.
In a way, there's only so much Yankee fans can complain about. The team, for now, outplays the woeful (and absurdly expensive) Mets, who are 42-48 and seven games out of the last wild-card slot. The Yankees are 49-42; if the season ended tomorrow, they'd miss the playoffs but only by a single game. In this new era of perpetually expanding playoff rounds, they're in a five-team hunt for three spots, and Baseball Reference says they have a more than 50 percent chance of reaching the postseason. Last year, the Philadelphia Phillies, a wild-card team that won just 87 games and was clearly inferior to several other contenders, won the National League pennant. The 2021 Atlanta Braves and the 2019 Washington Nationals, two recent World Series champions, weren't much better. This is baseball today: Just make the tournament and hope you catch fire when it matters.
But the 2023 Yankees weren't supposed to be another Philadelphia or Washington. They're the Yankees, after all, and at this time just over a year ago, they were a threat to blow past their franchise record of 114 wins. Aaron Judge was on his mesmerizing march to 62 homers, Matt Carpenter was imitating Roy Hobbs, and Nestor Cortes, with his yogic leg kicks and electric cutters, was one of the more exciting and unlikely stars of recent years.
Then, around August, many of the Yankees (excluding Judge) stopped hitting, and the team limped to a division title and a 99-win season that appeared more impressive than it really was. After getting outclassed by the Houston Astros in the ALCS, the Yankees spent the offseason dodging a genuine cataclysm when Judge chose to return instead of signing with his hometown San Francisco Giants. They also signed an injury-prone bull of a left-handed starting pitcher, Carlos Rodón, who starred for the Giants last year. True to his reputation, Rodón missed the first three months of the season, making his first start in that 3-0 loss to the Cubs.
What the Yankees didn't do — and what the seething mass of fans who want both manager Aaron Boone and general manager Brian Cashman fired tomorrow morning at the latest — was upgrade their offense. They're an aging team, overly reliant on Judge, who was having another brilliant season before smashing his toe into the concrete portion of an outfield wall in Los Angeles and landing on the injured list indefinitely. Rizzo, after a strong start, has descended to an OPS+ of 110, which means he's just 10 percent better than the league's average hitter. Donaldson, a former MVP, has been horrendous and carries around an untradeable contract. Fan favorite DJ LeMahieu, who won a batting title as recently as 2020, has been even worse than Donaldson. Gleyber Torres, once believed to be a superstar-in-waiting, is a poor-fielding second baseman who can't hit enough to justify his lapses. And Giancarlo Stanton, a titanic outfielder and designated hitter who very much resembles Judge — and once hit 59 home runs in a season — is barely batting .200 with an on-base percentage well below .300. The Yankees have two defense-first catchers who don't hit at all and no regular left fielder. It's no wonder Taillon tossed eight innings of one-hit ball against this team.
Beyond their mediocrity, the Yankees just aren't that interesting. They aren't exactly losers, but they are devoid of any particular appeal or narrative. There are no anti-heroes or A-Rod-esque villains, and there isn't anyone overly compelling in the dugout absent Judge and Cortes. If these Yankees miss the World Series again, they are fated to be forgotten. But while fans need their scapegoats, little of this is really Boone's fault — baseball managers just don't matter all that much. It's Cashman who deserves much of the blame. The Yankees haven't won a World Series or even reached one since 2009, yet he signed a four-year extension after last season. Yes, Cashman was the GM in 1998 when the Yankees won those 114 games and the World Series title, and he steered them to another two championships in '99 and 2000, but that was a very long time ago. The late Steinbrenner certainly would have fired him by now. But it's doubtful that would solve the problem. For all his faults, Cashman has made the Yankees a consistent winner; the team hasn't had a losing record since 1992.
Still, rankled Yankees fans peer around the rest of the league and wonder what could have been. For a relative bargain, Cashman could have signed the Cubs' 27-year-old center fielder, Cody Bellinger, who isn't quite the MVP he used to be but has a looping left-handed swing engineered for Yankee Stadium's short right-field wall. Bellinger's respectable two wins above replacement would've been an enormous upgrade over the fringe Major Leaguers the Yankees have had to trot out in the outfield. The team was at one point strongly rumored to be the top trade destination for Matt Olson, a young slugging first baseman then with the Oakland Athletics; instead, he went to the Atlanta Braves, who are now the best team in baseball. Olson is currently on pace to hit more than 50 home runs. Rizzo has 11.
Yankee fans also can't help but play the "what if" game with Corey Seager, the left-handed-hitting Texas Rangers shortstop who would be a contender for this year's American League MVP if not for the otherworldly exploits of Shohei Ohtani.The Yankees passed on Seager for some understandable reasons, but it's inarguable that George Steinbrenner's Yankees would've blown a hole in whatever putative budget they had to lure him to New York.
And yet hope lingers in the Bronx. Stanton can't be this bad, and when he's hot — his T. rex arms whipping through the strike zone to annihilate 480-foot home runs — he's one of the very best power hitters in baseball. Judge will return at some point this season. Cortes is due back from his own injury in August. Rodón is finally healthy and can be paired with Gerrit Cole, the $300 million ace who may be the last pitcher in baseball to consistently pitch 200 outstanding innings. The Yankee bullpen, quietly, is very good and has kept the team above .500. A trade at the August 1 deadline could bring in a much-needed bat like Bellinger, who might be dealt if the Cubs fall entirely out of contention.
Most important for the middling Yankees, the AL East lacks a true juggernaut. Every team is at least respectable — both the Yankees and the Red Sox would have strong enough records to lead the AL Central if they played there — but none truly lords over the others. The surprising Tampa Bay Rays have fallen back to earth to some extent and lead the even more surprising Baltimore Orioles by just two games. The Yankees recently split a four-game series with Baltimore, and when fully healthy, they may be better. All the Yankees really need to do is cling on for a wild card and hope, dearly, for the best. No one will remember how numbing that Friday night against the Cubs was if the Yankees are playing in the World Series three months from now, and nobody will complain about how dull the team is if they make it to the last few days of October. The last time they did that, Barack Obama was finishing up his first year as president. It's been way too long.