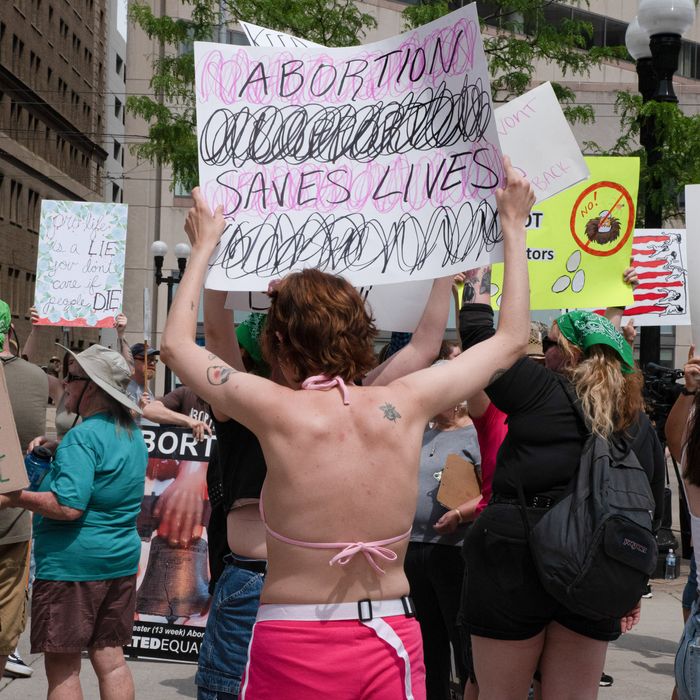 Abortion rights protesters in Dayton.
Photo: Whitney Saleskiy Images/SOPA Images/LightRocket via Gett
The odds are high that only one state will put abortion policy before voters this year after reproductive rights won across the board on 2022 ballot initiatives. That would be Ohio, where polls have consistently shown well over 50 percent of voters favoring an abortion rights state constitutional amendment that's on the ballot in November.
For that very reason, Ohio's Republican-controlled legislature rushed through its own measure raising the threshold for voter approval of constitutional amendments to 60 percent. The GOP then put State Issue I on the ballot in an August 8 special election, so if it's passed, it will apply to the November vote.
Backers of State Issue 1 have been piously telling the public that it's meant to protect the Constitution from voter mischief allegedly engineered by "special interests." In other words, they're advertising it as an attack on voting rights rather than abortion rights. But at the same time, Republicans are whispering to their own anti-abortion "special interests" that the real idea is to stop reproductive rights from being re-established in Ohio. (A six-week abortion ban that went live when the U.S. Supreme Court reversed Roe v. Wade is temporarily on hold in the state courts; its fate will probably be decided by the November vote.) The Associated Press reported:
Republican Secretary of State Frank LaRose, who supports the measure, has previously called Issue 1 a "win for good government" that protects Ohioans from out-of-state special interests.




But he had a different tone at a Seneca County dinner for Lincoln Day in May, when he said that the August measure "is 100% about keeping a radical, pro-abortion amendment out of our constitution …"




[E]arly summer messaging on social media and in churches has consistently urged a yes vote on the August amendment "to protect life" — and that's just one example of the loaded messages confronting voters during the campaign.
The broader strategy underlying State Issue 1 is to lull abortion rights voters into complacency and keep them at home during a low-turnout special election, while quietly encouraging conservative culture warriors to march to the polls on August 8 and impose their will on an unwitting majority. A few State Issue 1 backers admit it, the AP found:
Aaron Baer, president of the Center for Christian Virtue, said on a radio show this month that his organization is only connecting Issue 1 to abortion with certain segments of Ohio voters.




"When we go up on TV, is the ad going to be on abortion? Probably not," he told host Bob Frantz on "Always Right Radio." But, Baer said, when talking to conservative audiences, "We're hitting the life issue hard because it really exemplifies why you have to be fired up and go vote."
The misinformation campaign about the purpose of State Issue 1 seems to be failing. A new USA Today/Suffolk poll of Ohioans opposing the measure by a 57 percent to 26 percent margin. That's very similar to the 58 percent to 32 percent margin by which the same respondents said they favored the November abortion rights initiative. It's possible that on August 8 the anti-abortion/anti-voting rights forces will be more motivated than the majority opposing them (or better informed about its real purpose), but a two-to-one disadvantage in the underlying public opinion will be tough for them to overcome. And thus the odds are good that voters in another red state (following Kansas and Kentucky in 2022) will repudiate efforts to keep abortion rights out of a state constitution. And anger at Ohio Republicans for trying by hook or crook to thwart the popular will on abortion could help Democrats (including Democratic Senator Sherrod Brown) and even Joe Biden in this state that Donald Trump carried twice.
Maybe Trump was right when he angered the forced-birth lobby by arguing that abortion was a losing issue for Republicans in 2022.