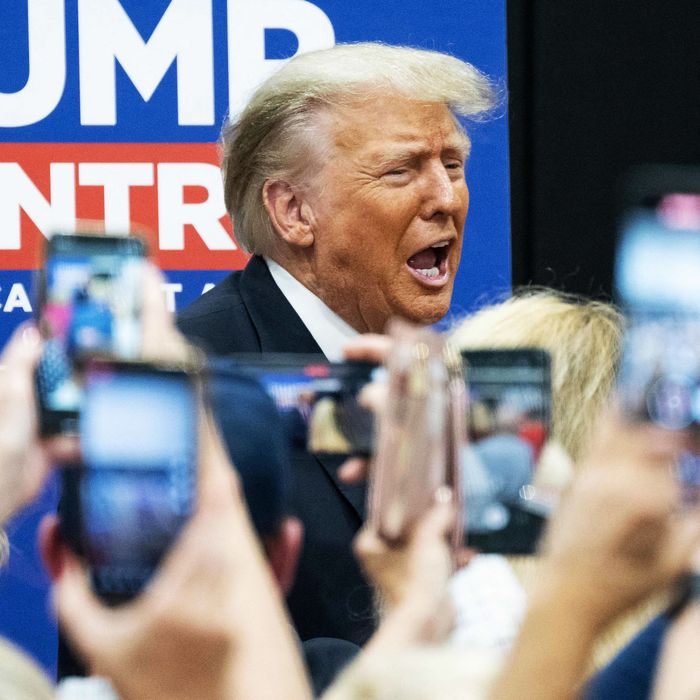 Photo: Andrew Caballero-Reynolds/AFP via Getty Images
I'll admit it: When news broke in June that Donald Trump had been indicted over classified documents he allegedly squirreled away to Mar-a-Lago, I thought I was too cool to get that worked up about it. Seen one presidential indictment, seen them all — or so I thought.
But I shouldn't have underestimated Trump's capacity for chaos, self-destruction, and doing weird stuff with paper. The original 49-page indictment against Trump and Walt Nauta, his aide and former Diet Coke valet, was chock-full of stunning allegations, from Trump storing classified documents in a bathroom to bragging about the secrets in his possession on tape. And on July 27, Special Counsel Jack Smith dropped a superseding indictment on the duo, adding Mar-a-Lago property manager Carlos De Oliveira as a defendant and adding three more charges against Trump (for grand total of 40 felony charges in this case). The new document accuses Trump, Nauta, and De Oliveira conspiring to "delete security camera footage at the Mar-a-Lago Club to prevent the footage from being provided to a federal grand jury."
Here, the most bonkers tidbits from the indictments. (Click here to jump to new information in the July superseding indictment.)
Trump
left
classified
documents
in
a
ballroom
used
for
public
functions.
Things start getting wacky just ten pages into the original indictment, when prosecutors allege that from January through March 15, 2021, some of the boxes "containing hundreds of classified documents" that he removed from the White House were stored in an active Mar-a-Lago ballroom.
Don't believe it? Well, there's a picture.
Boxes
of
documents
in
a
bathroom.
Some of Trump's papers were moved from the ballroom to the business center at Mar-a-Lago, according to the indictment. But then employees decided they wanted to use the space for an office, so they dumped the boxes of highly sensitive national secrets in a bathroom.
Pics or it didn't happen? Here you go:
Trump
told
employees
to
move
his
very
important
papers
…
to
a
more
public
location.
If you're considering whether you should store your classified documents in the Lake Room bathroom or the storage room next to the liquor closet, you're already in trouble.
Here's a look at the stack of government documents Mar-a-Lago employees might have encountered while looking for some vodka when restocking the pool bar:
A
bunch
of
secret
documents
spilled
on
the
floor.
Okay, maybe I'm overreacting. Yes, the boxes were stored in a pretty public area, but it's not as if highly sensitive information from our closest allies was thrown in a box with news clippings, then strewn across the floor, like a raccoon tossed them aside while rummaging for snacks.
Well, actually …
Trump
knowingly
talked
about
exposing
classified
war
plans
on
tape.
During a meeting with staff who did not possess security clearances, Trump allegedly whipped out Pentagon plans for attacking another country, declaring, "This totally wins my case, you know." Trump was being recorded to help with a memoir that Mark Meadows, his former chief of staff, was working on.
Smith's team later added Trump's possession of this document to the list of charges he's facing.
Although names were omitted from the indictment, CNN's reporting indicates that Trump was trying to counter reports that the top U.S. general, Mark Milley, had talked him out of starting a war with Iran. In Trump's defense, what was he supposed to do? Not expose secret military plans to win an argument Milley didn't know they were having?
Trump
also
shared
a
classified
map
with
a
political
operative.
This sounds pretty bad. And yes, it seems Trump knew it. But if this random civilian thought, Huh, that's a pretty cool map!, maybe it was all worth it.
National
Archives
asked
for
the
documents
…
so
Trump
moved
them
to
his
residence.
Starting in March 2021, the National Archives and Records Administration (NARA) "repeatedly demanded" that Trump turn over any presidential records in his possession. Rather than complying, he allegedly had employees move them around Mar-a-Lago, generating plenty of text and photographic evidence of his noncompliance:
Nauta
allegedly
told
the
FBI
he
didn't
know
anything
about
the
boxes
he
was
moving.
Prosecutors say Trump's personal aide moved boxes of classified documents all over Mar-a-Lago for several months, then transported boxes in his personal vehicle and put them on a commercial truck to be sent back to NARA. Despite generating ample evidence of his activities, he allegedly told the FBI in May 2022 that he knew nothing about the papers. The indictment accuses him of making the following false and misleading statements:
Trump
allegedly
suggested
to
the
Feds
to
protect
'my
boxes.'
After a grand jury issued a subpoena for any classified documents still at Mar-a-Lago, Trump met with two of his attorneys on May 23, 2022, to discuss how to respond. The indictment says these were Trump's suggestions, as "memorialized" by one of his attorneys:
Trump
praised
Hillary
Clinton's
attorney
for
evidence.
There is no evidence that Hillary Clinton's lawyer willfully destroyed email evidence for her despite Trump's repeated calls to "lock her up." But Trump thought this move was so great that he suggested it again and again to one of his attorneys.
He
made
a
plucking
motion
to
his
attorney
to
weed
out
the
'really
bad'
documents.
In perhaps the only somewhat smart Trump move described in the indictment, the former president allegedly gestured at his attorney rather than saying the words, "Why don't you hide some evidence for me?"
Melania
got
dragged
into
this
mess
too.
A female "Trump family member," who was probably the former First Lady, texted Nauta to let him know that she wanted her husband's hoarding behaviors to remain land-based.
Trump
did
everything
he
could
to
keep
his
papers
from
the
Feds.
The superseding indictment starts with a handy summary of the six different ways Trump allegedly tried to "obstruct the FBI and grand jury investigations" and hang on to the classified documents in his possession. Prosecutors say he really covered all the bases on obstruction of justice by lying, hiding documents, and suggesting that employees lie and destroy documents, then trying to have footage of these crimes deleted:
Trump
changed
his
travel
plans
to
be
present
for
the
search
of
his
precious
boxes.
Apparently Trump wasn't confident that his attorneys would follow his suggestion that they lie or destroy evidence. The superseding indictment says he changed his summer plans so he could be at Mar-a-Lago when his attorneys searched for classified materials to turn over in response to the grand jury subpoena:
Nauta
and
De
Oliveira
told
a
co-worker
that
'the
boss'
wanted
surveillance
footage
deleted.
In the days after prosecutors served a subpoena for security footage of the storage area, there was a flurry of phone calls, texts, and meetings between Trump, Nauta, and De Oliveira, the Mar-a-Lago property manager. Immediately after an attorney told Trump what the feds wanted, Nauta suddenly shifted his travel plans and headed back to the Florida resort. Various coworkers were given inconsistent explanations for the change of plans, and asked to keep Nauta's presence a secret.
The superseding indictment alleges that after meeting with Nauta, on June 27, 2022, De Oliveira asked "Trump Employee 4" to step away from the IT office so they could talk privately. Then he said "the boss" (Trump) wanted the server holding the security footage deleted. Employee 4 said they did not know how to delete the server, and did not think they had the right to do so:
Nauta
said
Trump
wanted
to
make
sure
De
Oliveira
was
loyal.
A few weeks later, after the FBI found classified documents at Mar-a-Lago, Nauta called and texted another Trump employee, saying "someone just wants to make sure Carlos is good," which appears to be mob-like code for "Trump wants to know if De Oliveira will sing to the Feds." After the employee confirmed that De Oliveira was loyal, Trump allegedly called him and said he'd get him an attorney, according to the superseding indictment: