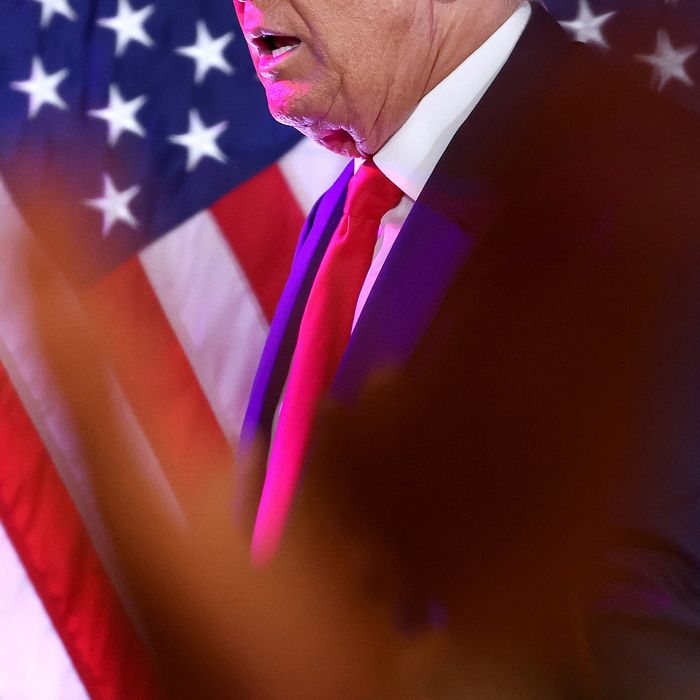 It's now 40 charges for 45th president.
Photo: Mario Tama/Getty Images
Special Counsel Jack Smith accused Donald Trump and two employees of conspiring to deleting security-camera footage at Mar-a-Lago in superseding indictment filed Thursday in the classified-documents case. Prosecutors added a third defendant, Mar-a-Lago maintenance worker Carlos De Oliveira, to the original indictment that first charged Trump and his aide and Diet Coke valet Walt Nauta.
The security-footage plot
The new revised indictment accuses Trump, Nauta, and De Oliveira of ordering the resort's head of IT to "delete security-camera footage at the Mar-a-Lago Club to prevent the footage from being provided to a federal grand jury." This plot allegedly began last June, soon after the Justice Department subpoenaed the footage. The indictment includes two additional obstruction counts against Trump regarding that effort: attempting to "alter, destroy, mutilate, or conceal evidence" and inducing another person to do the same.
De Oliveira, 56, was revealed to be the unnamed employee in the original indictment who helped Nauta move boxes containing classified documents to and from a storage room at Mar-a-Lago. He has been added to the obstruction charges in the original indictment, as well as charged with lying to the FBI about his involvement.
Some of the box-moving was recorded by the club's security cameras and, according to the revised indictment, Trump called De Oliveira on June 22, the day after his lawyers received a draft subpoena for the footage. On June 24, the subpoena issued and one of Trump's lawyers talked to the former president about it on the phone. Two hours later, Nauta was informed by another employee that Trump wanted to speak with him and made plans to travel to Mar-a-Lago the following day. Also on June 24, Nauta and De Oliveira both contacted Mar-a-Lago's director of IT, identified in news reports as Yuscil Taveras, to see if he would be available to meet that weekend.
Prosecutors say that on June 25, De Oliveira told a valet at Mar-a-Lago that Nauta was coming down that day but asked them not to tell anyone because Nauta wanted to keep the trip secret. When Nauta arrived, he and De Oliveira "went to the security-guard booth where surveillance video is displayed on monitors, walked with a flashlight through the tunnel where the storage room was located, and observed and pointed out surveillance cameras."
According to the indictment, on June 27, De Oliveira went Mar-a-Lago's IT office, where Taveras and another employee were working, and asked Taveras to take a walk with him so they could talk. They then "went to a small room known as an 'audio closet.'" Inside, De Oliveira asked Taveras how long security footage was retained on the server. He also allegedly told the Taveras "that 'the boss' wanted the server deleted." Taveras (identified in the indictment as "employee 4") replied that he didn't know how to do that and said he wasn't sure he could, then told De Oliveira to contact a Trump Organization security official. De Oliveira allegedly told the Taveras that the conversation "should remain between the two of them."
The superseding indictment also alleges that Trump used the promise of legal representation to secure De Oliveira's loyalty:
Just over two weeks after the FBI discovered classified documents in the Storage Room and TRUMP's office, on August 26, 2022, NAUTA called Trump Employee 5 and said words to the effect of, "someone just wants to make sure Carlos is good." In response, Trump Employee 5 told NAUTA that DE OLIVEIRA was loyal and that DE OLIVEIRA would not do anything to affect his relationship with TRUMP. That same day, at NAUTA's request, Trump Employee 5 confirmed in a Signal chat group with NAUTA and the PAC Representative that DE OLIVEIRA was loyal. That same day, TRUMP called DE OLIVEIRA and told DE OLIVEIRA that TRUMP would get DE OLIVEIRA an attorney.
De Oliveira has also been added to the obstruction conspiracy charges already filed against Trump and Nauta. (Both Trump and Nauta pleaded not guilty to all of the original charges.)
Trump also charged over Iran attack-plan document
Trump was hit with an additional count of willful retention of national-defense information regarding a top-secret document detailing attack plans against Iran. Trump discussed the document during the now-infamous recorded meeting he had in June 2021 at his Bedminster, New Jersey, golf club. It is the 32nd classified document Trump has been accused of holding onto.
Trump now faces a total of 40 felony charges over the alleged mishandling of classified documents after leaving the White House, and likely faces another federal indictment over his efforts to hold onto power after losing the 2020 election.
This post has been updated.