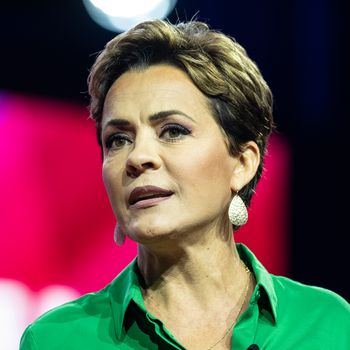 Photo: Lev Radintty Images/Pacific Press/LightRocket via Ge
Since 2015, Donald Trump has been remaking the GOP in his image. But one of his top sycophants might have misstepped by taking the "Be like Trump" mandate not just seriously but literally.
Kari Lake is a TV news anchor turned Arizona gubernatorial candidate. She claims, in Trumpy fashion, that she lost the 2022 election because she was a victim of election fraud (in reality, she got fewer votes than Democrat Katie Hobbs). Lake has reportedly landed herself on the shortlist for Trump's 2024 running mate thanks to her slavish displays of MAGA devotion, from personally vacuuming a red carpet for Trump to implying that she'd take up arms to defend him from the U.S. legal system.
But now several Trump aides tell the Daily Beast that he's souring on the idea of her being his vice-president:
"She's a shameless, ruthless demagogue who wants power and will do whatever she has to do to get it," a Trump adviser told The Daily Beast.




This adviser added that, in recent months, Trump has been less enthusiastic about Lake himself.




Two Trump advisers who spoke to The Daily Beast said the heart of Trump's frustration with Lake is that, in his eyes, she always wants attention.




As one of the advisers put it, she's a "spotlight hound."
Both of these descriptions apply to Trump himself, of course. But supposedly, he feels there's room for only one shameless, demagogic attention-seeker on the Trump 2024 ticket:
While Lake does check off the running-mate box of being an extremely "loyal" backer of Trump, her ability to outshine the ex-president might just be her downfall.




One of the two Trump advisers, who has spoken with Trump about the matter, said the former president doesn't appreciate Lake "running around saying she should be VP."




"Tells you all you need to know that he did not make her his national spokeswoman," the same adviser added. "She was an obvious choice."




A third Trump adviser, who has likewise spoken to Trump about the matter, said they believe Trump "sees through her gambit for the vice presidency."
It's possible that it's actually Trump's staffers who are souring on Lake, not the former president himself. The Daily Beast story contains complaints about Lake from three Trump advisers. Last week, People published an innuendo-laden article attributed to a "political source" that alleged that Lake "practically lives" at Mar-a-Lago and appears there even more than Melania Trump. Framing Lake as a political and possibly even romantic threat seems like a great way to turn more members of Trump's inner circle against her.
And if Trump agrees with the people leaking negative comments about Lake, he hasn't shown it. Winning Team Publishing, which was co-founded by Donald Trump Jr., just released Lake's book, Unafraid. The book launch was held at Trump's Bedminster, New Jersey, resort last week. During the event, the former president called Lake a "brave woman" and pronounced her book "great." He bragged: "I read it last night. I'm a fast reader."
Hours earlier on Truth Social, Trump said he actually knew the book was great because he'd written part of it:
So did Trump write an introduction to Lake's book without even reading it? It's probably best not to get caught up in details like that. The point is that Trump is a fast reader and a fantastic writer — and someone in Trump world wants to make sure Kari Lake doesn't suck up too much of the attention coming to him.