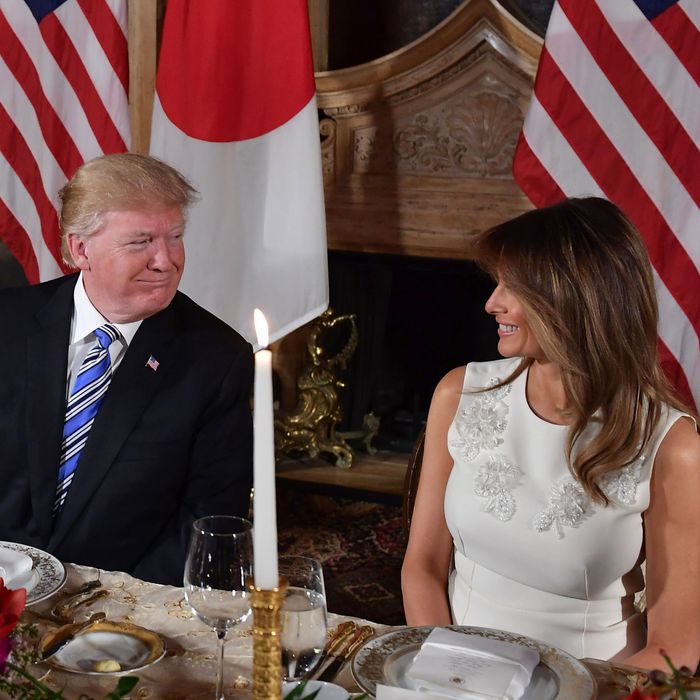 Photo: MANDEL NGAN/AFP via Getty Images
We often focus on the downsides of being Melania Trump, like people making fun of her taste in Christmas decorations, Kari Lake possibly trying to replace her, and being forced to hang out with Donald Trump on a semi-regular basis. But there are some perks. Sometimes she made six figures just by setting the tables for a party in her own home.
In late 2021, the former First Lady was paid $155,000 by a Trump-aligned super PAC. It's uncommon for a spouse to be paid directly by a potential candidate's campaign or super-PAC, and initial federal reports did not make it clear that the money went to Melania. New York Times reporters only figured this out from a filing Trump made on Thursday:
The money was listed as pay for a "speaking engagement" by Ms. Trump in the new filing, a personal financial disclosure by Mr. Trump. The $155,000 payment was made in December 2021 by Make America Great Again, Again, which at the time was Mr. Trump's leading super PAC.




Ms. Trump's name, however, did not appear on the super PAC's list of expenditures, which were made public last year.




Instead, the super PAC's report showed two payments, for $125,000 and $30,000, to "Designer's Management Agency," which lists Ms. Trump as a client on its website. The payments were made on Dec. 2 and Dec. 3, 2021; in the new disclosure, Mr. Trump reported that Ms. Trump was paid $155,000 on Dec. 2, 2021.
The now-defunct super-PAC initially told the Federal Election Commission that the two payments were for "event planning and consulting," not a "speaking engagement." The date of the payment lines up with the PAC's December 2, 2021 fundraising dinner at Mar-a-Lago; information on the dinner is scant, but at the time the Washington Post reported:
[On December 2], Donald Trump dined at his private Florida club with about 20 couples, each of whom paid $250,000 to the Make America Great Again Again super PAC, a group run by close allies of the former president.
So why, exactly, was Melania paid six figures for a party of about 40 people? An anonymous Make America Great Again, Again representative told the Times she was hired for her table-setting expertise:
Another representative for the super PAC, who declined to be identified by name, said that Ms. Trump had been hired through her agency for "design consulting" for the old super PAC's dinner and that her responsibilities included choosing tableware, arranging settings and picking floral arrangements. The fee was $125,000, and the second $30,000 payment was for additional services rendered out of the scope of the first contract, the representative said.




The super PAC representative said the group did not know what share of the money Ms. Trump would receive from the agency.
So did Melania get an extra $30,000 because she stood up at the party and urged everyone assembled to "Be Best"? It's unclear. All we know for sure is that earning around $3,875 per place setting is a pretty sweet work-from-home gig.