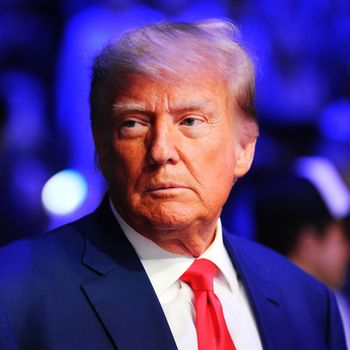 Photo: Chris Unger/Zuffa LLC via Getty Images
On Friday, federal judge Aileen Cannon ruled against former president Trump, who had requested that his trial in the classified-documents case be delayed until after the 2024 election. The trial is now scheduled to begin in in a Florida court on May 20, 2024 — likely well after it's clear which Republican will be taking on Joe Biden but before the heart of the general election.
Prosecutors have pushed for what they called an "aggressive" timeline, but Trump's attorneys argued last week that a trial taking place during the election would make it difficult to seat an impartial jury,
and could have an impact on the race itself. (Their filing, naturally, did not address the likelihood that Trump would simply dismiss the case against him if he became president.) Trump's lawyers also claimed that the publicity from a trial during election season would necessitate a delay. But as one of the prosecutors noted, publicity around Trump is "chronic and almost permanent."
The classified-documents case won't be the only legal proceeding Trump faces next year. He will also be on trial in January in a New York civil court for allegedly defaming E. Jean Carroll (again), though he may not show up to that one. And he faces a trial in March for allegedly falsifying business records to cover up his affair with Stormy Daniels. Trump also informed the country this week that he expects an "arrest and indictment" related to the January 6 grand-jury inquiry.
In June, Justice Department special counsel Jack Smith charged Trump with 31 counts of violating the Espionage Act, making false statements, and conspiracy to obstruct justice. Trump was accused of taking top-secret documents to Mar-a-Lago from the White House and storing them in publicly accessible places at Mar-a-Lago. Famously, he also stored them in a bathroom at his Florida resort. The former president has denied any wrongdoing.
Judge Cannon, a Trump appointee, did acknowledge that the trial date for May 2024 was not set in stone. She described the amount of evidence in the case as "extremely voluminous" and wrote that it "will require substantial time to review." Because of the top-secret nature of the documents, sensitive handling procedures must be in place to allow the jury to see them without exposing national-security information. Given all those factors, it's possible that the trial date may be pushed even closer to Election Day.