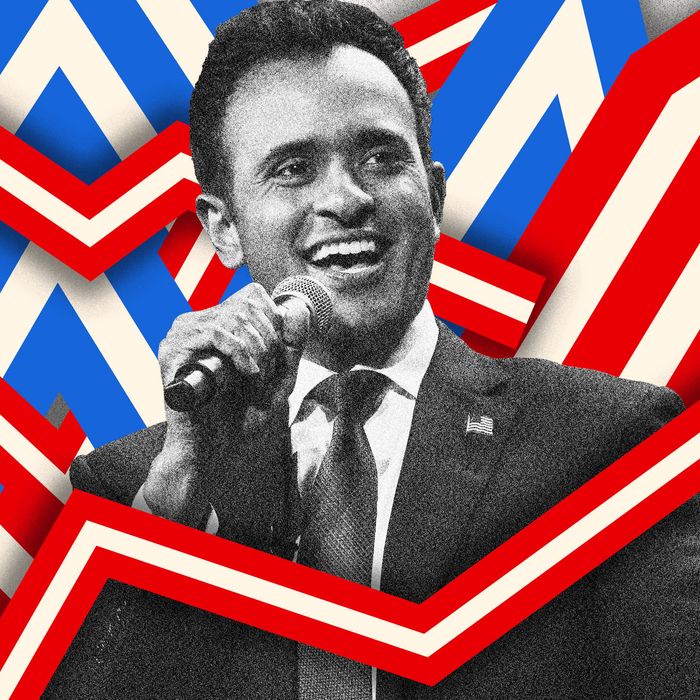 Out of nowhere, a media star.
Photo-Illustration: Intelligencer; Photo: Getty Images
There have been two meta-narratives of the 2024 Republican presidential primary so far. The first is whether Ron DeSantis, who walked tall in the GOP political world last autumn, can catch up with the now-dominant front-runner, Donald Trump. The second is whether any of the 11 other candidates for the nomination have a chance of breaking out of dark-horse status and throwing a scare into DeSantis and Trump.
There as some pretty distinguished résumés in this second tier of candidates. There's a former vice-president (Mike Pence), a senator (Tim Scott), a governor (Doug Burgum), three former governors (Chris Christie, Nikki Haley, and Asa Hutchinson), a former congressman (Will Hurd), and a big-city mayor (Francis Suarez). But at the moment, the candidate rising on the charts with a bullet next to his name is first-time candidate and bio-tech tyro Vivek Ramaswamy. The 37-year-old self-made rich kid from Ohio (the son of immigrants from India) — whose attacks on "woke corporations" made him a fixture on Fox News before he announced his presidential candidacy on Tucker Carlson's show — is definitely having a moment.
Two large-sample national polls this week have shown Ramaswamy surging into third place in the GOP race (a Morning Consult tracking poll has him at 8 percent and a Reuters-Ipsos survey shows him at 9 percent). The RealClearPolitics polling averages place him fourth at 5 percent, but hot on the heels of third-place Pence. Just as importantly, Ramaswamy is making a favorable impression as he becomes better known among Republican voters, as this data from the latest survey of New Hampshire shows:
I'd say Ramaswamy has more growth potential in his vote than the deeply unpopular Pence and Christie, and the meh Haley.
Polls aside, though, the young dynamo is creating a lot of buzz on the campaign trail. As FiveThirtyEight notes, Ramaswamy leads the entire field in the number of visits he's made so far to both Iowa (19) and New Hampshire (15). But it's what he's saying in all these appearances that makes him most distinctive, as National Review editor Rich Lowry notes:
The 2024 race represents an ongoing field test of whether the best way to run against Trump is to make a very careful case against him based on electability and effectiveness (DeSantis); to blast away (Christie); or not really to run against him at all (Ramaswamy). …




Because Ramaswamy's political message was basically created in a lab in the post-Trump context, he's unburdened by ancestral Republican positions that might hold back, say, a Tim Scott or Nikki Haley.




His positions on Ukraine (cut a deal with Vladimir Putin), the FBI (replace it) and Jan. 6 (caused by censorship), just happen to be perfectly aligned with the fashionable populist tendency within the GOP.
And because he's a non-white candidate who made his bones attacking "wokeness" even more aggressively than Ron DeSantis, he has an advantage over other non-white candidates like Scott and Haley when it comes to appealing to anti-anti-racist sentiment in the GOP.
Aside from his positioning in the field and his message, Ramaswamy is a really good communicator, notes Lowry:
Part of Ramaswamy's appeal to Republican voters has been taking every interview and giving as good as he gets, demonstrating self-confidence and media skills. Sharp exchanges with Don Lemon on CNN and Chuck Todd on Meet the Press in particular spread widely and generated free-media attention.
He was the consensus star of the Iowa Family Leadership Summit on July 14, in which the major candidates other than Trump were grilled by Vivek's old friend Tucker Carlson. This sort of performance at the state's premier gathering of politically active conservative Evangelicals is worth its weight in gold. And it should be noted that at the event Trump attended instead of the Family Leader cattle call, the annual meeting of the conservative student group Turning Point Action, it was clear Ramaswamy had a lot of fans, as the Associated Press reported:
[A]n unscientific survey of attendees found Trump was the first choice for president for nearly 86% of respondents. Asked to name their second pick, 51% named Vivek Ramaswamy, the millionaire tech entrepreneur who has declined to criticize Trump.
If Ramaswamy turns in the performance he's capable of at the first Republican debate on August 23 — particularly if Trump skips that event too — he could be the breakout star of the event. He seems to have all the personal characteristics DeSantis lacks.
In his freshness, glibness, and "outsider" pose, Ramaswamy is being compared a lot with 2020 Democratic presidential candidate Pete Buttigieg, who came out of nowhere to basically tie Bernie Sanders in Iowa and then finish second in New Hampshire before his limited appeal to Black and Latino voters caught up with him. Ramaswamy could definitely put himself at a similar level in the GOP race if he continues. What the Republican whiz kid has that Mayor Pete lacked was a lot of personal wealth. If he's willing to spend it freely, he could become more than a curiosity on the campaign trail.