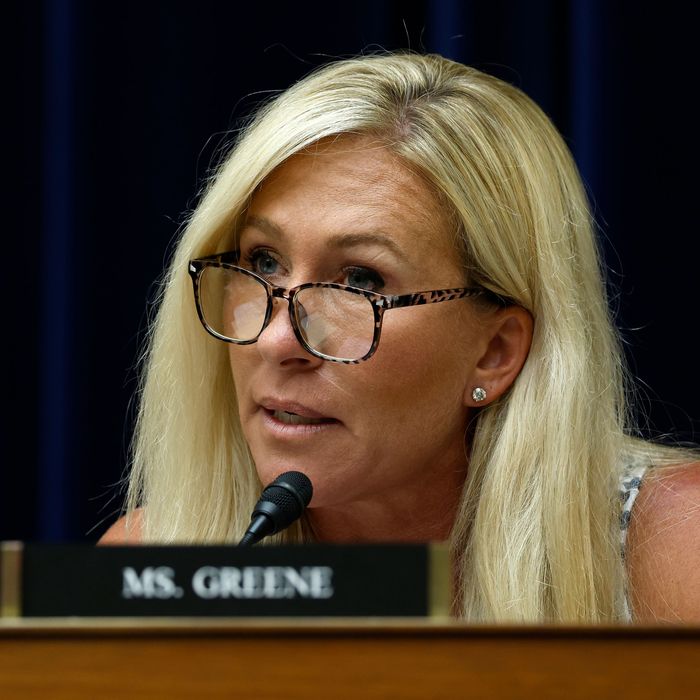 Photo: Anna Moneymaker/Getty Images
Marjorie Taylor Greene of Georgia is arguably the most polarizing member of the 118th Congress. It's hard to be ambivalent toward this flamboyant and attention-seeking politician, who managed to become a national symbol of right-wing extremism when she was running her very first race for public office in 2020 and who was stripped of her committee assignments almost immediately after being sworn in as a U.S. representative.
So it's getting mighty weird that the internal congressional organization with which she has been most closely associated, the arch-conservative House Freedom Caucus, cannot definitively determine whether they have in fact booted her out. We do know they discussed and then held a vote on the proposition just before the Independence Day recess. But despite scattered reports from individual HFC members that she has indeed been given the heave-ho, Greene insists she hasn't been notified of any change in her membership. And now various leaders of the Caucus are beginning to regularly stonewall the media on the subject, as NBC News reports:
"I don't discuss that," said Freedom Caucus Chairman Scott Perry, R-Pa.




"I don't talk about membership at the Freedom Caucus," added a Greene rival, Rep. Lauren Boebert, R-Colo.




"I'm just not gonna comment on that with all the world problems were having," chimed in Rep. Ralph Norman, R-S.C. …




"It's none of your business. It's our business," said Rep. Andy Harris, R-Md., another Freedom Caucus member who just last week had told reporters that the group had taken a vote to remove Greene.




"Those are private matters and concerns," added Rep. Chip Roy, R-Texas.
The House Freedom Caucus has always been sketchy about its own membership, as Vox explained back in 2015:
[T]he group treats its membership rolls as a closely guarded secret. We know approximately how many members the HFC has, and most of the group's members have acknowledged being part of it. But some suspected members of the group have been weirdly cagey about whether they're part of it. "It's nobody's business but our own," Rep. Scott Perry (R-PA) told a CQ Roll Call reporter about the group's membership list in July.




One possible reason for the group's secrecy is concerns about reprisals from leadership.
That hasn't changed. The Freedom Caucus's basic reason to exist is to mess with the heads of Republican House leaders, and specifically with Speaker Kevin McCarthy. To maximize its leverage over McCarthy on spending disputes and other issues, the Freedom Caucus is hyper-tactical, depending on a combination of real and phantom threats of defection to intimidate Republicans whose control of the chamber is extremely fragile. So if anything, the HFC's secrecy and paranoia is more intense than ever, as CNN reports:
When a band of House Freedom Caucus members met last month to strategize over how to hold GOP leadership accountable for the bipartisan debt ceiling deal, not everyone from the far-right group was invited. …




Normally, this type of plotting would have played out in one of the weekly Freedom Caucus meetings. But side sessions and private discussions among a small bloc of rebellious lawmakers have become more common and even necessary, some members say, after months of internal disagreements over tactics, policies and allegiances to their party's leadership have fomented distrust within the group's ranks.
And a lot of this distrust was focused on Marjorie Taylor Greene:
"People don't feel comfortable talking in Freedom Caucus meetings because of Marjorie and others, so the group has sort of broken up," one GOP lawmaker told CNN, who worried Greene would reveal their floor tactics to McCarthy ahead of time.
Understandably, a lot of the chatter about right-wing unhappiness with MTG has revolved around her feud with former ally Lauren Boebert, whom she audibly called a "little bitch" on the House floor recently during a dispute over authorship of a Joe Biden impeachment resolution. But from the Freedom Caucus's point of view, Greene's cardinal sin was telling its secrets to McCarthy. Now the decision about how to deal with the untrustworthy Georgian appears to be destabilizing the Caucus, making the issue of its membership a greater secret than ever. So of course the vote, and perhaps even its outcome, is to remain a secret as well. These people are becoming a nest of conspirators obsessed with identifying spies. It's not a good look for would-be political power brokers.