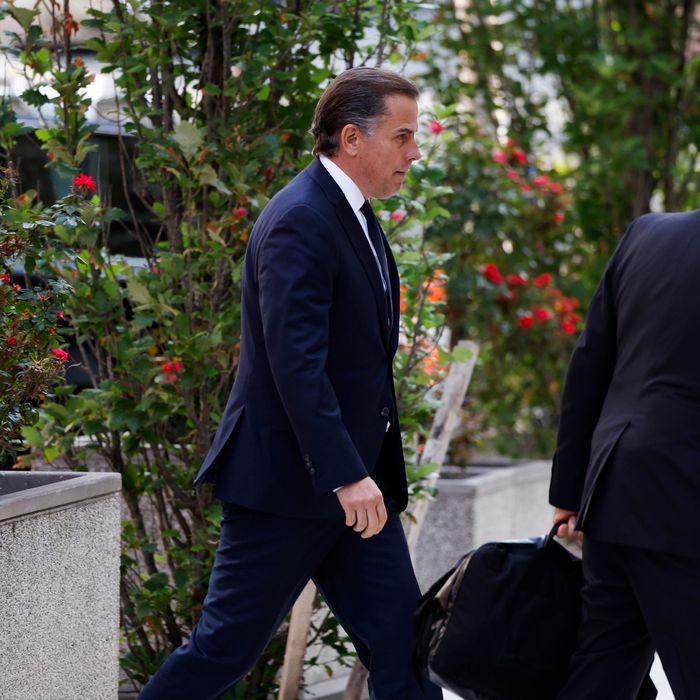 Photo: Anna Moneymaker/Getty Images
After a years-long investigation into his tax affairs that started during the Trump administration, it seemed like Wednesday would bring the end to Hunter Biden's legal troubles when he would to go court and finalize a plea deal with federal prosecutors.
Last month, President Biden's youngest son struck an agreement with the Justice Department to avoid a felony gun charge in exchange for pleading guilty to two misdemeanor charges for not paying taxes on time. Republicans immediately criticized what they called a "sweetheart" deal, while IRS whistleblowers testified in Congress about alleged political interference in the case, which the department denies.
But then the deal fell apart in a Delaware courtroom where Biden appeared to enter his plea. According to the New York Times, it began when Judge Maryellen Noreika asked Leo Wise, one of the case's prosecutors, if the deal would grant Biden immunity from future charges, especially ones involving foreign lobbying. Wise said that it didn't, that the investigation remains "ongoing." That seem to shock Biden's team, who called off the deal. "As far as I'm concerned, the plea agreement is null and void," said Chris Clark, Biden's attorney.
The disagreement prompted Noreika, a Trump appointee, to call a recess in order for the two sides to come up with terms that satisfied all parties. After the break, according to CNN, both sides agreed upon a revised plea deal. Under this new deal, Biden will still plead guilty to the misdemeanor tax charges, but the agreement will cover only 2014 to 2019, the time frame that has largely been the focus of the inquiry. However, that means that conditions of the deal will not protect him from other charges down the line, likely a boon for House Republicans, who have made investigating Biden one of their top priorities.
Noreika reportedly did not approve of the deal, citing a lack of clarity on the terms of the agreements for the gun charge and the tax charges, and gave both sides 30 days to present their case on the deal. In the meantime, Biden pleaded not guilty.