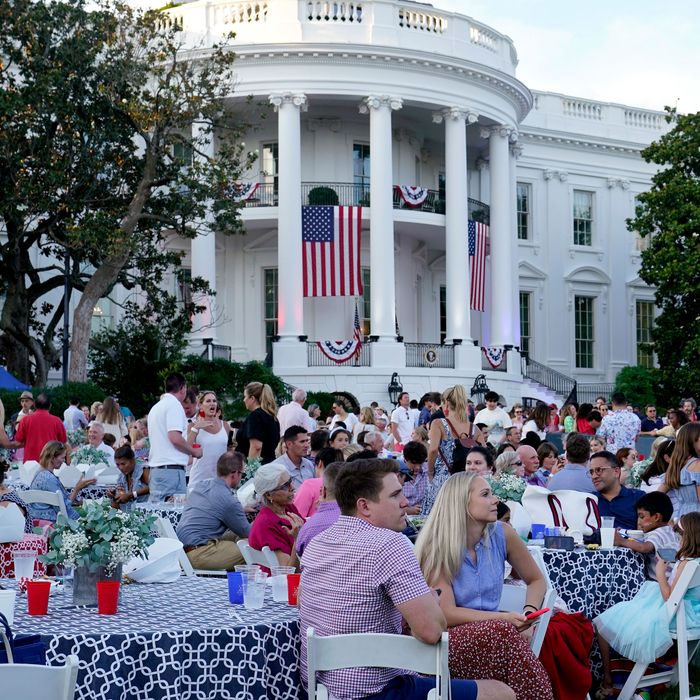 Whodunit?
Photo: Susan Walsh/AP
There's a high-octane mystery afoot at 1600 Pennsylvania Avenue: An unknown culprit brought cocaine into the West Wing of the White House over the weekend, leading to a brief evacuation on Sunday night. The confounding caper has captured the focus of the Secret Service, which is now investigating how a small baggy made its way into what the agency has described as a "work area of the West Wing." Who would be this careless? While we technically don't have any investigatory power, below are four potential suspects.
A holiday tourist?
The Fourth of July is a notorious party holiday, and cocaine is a party drug. It's not hard to imagine a hung-over tourist accidentally bringing a bag into the White House after a night on the town. According to the BBC, the coke was found on Sunday in "an area that is accessible to tour groups" during a routine inspection in a storage facility used for cell phones. This is the Occam's razor answer. If it pans out, pity the yokel who brought a Schedule II drug into the president's work area and is probably about to get a call from some displeased government agents.
As further information emerges on the cocaine incident, the more it appears likely that the culprit was a tourist. Reuters reported on July 5 that the drugs were found "in a cubby hole at a West Wing entry where visitors place electronics and other belongings before taking tours," according to a source familiar with the investigation. But on July 6, investigators told NBC News that the drugs were actually found in a cubby near the White House's West Executive entrance. NBC states that "the entrance is near where some vehicles, like the vice president's limo or SUV park. It is one floor below the main West Wing offices and the same floor as the Situation Room and a dining area." It is also a heavily trafficked entrance where tourists and staff frequently walk past.
The Secret Service is now cross-referencing camera footage with visitor logs, but sources familiar with the investigation who spoke with the New York Times said that there are so many weekend tourists in that area of the West Wing that it may hard to pin down the right person.
A stressed-out staffer?
Picture the scene: A lanyard-type staffer with big ol' glasses got an invitation to do something fun and cool for once in Adams Morgan and picked up a gram or two to share — even if they were going to abstain because of the White House's zero-tolerance drug policy. But some pressing matter forced them into the office late on Saturday to do something annoying for their boss, and on the way in a baggy fell from their wallet and set the whole debacle in motion. Is it possible? Sure. But given the Biden administration's disdain for drug use, it'd be a career-ending screwup for the type of person who lives for their career. This one seems like a long shot.
A prodigal son?
One should give Hunter Biden the benefit of the doubt here. By all accounts, he has stuck with sobriety over the last four years despite the glaring national spotlight on his past behavior. But a younger version of Hunter was very much the type to think he could get away with such a move — and then totally not get away with it. There is one element working in his favor: He was at Camp David over the weekend, only arriving at the White House on Tuesday for fireworks with his dad. That should be a sound enough alibi, even if betting websites has him as the odds-on favorite.
An 80-year-old commander-in-chief?
Donald Trump has posited another candidate: President Joe Biden. In one of his more defamatory comments in recent days — which is saying something — Trump claimed on TruthSocial that it was "for the use" of the president and said that special counsel Jack Smith was also using cocaine. Biden, a tee-totaler, is an unlikely candidate. So is Smith, who does not work at the White House.
Indeed, all of the Bidens have alibis. During Friday's White House press briefing, New York Post reporter Caitlin Doornbos asked press secretary Karine Jean-Pierre, "Can you just say once and for all whether or not the cocaine belonged to the Biden family?" Jean-Pierre reiterated that none of the Bidens were at the White House over the weekend (and thus presumably not doing cocaine there, or there to leave cocaine lying around, either):
You know, there has been some irresponsible reporting about the family and so I gotta call that out here. I have been very clear. I was clear two days ago when talking about this over and over again as I was being asked the questions, as you know, and media outlets reported this. The Biden family was not here. They were not here. They were at Camp David. They were not here Friday. They were not here Saturday. They were not here Sunday. They were not even here on Monday. They came back on Tuesday. So to ask that question is actually incredibly irresponsible.
An inside job?
The Secret Service likes to party — and, according to ex-agents, liked to help philandering presidents party, too. While abroad, the presidential detail is notorious for raising hell. And at home, there have been issues with drinking: Agents reportedly drove drunk past suspicious packages on the White House grounds, and JFK's detail was hung-over on the day of his assassination. Historically, the agency's vice has been booze, so this would be out of character.
Whoever it is, Republicans want to know.
The House Oversight Committee has opened an investigation into the matter with chair James Comer writing this week that "the presence of illegal drugs in the White House is unacceptable and a shameful moment in the White House's history." Comer added that the committee will "assess White House security practices" as part of its inquiry. Senator Tom Cotton also wrote a letter to the Secret Service demanding to know if the coke was "found in an area where confidential information is exchanged."