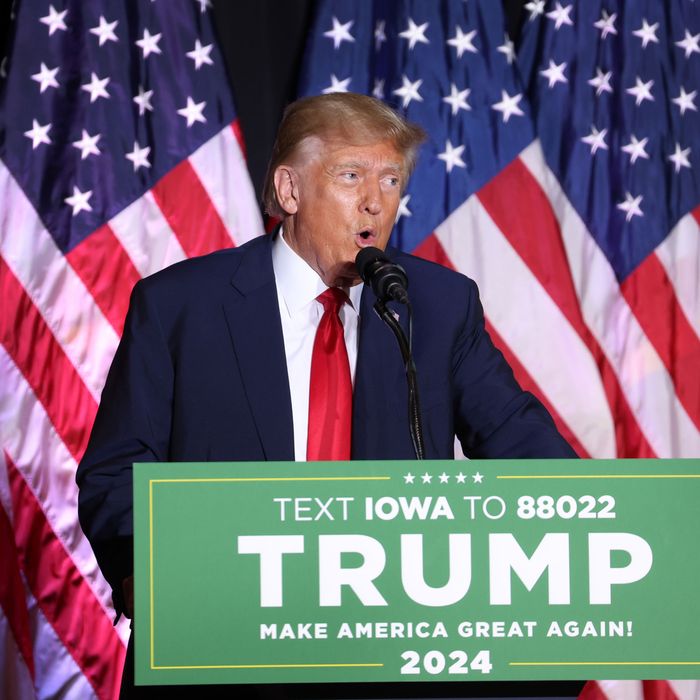 Trump lost Iowa in 2016. He probably can't accept that happening again.
Photo: Scott Olson/Getty Images
I really love Iowa, its people, and its weirdly charming political traditions. I once was given an opportunity to go anywhere in the world for a major birthday, and I chose the Iowa State Fair. But even I'd admit Iowans (or at least its Republicans, after the Iowa Democratic Party's fall from grace in 2020) are plain spoiled when it comes to politics. They expect presidential candidates to visit them in their towns and even their homes. And quite frankly, Iowans expect some serious pandering, as presidential candidates who have had to bend to the Great Corn Idol of ethanol subsidies can tell you.
As a longtime ethanol backer, Donald Trump doesn't have to prove his fealty to Iowa's favorite alternative fuel. But he is violating another unwritten rule by showing some disrespect for key Iowa Republican power brokers, as Shane Goldmacher and Maggie Haberman of the New York Times report:
Iowa may be the most important state on Donald J. Trump's early 2024 political calendar, but he hasn't been making many friends there lately.




He lashed out at Iowa's popular Republican governor, Kim Reynolds, and then his campaign informed one of the state's politically influential evangelical leaders, Bob Vander Plaats, that the former president would skip a gathering of presidential candidates this week in Des Moines.
The "lashing out" at Reynolds was really more of a whine on Truth Social about her ingratitude:
I love Iowa, protected & expanded Ethanol, got 28 Billion Dollars from China for our great Farmers, ended the Estate (Death!) Tax on farms, made the best TRADE deals in history…. & kept Iowa's 'First in the Nation' status. I opened up the Governor position for Kim Reynolds, & when she fell behind, I ENDORSED her, did big Rallies, & she won. Now, she wants to remain 'NEUTRAL.' I don't invite her to events!
Trump appointed Governor Reynolds's predecessor, Terry Branstad, ambassador to China at the beginning of his administration, which lifted then–Lieutenant Governor Kim Reynolds to the big job. And she was perceived as being in trouble for a while in 2018 against well-heeled Democratic opponent Fred Hubbell. It's not surprising that Trump thinks Reynolds owes him an endorsement right now. But worse yet, she is widely thought to be in the tank for Ron DeSantis, despite her protestations of neutrality; she is certainly favoring him with her presence at campaign events whenever he's in the state. The DeSantis campaign also has been happy to draw comparisons between the six-week abortion ban he signed in Florida (which Trump has called "too harsh") and the similar legislation Reynolds is battling the Iowa Supreme Court to enact (the legislature is in a Reynolds-called special session right now to pass a new version of the ban).
That bill, as it happens, is strongly backed by the other Iowa GOP pooh-bah Trump is dissing this week: Bob Vander Plaats. Often called a "kingmaker" because of his knack for endorsing Iowa Republican presidential caucus winners (Mike Huckabee in 2008, Rick Santorum in 2012, and Ted Cruz in 2016), Vander Plaats is really more of a guy who knows how to get in front of the right parade than someone who delivers of a lot of votes. But the Family Leader organization he runs really is the strongest conservative Evangelical group in Iowa, and its candidate cattle calls are thought of as obligatory events. That's the event Trump is skipping this weekend.
While it may be political sacrilege to stand up the Family Leader, it's in line with Trump's general reluctance to attend cattle calls (the first event Trump and DeSantis are expected to both attend is a Lincoln Day Iowa State GOP fundraiser later this month). It may also represent some payback for a steady drumbeat of disrespectful digs at the former president by Vander Plaats (usually in the veiled language of the "need for new leadership," but sometimes in more direct disparagements of Trump as a winner and as a rigorous culture warrior).
So in the dual slights he's given Reynolds and Vander Plaats, Trump may be asserting that he no longer needs to grovel to powerful Iowans given his own powerful grip on the GOP base (he does lead DeSantis by 24 points in the RealClearPolitics polling averages for Iowa, though there haven't been that many polls). Or, as the Messenger's Marc Caputo suggested after talking with a rival campaign, Trump may be lowering expectations in the state:
An adviser for one of the other Republican campaigns speculated that Trump might intentionally be picking a fight with Reynolds and anyone he sees as DeSantis-adjacent to blunt the impact of their future endorsements or create an excuse in case he loses the state.
The former president did, after all, lose Iowa in 2016 to Ted Cruz, the candidate for whom a lot of the current DeSantis operatives worked. And a few days after conceding the state in 2016, Trump decided to accuse Cruz of "stealing" Iowa by spreading false rumors about another candidate who was taking votes away from the Texan. Maybe Trump is trying to preemptively blame a second Iowa loss on GOP power brokers, but it seems likelier that he's trying to break their power, then let them pander to him.