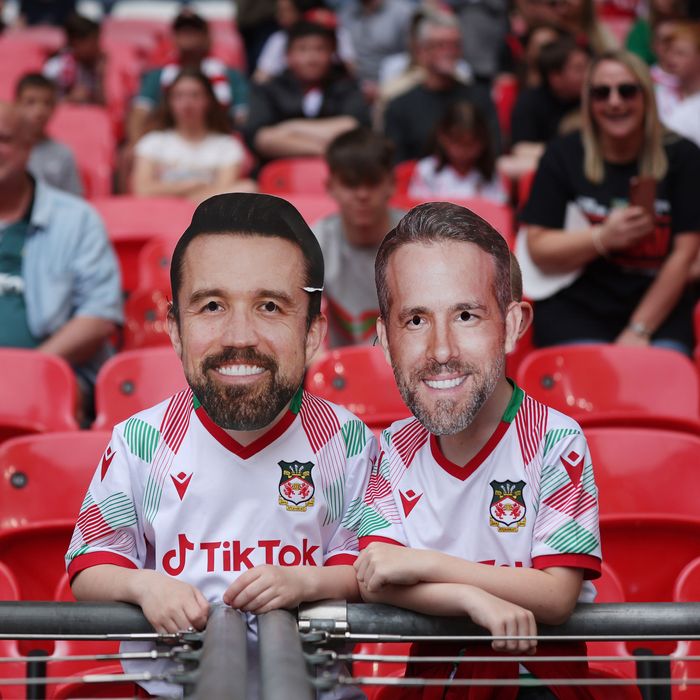 Not actually Ryan Reynolds and Rob McElhenney.
Photo: Eddie Keogh - The FA/The FA via Getty Images
Last week, as Messi fever gripped Florida, I witnessed a completely different soccer mania 3,000 miles away in San Diego.
For a couple decades now, Europe's — particularly England's — top teams have been visiting the United States for lucrative branding and revenue-generating opportunities — otherwise known as preseason exhibition matches, or "friendlies" in soccer parlance. One friendly seemed particularly noteworthy this summer: Manchester United versus Wrexham AFC.
It's a matchup that wouldn't have made any sense three years ago. Manchester United is possibly the world's most famous soccer club, with roughly 650 million fans. Wrexham is a tiny but historic team from a hardscrabble town in Wales. In 2020, it was purchased by Ryan Reynolds and Rob McElhenney, who have turned it into material for the popular FX/Hulu docuseries Welcome to Wrexham (created by, co-executive-produced by, and yes, starring, Reynolds and McElhenney, which debuted almost a year ago). Thanks to their ownership, the sweet-to-the-point-of-saccharine TV series, and the team's success in the lower leagues — the pastoral heart of British soccer — Wrexham has attracted huge numbers of new fans in recent months. These include soccer nerds and people who have never before watched the sport.
The motives for these kinds of games have never much been in question: American fans thirsty for a taste of world-class soccer get a B-level version of it, while European clubs in perpetual pursuit of the American dollar tap into new markets during their offseasons. But promoters of the Man U.–versus-Wrexham match were unusually upfront about the marketing piece of it. At the March press conference announcing the game, the moderator didn't praise Manchester United the team, but did call them "one of the iconic brands in soccer." Of Wrexham, he noted to McElhenney, seated near the podium, that the game is an opportunity for "penetration of your brand inside the United States."
And indeed, Man U. versus Wrexham felt less like a traditional soccer match than a clash of ideologies in how to build corporate identity. One team did it the old-fashioned way: through success on the field mixed with savvy merchandising, key partnerships, and constant exposure. The other went from zero to 60 much faster with the help of two Hollywood stars who have revealed themselves to be masters at a certain kind of storytelling. Wrexham has serious heat right now, as they say in Reynolds's and McElhenney's world. But can a reality-TV show propel a previously barely known club into a perpetual commercial juggernaut?
For years, most of the world's soccer clubs didn't really bother with marketing. Teams were seen as community assets, supported by the local town or neighborhood. But in 1992, Manchester United hired a marketing Svengali named Edward Freedman away from a rival in order to boost the team's non-gameday revenue and rake in more money the other six days a week. The initial goal wasn't necessarily to create new fans, more to capitalize on existing ones around the country and abroad who supported the team as passionately as locals did.
"[Manchester United] did not understand what a brand was, they had never realized they had a brand, that Manchester United was a brand," Freedman recalled to journalist Mihir Bose, author of Manchester Unlimited: The Money, Egos and Infighting Behind the World's Richest Soccer Club.
Freedman had worked in merchandising for one of Britain's largest department stores. He increased the square footage of Manchester United's team store and freshened it up. He hired additional operators for the mail-order catalog (there was only one at the time). He started a monthly magazine solely about Manchester United. He wrested control of the club's licensing and increased the quality and the sheer number of items to put their stars' faces or names on, and slapped the Manchester United badge on nearly everything — not just jerseys and T-shirts, but bedroom drapes, slippers, baby pacifiers, and more. By 1998, half of Manchester United's revenue came just from merch, earning them the derisive nickname "Merchandise United." It was all marketing 101. When a consumer purchases a product aligned with a team they like,they now have a tiny psychological investment in the team as well as an emotional connection to it.
Soon there was a Manchester United credit card, an in-house TV channel that's now available in 56 countries, megastores, and theme restaurants throughout Asia and other distant locales. Worldwide summer tours followed, including to America starting in 2003. Before Man United came to their city, anyone in Macau could simply go to the mall and experience the team's stadium, locker room and manager through virtual reality.
"While United sought out opportunities to increase their income, businesses were [also] quick to come to United in the hope they could become associated with the club, perhaps benefiting them more than United," explained Iain McCartney, a historian who has written 26 books about the club, in an email.
That included the Glazer family, from Florida, who purchased Manchester United in 2005 and, in a leveraged buyout, immediately loaded $708 million of debt onto the club. (They're still paying off that debt, one ticket, one jersey, one scarf, one pair of slippers at a time.) Still, the team of stars, led by manager Sir Alex Ferguson, kept winning. And for all the American fans discovering soccer in the wake of World Cups from 1994 onward, the biggest brand in soccer was Manchester United.
The club's revenue shot up even more in the 2010s, as it cultivated a hilariously bizarre list of global commercial partnerships in addition to its existing blue-chip sponsors: an official wine partner; an official diesel engine partner; a Korean meatball partner; an official savory snack partner; an official global noodle partner; a motorcycle partner in Thailand; different telecommunication services partners in Kuwait, Bahrain, Nigeria, and Ghana; etc. In the attention economy, Manchester United mastered the art of exposure. They aimed to be seen everywhere.
In the case of most sports teams, media and fans help generate storylines every season, which then translate into ticket sales and other revenue streams. Wrexham owners Reynolds and McElhenney seem to have approached things from the opposite direction: Why not just tell the story yourself, exactly the way you want to? And who could possibly be better at doing that than two affable Hollywood pros?
After McElhenney watched a Netflix docuseries about another U.K. team and its tortured supporters, he and his assistant enlisted a sports investment bank to find a suitable team for purchase. In 2020 they came up with Wrexham AFC, the third-oldest professional soccer team in the world, which was languishing in English soccer's lower tiers having barely survived a previous owner's asset-stripping stewardship. If you could lay out the perfect fairytale backdrop for British soccer — which is the variety many American fans still worship most fervently — Wrexham AFC would be it.
Over 18 episodes of the first season (the second is on its way), Reynolds and McElhenney cast themselves as the benevolent fish-out-of-water owners who want to restore joy and pride to the people of Wrexham, a postindustrial town that has fallen on hard times along with its team. The club's challenge is to climb the English soccer pyramid and maybe one day reach the Premier League alongside Manchester United and others. From the first episode and steadily throughout the series, McElhenney and the show's writers effectively (and shrewdly, it should be said) stress how meaningful a sports team can be to its hometown, and the civic and familial bonds that form and endure around sports fandom.
In Welcome to Wrexham, the players don't live in mansions and drive supercars — they have families and work pressures just like everybody else. And while most modern athletes feel less accessible than ever, Wrexham's players open up about their lives. The show exhaustively displays a cast of townsfolk (a painter, a barkeep, the stereotypical Welsh vocations of shepherding and coal mining, etc.) who reinforce to the viewer that their lives appear to be filled with drudgery and tedium, and that their main source of optimism is the local soccer team. The show leans on what psychologists call "emotional contagion" — viewers take behavioral cues from the show's characters. Plot-wise, Reynolds and McElhenney's burgeoning love for soccer dovetails with the team's advancement, while the locals' hopes provide the story's other emotional driver. All of this is indeed contagious; the team's success has lifted both the spirits and the fortunes of the town. And if you happen to be a passionate soccer fan in a country where the sport is still second banana, this stuff can really work on you.
Ian Herbert, deputy chief sportswriter for the Daily Mail and author of the forthcoming book Tinseltown: Hollywood and the Beautiful Game — a Match Made in Wrexham, grew up in the town. He explained in an email that the show's effect on it is undeniable.
"There is something weird about turning the town into a film set, but it gives people something wonderful to feel," Herbert says. "Even in the poor parts, which the documentary didn't cover, there's a spring in people's step, a sense of people believing it when they're told their town has great qualities. Wrexham has tended to be bypassed by English residents en route to their holidays — it's not really been a place to stop, generally. Suddenly there are outsiders from America, Canada, Australia, and New Zealand coming in saying there's something really wonderful about it."
Wrexham has already increased in value 300 percent from the $2.5 million Reynolds and McElhenney bought it for. It has also become a cultural phenomenon. In terms of online engagement, "Wrexham do Messi numbers. Numbers achieved by powerhouse teams during Premier League games. And they do so consistently," explains Roger Bennett, cofounder of the Men in Blazers media network, who's currently collaborating with the team on a podcast and video series, and who has his fingers on the pulse of soccer better than most. Bennett grew up nearby, in Liverpool, and is thrilled to see this economically depressed region in the spotlight for something positive.
As Welcome to Wrexham caught on in America, ESPN began televising the team's matches. But for most people, the docuseries is the central conduit of Wrexham awareness. And so fans' parasocial relationship to the team is completely unique from other clubs — and probably deeper. That's because the Wrexham fan experience doesn't flow from watching actual games, but through the lens of an expertly crafted American TV drama produced in-house. This is truly radical. In Welcome to Wrexham, there is no other storyline — Reynolds and McElhenney have created their own Wrexham cinematic universe, in which the team is the protagonist, battling against largely forgettable token opponents. There is little controversy, and no tedium; the boring parts of a game, never mind a season, are left in the editing room while the human-interest stories are punched up and take center stage.
Turning a real-life team into an episodic television show can lead to some truly strange fan behavior. Wrexham has since played a whole season that hasn't been portrayed on the show yet, and Bennett says some of his audience asks for spoiler alerts before discussing any of it. At this point, a postmodern theorist might conclude that Wrexham isn't exactly a team — more of a simulacrum of a team, at least to fans who'd rather experience them solely through their TV show than as an actual soccer team.
Dig deeper and you could say Wrexham are now a hyperreal soccer club.
Without getting into the weeds, hyperreality occurs when an artificial version of something is considered more real than the reality. As Umberto Eco lays it out in his book Travels in Hyperreality, if a person visits a zoo and sees actual, underwhelming animals loafing around, it might make them prefer the fake but engaging animatronic ones at Disneyland's Jungle Cruise instead. What might Wrexham's American fans make of seeing the team become material, just another soccer team on a field? And not on their historic field in the dead of winter with dramatic stakes, but in a college football stadium lined with palm trees on a hot summer evening?
I have to admit, I had trouble believing Bennett, the Men in Blazers co-founder, at first. Wrexham's engagement is comparable to Messi's? He's the world's greatest living player. And walking to the stadium hours before the game, all I could see were fans in Manchester United jerseys.
Then I went around a corner and saw it: an entire village plopped down next to the stadium, music blaring. The giant tent had windows printed on the canvas, along with a sign reading "The Turf." It's a cheeky mock-up of the famous pub in Wrexham where the club was founded in 1864, a locale often featured in the show. Outside, the line for the Wrexham merch counter was a hundred yards long. Hats and T-shirts were for sale, though the only T-shirt jerseys featured Reynolds's or McElhenney's name on the back.
There was a soccer-skills contest going on and foosball tables outside. Inside the massive tent was a Wrexham fantasyland, filled with more than a thousand people, most of whom came in their own Wrexham jerseys or T-shirts. You could stand in line to have your picture taken with (spoiler alert) the real-life National League trophy Wrexham won in April, an experience provided by one of the team's newest sponsors, United Airlines. The Welsh tourism bureau was here, promoting vacations to their country. At the far end was a wraparound bar: One side was a facsimile of another frequent backdrop in Welcome to Wrexham, the food truck. The other side of the bar looked like the bar inside the real Turf pub — well, the one that appears on TV screens. This bar was serving Aviation Gin cocktails — Reynolds's own spirits brand. Next to it stood a brand rep who was handing out booklets containing "the official chants of the Wrexham AFC summer tour."
You couldn't help but stare at it all and admire this giant monument to branded content, reconstructed from the bowels of the hyperreal. Would an animatronic Reynolds or McElhenney pop up next?
There wasn't a cloud in the sky, the music was loud, everyone looked happy, and the vibes were pitch perfect. Bennett was right. Wrexham is a juggernaut. These fans of the show and team were going to show up anyway — and yet the club still built them a portable Wrexham cinematic universe.
In the corner of the fake bar, I talked up a dour Brit wearing a vintage Manchester United jersey and drinking one of Reynolds's branded cocktails. He vented about the Glazers, the avaricious owners of Manchester United. "All this was paid for by Wrexham. Our owners are shite. They should be doing something like this, you know?"
Elsewhere I talked to a devout Wrexham fan from Vancouver, Canada, who'd flown here for the game. His cousin recommended the show to him, and he liked it so much he began watching every match. I met fathers and sons who are generational Manchester United fans, turned onto the team by the son's childhood soccer coach many years ago. I spotted a man dressed as Ted Lasso. In the parking lot, there was a family in Wrexham T-shirts and hats tailgating while playing country music. I kept meeting Wrexham natives. One has no interest in watching the show, he says. When I asked the other about Reynolds and McElhenney's stature back in his hometown, he explained, "I think they're more popular than God."
Suddenly they appear, swooping, gliding around the little Wrexham cinematic universe. Not Ryan and Rob — but cameras. Yes, this is all being filmed; fans of the show are now literally part of the hyperreal Wrexham. Everything Wrexham-related is content. Everything is part of the brand, including its own consumers. Object and image are now indistinguishable.
Around the corner, a crowd has gathered. They're surrounding McElhenney as he's being interviewed on camera — coiffed hair, expensive sunglasses, giant smile, aloha shirt, bulging muscles. He looks different here among this little traveling Wrexham world he's created than he does on TV. Gone is the regular-dude character often in a baseball cap and T-shirt. The version before us is an absolute star. Here, in the epicenter of his creation, it suddenly seems clear that Welcome to Wrexham is his biggest role ever. How could it not be?
Inside the stadium, all the merch-counter lines are even longer. It's hard to know how many jerseys they're actually selling — nearly every fan, especially of Manchester United, seems to have already shown up in one. It's nothing but jerseys everywhere you look, and not just of the teams playing. People wear jerseys of Premier League rivals; USA jerseys; Mexico jerseys; Pelé and Messi jerseys.
Herein lies the subtle significance of these seemingly cynical friendlies: They're where American soccer fans gather simply to be among each other. In a country where the sport still takes a backseat to football, basketball, and baseball, people come here to express their passion for soccer itself.
Maybe this is another key to Wrexham's appeal. "I do believe that in this modern age in which football, money, and geopolitics are intertwined in ways that are often deflating and depressing, that Wrexham are a force for good," Bennett told me. Soccer is leaden with politics and has never seemed more morally suspect, between Qatar's tainted and successful bid for the 2022 World Cup, nation-states buying their own clubs, and Saudi Arabia suddenly pouring vast sums of money into the game. Wrexham's tightly controlled story features none of this. Where once soccer was escapism itself, Wrexham's world is an escape from modern soccer.
It was almost time for kickoff. Manchester United scheduled a game the following evening in Houston against Real Madrid — one of the best teams in the world, and far better opposition than Wrexham. Even Manchester United's beat writers in the press box are surprised they're in two places at once — but on the other hand, if any team would attempt such a thing it's them. Tonight, the team's starting lineup flashed on the scoreboard is a group of youngsters (plus one old veteran) while the actual stars have decamped to Texas. It's not the squad anyone came here for, but to fans who rarely, if ever, see Manchester United in person, a team of stand-ins is still technically them, isn't it?
What had looked on paper to be a game without much bite got interesting quickly. In the tenth minute, Manchester United's goalkeeper brutally took out Wrexham's star forward, Paul Mullin, a fan favorite. He was laid out for minutes with what turned out to be a punctured lung and eventually exited the field sucking on an oxygen mask. In a real game it'd be an automatic red card for the goalkeeper, but referees aren't inclined to spoil these sorts of money-juicing friendlies. From that moment the sold-out crowd came to life, and seemingly half the stadium venomously booed the little-known goalkeeper every time he touched the ball. (That should make for some good TV.)
Then, in the span of seven minutes, Wrexham went up two goals. The crowd went nuts — this wasn't in the script. But just before halftime, Manchester United got a goal back, and at this the stadium really exploded.
In the second half, the maneuvers on the field became more adventurous, tempers flared, and the referee handed out yellow cards and a red card. But the crowd seemed to reach peak enthusiasm when a wave did several laps around the stadium. In the 69th minute, Wrexham improbably scored again to take a 3-1 lead.
Then, with a few minutes remaining, a shirtless, barefoot fan ran across the field, nimbly juking and dodging an increasing swarm of security guards giving chase, at least for a little while. Once he was apprehended, the crowd cheered him off the field as if he were a Roman gladiator. Was all of this meant to be content, byproducts of the Hawthorne effect? Or simply the authentic behavior of a crowd? After a while, it's impossible to tell.
Even though Wrexham pulled off an unbelievable upset on paper — this plucky team of big dreamers technically beat Manchester United! — it was still an exhibition match, and there was little drama at the end: no jeering from Manchester United's fans even though they had the right to, and no great fanfare from Wrexham's. Everyone seemed satisfied, if not particularly elated. The show was simply over.
As the night cooled, I walked once more past the tent made to look like the Turf. It was dark, empty, and lifeless. The bar was completely gone. This real-life miniature version of the TV-screen version of Wrexham would soon head to Philadelphia (McElhenney's hometown) after stops in Los Angeles and Chapel Hill, North Carolina — the team, the brand, the content, the experience, the fairytale story (all of which are the same thing) replicated once more in person, then inevitably on TV. Even though we were thousands of miles from Wales, Wrexham's fans seemed to have gotten everything they came for. For now, Reynolds and McElhenney's bet that they can create something from nothing is paying off.