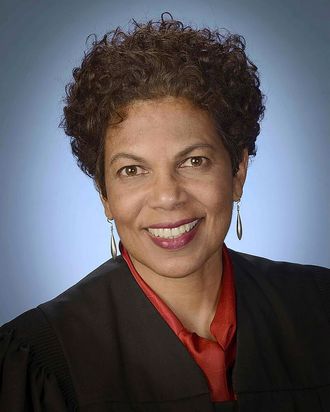 Judge Tanya Chutkan.
Photo: Administrative Office of the U.S. Courts via AP, File/AP
A Texas woman has been charged with threatening the life of the federal judge overseeing Donald Trump's election-interference case, telling her, "If Trump doesn't get elected in 2024, we are coming to kill you. So, tread lightly, bitch."
Abigail Jo Shry is accused of calling Judge Tanya Chutkan's chambers on August 5 and leaving a voice-mail that began with, "Hey, you stupid slave n- - - - -," according to court papers. Shry continued by saying, "You are in our sights. We want to kill you," saying that Chutkan and her family will be "targeted personally, publicly."
Shry then referenced Congresswoman Sheila Jackson Lee of Houston, who is also Black, adding that "we want to kill" her too.
Homeland Security agents visited Shry's home days later for questioning after connecting the phone number used to make the call to her. According to the criminal complaint, Shry admitted to making the call to the agents and indicated that she had no plans to travel to Washington, D.C., or Houston to commit any attack. However, Shry reportedly added that the agents would need to "worry" if Lee traveled to Alvin, where she lives. During a court appearance, she was denied bail and ordered to be held in custody for at least a month, according to the New York Times.
The Times reported that Mark Shry, Abigail's father, testified to a judge in her defense, claiming that his daughter was a "nonviolent alcoholic" who sometimes called people on the phone making threats after being "agitated by the news."
Trump himself has consistently targeted his perceived enemies with insults and, in the days following his indictment in the election-subversion scheme, he has continued to go after Chutkan on his social media and in public remarks as he continues his presidential bid.
Chutkan, an Obama appointee who was confirmed by unanimous vote in the Senate, has overseen many past January 6 rioter cases and has handed down tougher sentences in comparison to many of her colleagues. For that, Trump called her special counsel Jack Smith's "No. 1 draft pick." The former president has also targeted the prosecutors in his cases, calling Smith "deranged" and Manhattan district attorney Alvin Bragg a "deranged psychopath."
Chutkan has warned Trump about his inflammatory rhetoric in connection to the case. During a hearing about a protective order last week, the judge suggested that any statements that could impact the jury pool might be factored into a speedier timeline for the trial.
"I will take whatever measures are necessary to safeguard the integrity of these proceedings," she said.