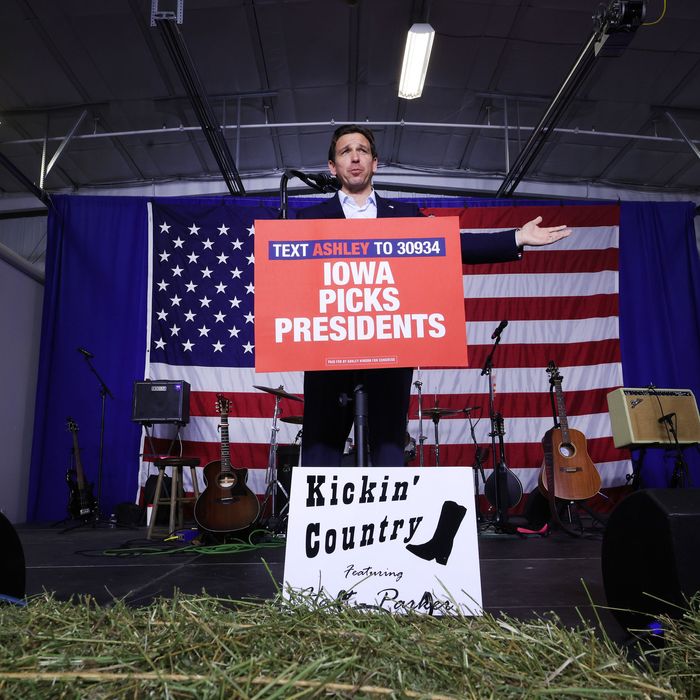 This may not be where Ron DeSantis envisioned himself when his campaign was a all-powerful Death Star.
Photo: Scott Olson/Getty Images
Historically, some presidential-campaign shake-ups and "reboots" have led to victory, while others have proved to be symptoms preceding defeat. We don't know yet which precedent Ron DeSantis's 2024 campaign will ultimately follow. But we do know it's almost never a good sign when shake-ups and reboots have to be repeated.
So it's not great news for the Florida governor that he's just undertaken the third round of major staffing changes in his campaign in less than a month, as the Messenger first reported:
Florida Gov. Ron DeSantis replaced his embattled presidential campaign manager with one of his most trusted, and most conservative, advisers: his gubernatorial office's chief of staff, James Uthmeier.




Outgoing campaign manager Generra Peck will remain as chief strategist on the campaign as part of the restructuring. Peck guided DeSantis's blowout reelection bid last year, but she quickly became the subject of criticism from DeSantis advisers and donors in mid-July after his presidential campaign stalled and money dried up.




The campaign then twice cut staff and expenses and retooled DeSantis's press strategy to make him more available to the mainstream media.




But donors and some outside advisers weren't satisfied, leading DeSantis last week to ask Uthmeier to diagnose problems with the campaign and see if he could fix them. Ultimately, it led the governor to ask Uthmeier to take the job.
Like Peck, Uthmeier is a 30-something with zero experience in national political campaigns. The shake-up also gave him a deputy, David Polyanski, who moved over from the Never Back Down super-PAC that's been doing a lot of the heavy lifting for DeSantis. Like many of the honchos at Never Back Down, Polyanksi is close to 2016 Trump rival Ted Cruz, who tried the "true conservative alternative" message that year without much success. Cruz did win Iowa, though, and that's Polyanksi's stomping grounds (he worked for Mike Huckabee's successful 2008 Iowa Caucus campaign too, and for Joni Ernst's successful debut race for the Senate in 2014). It's unclear how much clout he will have with the candidate and his wife, who are known for valuing longstanding ties with loyal aides like both Peck and Uthmeier.
But whoever is calling the shots, there are growing signs that DeSantis's strategy for winning the nomination may be coming down to an all-or-nothing push in Iowa. His super-PAC has spent heavily in Iowa campaign infrastructure, especially knocking on doors, a staple of pre-caucus politicking in the state. Stung by allegations he is uncomfortable with the retail campaigning Iowans are known to value, he committed to "the full Grassley," which means appearances in all of the state's 99 counties (he's up to just under 30 so far). This time-consuming approach is more typical for candidates who have all but written off campaigning in other states for the time being.
There are some good reasons for DeSantis to focus on Iowa to a fault, aside from the super-PAC investments made by all those ex-Cruz staffers who may just be trying to duplicate what happened there in 2016. While Trump has had a solid lead in Iowa of 27 points on average, it's less than his 38-point lead nationally. What's more, he's has given his rivals a possible opening in Iowa by going out of his way to offend major GOP power brokers like conservative Evangelical leader Bob Vander Plaats and the very popular Governor Kim Reynolds, both of whom are theoretically neutral but conspicuously friendly with DeSantis.
But make no mistake, there are risks involved in where it appears the DeSantis campaign is headed. One recent danger sign for him was a cutoff in donations from his biggest single donor, Robert Bigelow, who gave a cool $20 million to Never Back Down. Bigelow really doesn't like the decision to run to Trump's right, and suggested that in particular any future donations would depend on DeSantis "moderating" his position on abortion. An Iowa-focused DeSantis longing for endorsements from the likes of Vander Plaats (a hard-core anti-abortion leader for decades) and Reynolds (currently battling to enact an abortion ban very similar to the one DeSantis signed in Florida) isn't going to do that. He's already lost his electability edge over Trump. The way he's now campaigning won't likely win it back.
It's also clear that whatever Trump has done to complicate his mission in Iowa, it's the early state most demographically congenial to the MAGA movement with a relatively large white, non-college-educated population. He lost Iowa narrowly in 2016 after running a clumsy, amateurish campaign. He won't make that mistake twice.
Any way you look at it, the DeSantis campaign has unquestionably shrunk. It looked initially like a Death Star with vast resources and a highly disciplined candidate who could appeal to both MAGA and anti-Trump Republicans across a broad landscape of primary-state terrain. Now it's beginning to look like a poorly managed, narrow effort to upset Trump in one state no matter the cost later. It could still work. But the shake-ups and reboots really need to end.