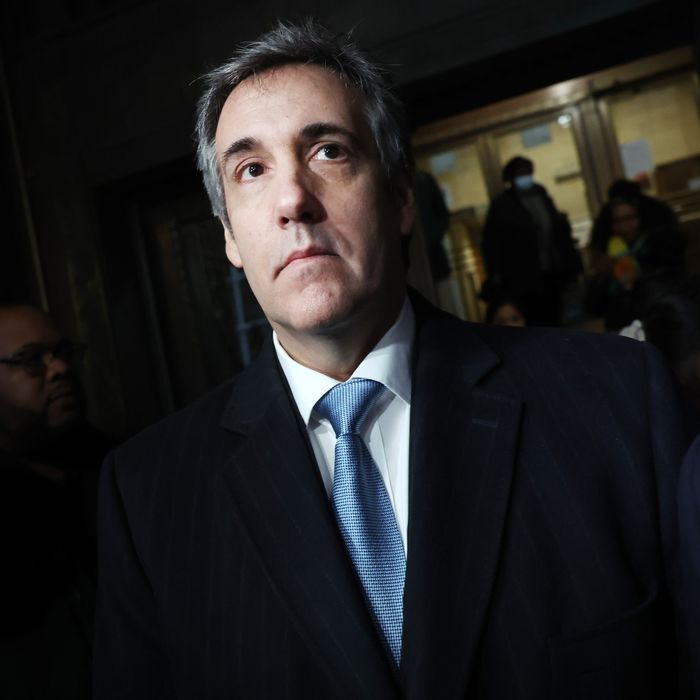 Photo: Spencer Platt/Getty Images
Even if they don't buy into his whole resistance-hero shtick, most Democrats like today's Michael Cohen, the repentant ex-con, better than the man they were introduced to during the 2016 campaign as Donald Trump's attorney and attack dog. But does that mean they want him to represent them in Congress?
Cohen thinks they might. Or at least, he's going to pretend he does in the hope that it will further his career as a media personality. Trump's "fixer" turned foe told Semafor that he's considering a run for Congress as a Democrat.
"I am interested, and there's a multitude of folks encouraging me to run," Cohen told the outlet in a phone interview.
This is ridiculous in and of itself. Cohen pleaded guilty to tax evasion, bank fraud, lying to Congress, and other crimes related to hush-money payments made on Trump's behalf and was sentenced to three years in prison in 2018. Since then, he's turned hating Trump into a second career, writing a book, launching a podcast called Mea Culpa, and doing countless media appearances. (Ironically, this may be undermining Cohen's value as a key witness in the Manhattan DA's case against Trump, as New York's Ankush Khardori explained.) Legally, convicted felons can serve in Congress, but it seems like voters' criteria for making someone their representative should be higher than "Well, he's no longer actively committing crimes."
What makes Cohen's potential run particularly ludicrous is that he'd be mounting a primary challenge against Representative Jerry Nadler, the top Democrat on the House Judiciary Committee. Per Semafor:
Cohen said he currently lives on the East Side of Manhattan, which would neatly position him to run in New York's 12th congressional district. The district was redrawn in 2022, pitting Nadler in a contentious midterm race against his colleague, former congresswoman, Carolyn Maloney.




Nadler was first elected to Congress in 1992 and has served as the Judiciary Committee's lead Democrat since 2019, during which time he served in a significant role in Trump's first impeachment inquiry.
So Cohen is thinking of challenging an extremely powerful House Democrat who just demonstrated his own anti-Trump bona fides as well as his ability to defeat another formidable representative.
Good luck! Cohen better hope his political talents are stronger than his skills as a lawyer.