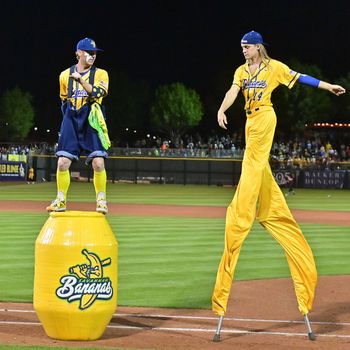 Savannah Bananas pitchers Mat Wolf and Dakota Albritton dance in the fourth inning of a game against the Savannah Party Animals at Scottsdale Stadium.
Photo: Matt Kartozian/USA TODAY Sports via Reuters Contributor
As a boy growing up in Scituate, Massachusetts, Jesse Cole lived and breathed baseball. He dreamed of one day playing for the Red Sox, and by the age of 10, he was hitting homers over the fence. He pitched on a competitive travel team, then for his high school, and then for Division I Wofford College. He even attracted a little attention from big-league scouts before an injury ended his career. Unable to continue playing, he became an assistant coach in the Cape Cod Baseball League, one of the country's premier collegiate summer leagues. It was there, taking in the sport for the first time as an observer and not a player, that Cole had the "aha moment" that propelled the rest of his professional life: He realized he was actually bored out of his mind watching baseball.
Cole is the driving force behind the Savannah Bananas, a barnstorming baseball team that fills its games with dancing players, fast-paced play, and a series of rules dubbed "Banana Ball" that turn the staid sport on its ear, then throw a pie at that ear. The team played its first formal Banana Ball game in 2020; two years later they embarked on a modest 14-game tour. Now, with a large social media audience and still more fans who learned about them on ESPN's 2022 docuseries Bananaland, they're in the midst of their biggest tour yet: a scheduled 86 games in 33 cities this year, including two on Staten Island this Friday and Saturday. Every ticket for every game of the tour has been sold with seats on the secondary market going for hundreds of dollars.
Unlike basketball's Harlem Globetrotters, who reliably beat the hapless Washington Generals, the Bananas don't script the outcome of their games. Their traveling rival, the Party Animals, was built to be roughly as talented as the Bananas; the games would be competitive, and the Party Animals routinely win. (They also sometimes play real minor-league teams in games in which both teams play by Banana Ball rules; that'll be the case on Staten Island, where they'll square off against the hometown FerryHawks.)
In Banana Ball, there are no walks. Instead, after ball four, the batter breaks into a sprint and can't be tagged out until all nine defensive players have touched the ball. Hitters can try to "steal" first on any wild pitch or passed ball, and bunts are banned altogether. There's a two-hour time limit, and a point is awarded to the winner of each inning, except in the last inning, when every run counts as a point. Tie contests are decided with "showdown" rounds that begin with just a hitter, pitcher, and a single fielder on defense, and only get wilder from there. And even the fans have a role: If someone in the stands catches a foul ball on the fly, the batter is out.
After giving up coaching in 2007, Cole worked in the front office of the Gastonia (North Carolina) Grizzlies, a collegiate summer team, then purchased the franchise in 2014. In Gastonia, he understood that fans attending a game at that level of the sport needed to be entertained beyond the action on the field. He staged silly theme nights like A Salute to Underwear and encouraged fans to knock him into a dunk tank.
When Cole and his wife, Emily, became owners of another collegiate summer league team in Savannah in 2015, they named it the Bananas and doubled down on fun (a pep band, a break-dancing first-base coach), but Cole noticed that fans were still routinely leaving the stadium early. Cole decided that what really needed to change was the game itself. In 2018, the team began testing new rules that would keep fans engaged for the entire game. Two years later, they played the first official game of Banana Ball.
"No one leaves a Taylor Swift concert in the middle and says, you know what, I've had enough," says Cole. "But in baseball, after five, six, seven innings, it's like, I'm good. And that's a fundamental problem with the game."
Bananas games are dense with gimmicks their staff can turn into bite-size videos that have earned them the label "TikTok's favorite baseball team." (They have more than 7 million followers on the platform; the Yankees have 1.2 million.)
A batter might walk to the plate with his bat aflame or bring a guitar and perform his own walk-up song or drop into a split right before the pitcher delivers the ball. On defense, an outfielder might catch a fly ball mid-backflip. Infielders might choreograph a dance with the pitcher before he begins his windup. Teammates might join the pitcher on the mound, huddle up, and then all wind up simultaneously, so the batter doesn't know which one of them is about to throw the ball.
There are pregame parades and postgame sing-alongs and mid-game dance routines from the Banana Nanas (a dance squad of senior women). Cole himself emcees the games, firing up the crowd while dressed in his trademark yellow suit. Or perhaps it's better to call him the Bananas' ringmaster: He cites P.T. Barnum as one of his heroes, along with Walt Disney and Hall of Fame baseball owner (and legendary promoter) Bill Veeck.
"I've never had as much fun on a baseball field as I am now," says Dakota Albritton, who both hits and pitches for the Bananas, but unlike two-way sensation Shohei Otani, does it while wearing stilts. "I was always a baseball purist. In high school, I was the guy who would hit the field and I'd have my hat straightforward, I'd have my belt on, my shirt tucked in, all my lines matched up. Then I got to Bananas tryouts and there were people in kangaroo costumes. I just let loose."
The Bananas remained in the Coastal Plain League until 2022, playing official league games by traditional rules while scheduling separate Banana Ball exhibitions. Now they quite literally play by their own rules and play a schedule of their own choosing, maintaining a home base at Grayson Stadium in Savannah while also traveling across the country.
Two years ago, Cole says, just one city showed interest in bringing the Bananas to town. Now they're in high demand, and stadiums had to apply for a chance to host a game this year. Cole says he's even heard from half the teams in Major League Baseball and that he expects the Bananas will play some games in big-league parks in 2024. He's also confident that they'll play in front of a million fans for the first time next year.
"When the Bananas put out word that they were taking applications for parks interested in hosting, co-owner John Catsimatidis and I were pretty aggressive," says FerryHawks president Eric Shuffler. "When I got the email, I called the Bananas the next day. It's going to be one of those nights that people are going to talk about for a long time."
This Bananas season comes at a big moment for the sport. Over the last few years, as strikeouts have multiplied and average game times have ballooned past three hours, baseball's boring problem has become a crisis. This season, Major League Baseball instituted a number of rule changes designed to speed up the game and infuse it with more action. Games in the first half of this season were an average of 26 minutes shorter than they were last year, and the number of runs per game has ticked up, along with attendance figures. It's likely that fewer fans are heading for the exits prematurely this year.
But even a faster professional baseball game isn't exactly fast. And you certainly won't see anyone on stilts.
"If you want to see the best baseball players in the world, we don't hold a candle to Major League Baseball," says Cole. "But it's just a dramatically different experience. From an entertainment standpoint, we are obsessed with every second, every at-bat, every pitch. Obsessed."