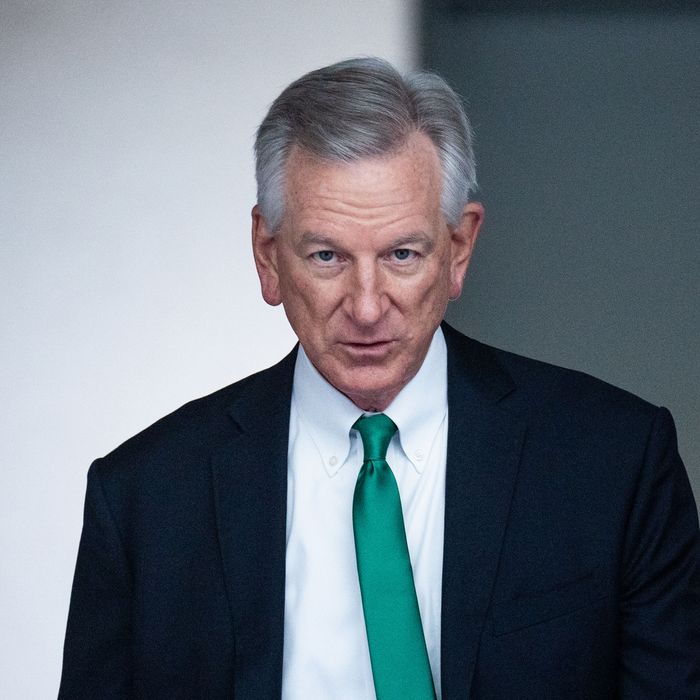 Photo: Bill Clark/CQ-Roll Call, Inc via Getty Images
When news broke Tuesday afternoon that the Biden administration would be keeping the headquarters of U.S. Space Command in Colorado instead of moving it to Alabama, as Donald Trump had instructed, Washington's attention swung immediately to one man who — officially — had nothing to do with it: Tommy Tuberville.
The Alabama senator hadn't just been one of the prime cheerleaders of Space Command's move to his state. He's also Joe Biden's latest favorite target.
Officials across the government immediately denied that the decision had anything to do with Tuberville, and no evidence has surfaced to the contrary. But in recent months, Biden has trained increased public attention and scorn on the first-term Republican and close Trump ally, who's been all too happy to escalate in response.
Biden didn't single Tuberville out at random. He has annoyed those in and around the White House by touting federal infrastructure programs in Alabama paid for by funding he voted against. This summer, he drew brutal headlines for equivocating over whether white nationalists are racists. But it's his unilateral block on military promotions over a Department of Defense policy reimbursing servicemembers who travel to obtain an abortion that has infuriated those close to Biden and visibly frustrated the president.
Late last month, Biden warned that "something dangerous is happening" as he singled Tuberville out at a speech at the National Archives. "The Republican Party used to always support the military, but today, they are undermining the military. The senior senator from Alabama, who claims to support our troops, is now blocking more than 300 military [nominations] with his extreme political agenda." He proceeded to list moves Tuberville was blocking, getting more specific — and higher profile — in his criticism than ever before. Just weeks earlier, he'd scoffed to reporters on the White House South Lawn that Tuberville was being "totally inappropriate" and "outrageous" and that "he doesn't know what he's talking about." Hours later at a private fundraiser in Chicago, he continued lacing into Tuberville, who likes to go by "Coach" after his long career in college football: "There's that senator — he's a hell of a football coach in Alabama — who is now the senator from Alabama, Tuberville, who strongly opposed the legislation that now he's hailing its passage. He voted against the legislation. He says, 'Great to see Alabama receive critical funds to boost ongoing broadband efforts.' End of quote. I told him I'll see him at the groundbreaking."
Biden's criticism for Tuberville has appeared to come from a place of particular exasperation, but it's also an obvious political tool for the president. The senator, after all, is only the latest in a growing list of Republican office-holders who Biden likes to call out to illustrate his broader argument about the extremism of the MAGA wing of the GOP without drawing himself into an unproductive, unpredictable, and attention-sucking back-and-forth with Donald Trump himself.
During the midterms, Biden liked calling out Wisconsin senator Ron Johnson, who he regarded as especially cruel, and in the ensuing budget fights he zeroed in on Florida senator Rick Scott over his proposals to chop Social Security. Georgia's conspiracist congresswoman Marjorie Taylor Greene has also been a regular target, as have some lower-profile GOP members who, like Tuberville, have touted projects funded by the infrastructure legislation they once railed against.
Still, some close to Biden say his negative feelings about Tuberville are even more pronounced than with others, since the Republican is actively blocking military operations. (One word I heard on multiple occasions from those in the know describing Biden's take on the maneuver: "outrageous.") Biden has no personal relationship with Tuberville, but has been watching him closely for a while, as he defeated Doug Jones, a close Biden friend and ally, during the 2020 election. Yet Tuberville has only gained significant national attention in recent weeks, between his unilateral blockade and his tortured temporary refusal to condemn white nationalists. Asked on Alabama radio if white nationalists should be allowed in the military, he said, "I call them Americans," and he seemed to double down on that answer in a follow-up interview on CNN in early July. Only the next day did he outright say, "White nationalists are racists."
By that point Biden had already been needling Tuberville over his infrastructure comments; Tuberville had shot back at Biden's "See you at the groundbreaking" by asking whether he meant the groundbreaking for Space Command in Alabama. Biden had also been noting in speech after speech that the senator was "blocking the nominations of America's finest military leaders, jeopardizing our national security over a domestic social issue," as he said both in Philadelphia and when traveling in Europe last month. "I expect the Republican Party to stand up — stand up! — and do something about it," he said in Lithuania, hammering home the notion he's leaned on over the last year that the GOP's far-right wing has radicalized and alienated the mainstream.
For the most part, Tuberville has leaned into the opprobrium, making the straightforward calculus that a fight with Biden only helps him politically in conservative Alabama. He'd also spent weeks laying the groundwork for disappointment over Space Command by accusing Biden of "putting politics before national security" and also of "being a dictator" over the abortion-travel funding in one interview earlier this summer.
On Monday, when the decision was announced, Tuberville dug in. "As soon as Joe Biden took office, he paused movement on that decision and inserted politics into what had been a fair and objective competition — not because the facts had changed, but because the political part of the sitting president had changed," he said in a statement. The notion that his feud with Biden played into the decision wasn't just his — Jones felt compelled to tweet that while he was "very disappointed" in Biden's decision, "the one thing I am absolutely confident of is that @JoeBiden made the decision without regard to politics," adding, "It's easy for Alabama Democrats to blame Tuberville who for damn sure is playing politics with our military (and we are going to have a lot more to say about that)." For months, lawmakers had wondered whether Alabama's extremely restrictive abortion laws might play a role in the decision whether to relocate Space Command and its members, even aside from whatever Tuberville was up to. Still, the lone Democrat in the state's congressional delegation was furious on Monday too. "The administration's decision to keep Space Command in Colorado bows to the whims of politics over merit," Terri Sewell, a Biden ally, fumed in her own statement. "This reversal is as shameful as it is disappointing. I expected more from the Biden administration."
But none of this appears to have dissuaded Biden from his strategy of highlighting especially radical Republicans. He has in recent days made clear that he's serious about visiting Greene's district in Georgia for the groundbreaking of a solar-focused manufacturing facility. And it wasn't lost on the White House that just minutes after the Space Command news came down, the Alabama Republican Party issued a press release of its own — not about the decision, but with an announcement that seemed to confirm Biden's point about the party: Tuberville would be introducing Trump at the committee's summer dinner on Friday.