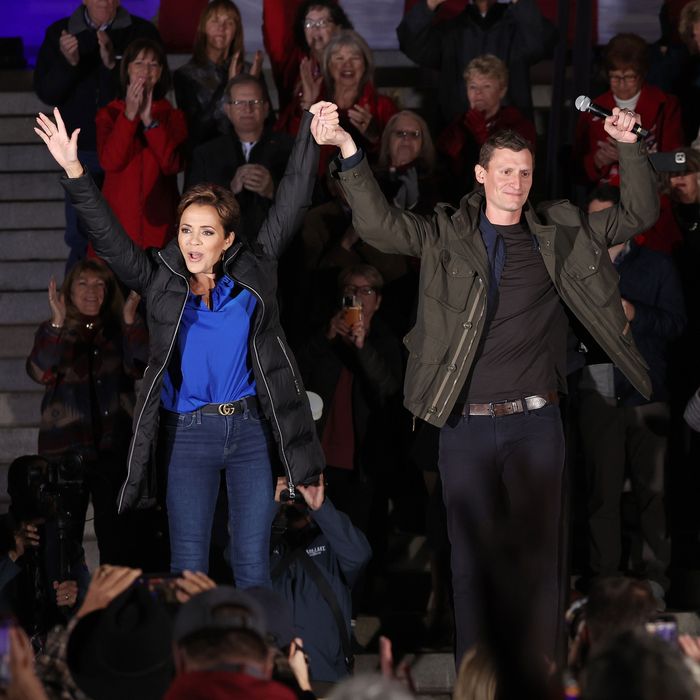 Born to be wild: Blake and Lake together in 2022.
Photo: Justin Sullivan/Getty Images
The 2024 U.S. Senate race in Arizona was already going to draw a lot of attention given the strong possibility that incumbent Kyrsten Sinema, who left the Democratic Party (as a voter, though she still participates in the Senate Democratic Caucus) late last year, might run for a second term as an independent, creating a rare three-way general-election contest.
But now Republicans could add to the wild and umpredictable fun with a Senate primary featuring multiple ultra-MAGA candidates strutting some weird stuff. Unsuccessful 2022 Senate candidate Blake Masters, a close associate of Peter Thiel's and purveyor of a distinctive brand of creepy political ads, is about to jump into the 2024 race, according to Politico:
Blake Masters is making plans to launch another Arizona Senate bid, potentially as soon as next week, according to three people familiar with the matter. …




Barrett Marson, an Arizona-based GOP strategist, said he talked to Masters a few months ago and he "was pretty decisively in."
There's a complication, though:
Former gubernatorial candidate Kari Lake's advisers say she is expected to announce a Senate campaign in early fall, though some Republicans are skeptical Lake and Masters would run for the same seat.
Perhaps Masters is calling Lake's bluff. Or maybe he's been promised big checks again by Thiel. If both of them do run, it could get interesting. They ran as closely linked ticket-mates in 2022 with strong backing from Donald Trump. Together they exuded a sort of fire (Lake) and ice (Masters) contrast in styles. And together they lost, though Lake (who of course denied her defeat) came closer to victory than her ticket-mate. You have to assume if they do run against each other both will claim superior fidelity to various extremist causes.
Even if Lake or Masters chooses to stay out, the Senate primary field is going to lean hard right. Pinal County Sheriff Mark Lamb is already running for the Senate, and he's no slouch at hard-core MAGA politics either, as the self-introduction (next to a photo of him in full uniform with a sidearm on his hip, wearing a cowboy hat, and draped in Old Glory) on his campaign website illustrates:
I'm Sheriff Mark Lamb. Arizona needs a conservative fighter in the US Senate to defend our values of God, family, and freedom. I'll stand up to the woke left and the weak politicians in Washington, secure our border and support law enforcement. I will defend our Second Amendment and the right to life, cut wasteful spending, fight inflation, and put more money back in your pocket.
No RINOs in this race, it appears.
It's unclear who would benefit most from a vicious intra-MAGA war in Arizona's Senate primary next year. It might free up some of the saner GOP and right-leaning independent voters to back Sinema. Or it might benefit likely Democratic nominee Ruben Gallego, much as the MAGA-fest in 2022 helped Democrats Mark Kelly (who beat Masters) and Katie Hobbs (who beat Lake) get across the line. It's probably less than ideal news for a national Republican Party that needs this Senate seat along with Arizona's 11 electoral votes. It's not as though the likely GOP presidential nominee will be in much of a position to make his Arizona acolytes behave. His big problem will be which one to endorse.