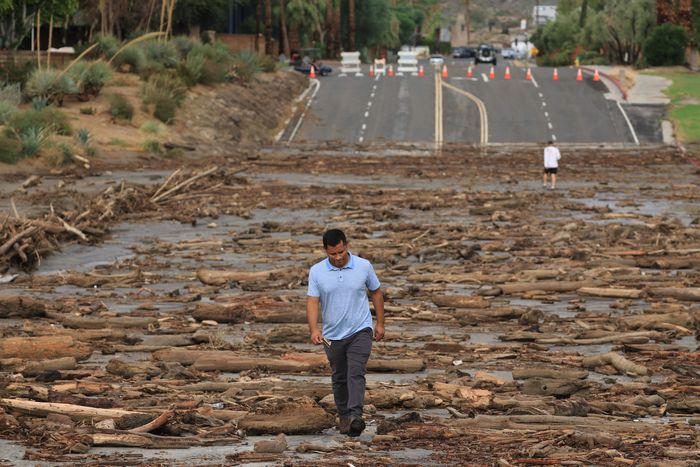 A worker from the Coachella Valley Water Department surveys the debris flow following heavy rains from Tropical Storm Hilary at Thunderbird Country Club in Rancho Mirage, California, on August 21.
Photo: David Swanson/AFP via Getty Images
Tens of millions of people faced a massive tropical storm in California and Nevada on Sunday, and the water from what was Hurricane Hilary hasn't finished affecting the region, even as its status has been downgraded to post-tropical. This part of the country is not one where such weather events typically occur — the previous tropical storm to hit Southern California happened more than eight decades ago — and more heavy rainfall, flooding, and mudslides hit the Southwest on Monday. Below are the latest updates.
No, Dodger Stadium wasn't underwater
One of the most viral images to come from Tropical Storm Hilary's trip up the West Coast has turned out to not to be quite what it seemed.
Social media lit up with videos and photos that appearedto show Los Angeles' famed Dodger Stadium and a surrounding parking lot underwater as the storm system passed through. However, the Los Angeles Times reports that it was merely an optical illusion caused by light and water reflecting off he wet ground.
The Dodgers winked at the attention with a social media post of their own:
Nevada receives record-breaking rain
The remnants of Tropical Storm Hilary brought amounts of rain rarely seen in parts of Nevada. CNN reports that more than 8.70 inches of rain have fallen in Lee Canyon, citing data from NOAA. The previous record was 4.36 inches, from an unnamed storm system in 1906 .
The flooding on Mount Charleston was also historic. Local fire chief Jorge Gonzalez told the media during a Monday briefing that he hadn't seen conditions that bad since he first took the job in 2008.
"I couldn't describe it, I've never seen it like that," he said, per NBC News. "The amount of water we got last night, it's huge."
San Bernardino County affected by mudslides
In addition to flooding, the historic rains from Tropical Storm Hilary resulted in mudslides in some of California's more mountainous regions.
The Los Angeles Times reports that access was cut off to the San Bernardino County fire station in Forest Falls following a rush of muddy water and debris that made nearby roads impassable. Forest Falls is a small unincorporated community in the San Bernardino Mountains.
The county fire department said on social media that about 700 people were still sheltering in place as of Monday afternoon as roads remained blocked but that there was no sign of injury. Seven Oaks and Oak Glen, two other local communities, are also contending with blocked roads.
NWS cancels tropical-storm warnings for Southern California
The National Weather Service has canceled tropical-storm warnings for Southern California as of Monday afternoon. As it makes its way out of the state, Hilary no longer meets the threshold for categorization as a tropical cyclone, according to Ariel Cohen, a NWS meteorologist. NOAA's National Hurricane Center defines a tropical storm as a cyclone whose maximum sustained wind speed is between 39 and 73 mph.
Parts of Nevada still under flood watch through Monday
Tropical Storm Hilary's approach has Nevada under several weather warnings. The Las Vegas Review-Journal reports that several areas are under a flood watch from the National Weather Service, including Las Vegas Valley, Red Rock Canyon, and the northeastern, western, and southern parts of Clark County, Nevada's most populous. The watch is in effect until 5 p.m. on Monday.
A boil-water advisory has been issued for residents of Kyle Canyon after overnight flooding on Mount Charleston damaged the water system for the region. There is currently no set end date for the advisory as repairs to the system are ongoing. The Las Vegas Valley Water District, which operates the Kyle Canyon water system, said that "heavy rains, flooding, and roadway damage" are limiting access to the damaged area but that crews will remain on the mountain until repairs are made.
Palm Springs 911 system back online
The storm caused an outage of the Palm Springs 911 emergency system Sunday evening, forcing residents to call a direct number or text if they were in need of police or fire-department assistance. But Grace Garner, the city's mayor, told MSNBC Monday morning that the system is running again. Garner called it a "temporary fix" and indicated that some callers may still have trouble accessing the system, especially in some parts of the Coachella Valley.
Los Angeles mayor: No injuries reported from storm
Los Angeles mayor Karen Bass said during a Monday press conference that there have been no "deaths or significant risk of injury" from Tropical Storm Hilary and no significant damage from the 5.1 magnitude earthquake that struck the region the day prior. Bass said crews have been dispatched to restore electricity to residents without power as the storm starts to recede.
Schools in the Los Angeles Unified School District were closed Monday owing to the weather but are expected to reopen on Tuesday.
The New York Times reports that the Los Angeles River peaked at 10.24 feet early Monday morning, citing a monitor in the San Fernando Valley.
Rainfall records shattered across Southern California
Hilary hasn't set just daily rainfall records but monthly ones, too:
It's still dark in California, but below is a look at some of the most dramatic images and footage of floodwaters and damage from Sunday. And just to get a sense of how intense the rainfall was in some areas last night:
Hilary makes landfall again; flash-flood warnings across Southern California
The center of the tropical storm is now about 215 miles south of San Diego after making landfall in Mexico's Baja California peninsula.
Evacuation order issued for part of California's Riverside County
Residents in the part of the Southern California county that burned in the 2020 Apple and El Dorado fires have been ordered to evacuate. Recently burned terrain, stripped of mature vegetation, is typically more prone to mudslides during high-rainfall events.
Clark County, home to the city of Las Vegas and most of Nevada's population, declared a state of emergency on Sunday as the storm neared. On Saturday, Clark County's top flood-management official expressed confidence in its preparations, KLAS reported:
"We designed for what's called "the 100-year event' or "the 1 percent chance storm,' so what that translates to in Las Vegas is about 2.77 inches of rain over a six-hour period," [Clark County Regional Flood Control District manager Steven] Parrish said. "We're expecting rainfall at around that level."




Parrish said his team is expecting that the system developed to protect the Las Vegas valley from flooding will be able to handle the flows, adding that the amount of moisture in the atmosphere is expected to exceed that of the typical monsoon season in the region.




Clark County's 684 miles of channels and storm drains and 106 detention basins are expected to be in heavy use as the storm hits the Las Vegas valley, Parrish said, moving water from place to place to avoid flooding. Still, he says officials expect gathering water in the streets.
Authorities are warning residents not to travel through any floodwaters.
Why residents' lack of experience is the extra risk factor in this storm
In a Forbes post on Saturday, Dr. Marshall Shepherd emphasized the importance of people in harm's way better understanding what weather warnings do and do not mean — particularly when a tropical storm strikes a region where the vast majority of the population doesn't have any experience with one:
[F]looding is not simply a function of what falls from the sky. The urban impervious surfaces like parking lots and roadways reduce infiltration and increase surface runoff. In more elevated terrain, extreme rainfall will likely cause mudslides and other related hazards. To top it off, tropical storm force winds will certainly be possible, particularly at higher elevations. How many people in this part of the country have experience with this type of rainfall coupled with winds gusting over 39 mph? Exactly. California will likely start experiencing tropical storm winds on Sunday.
He also underlined how water — storm surge and rainfall — makes the deadliest impact in tropical-storm systems, not the wind speeds, which determine how these storms are classified. Another concern, he notes, is how effectively forecasts and the media coverage that amplifies them communicate the threat in areas outside what may appear to be the direct path of a storm:
The eastern U.S. and Gulf of Mexico region are used to dealing with hurricanes and tropical storms, yet many people still do not understand the cone of uncertainty and the expansiveness of impacts. Rainfall, wind, surge, and even potential tornado impacts will extend well beyond those black dots in the graphic above. In the projected rainfall totals map below, extreme rainfall totals are distributed along and well beyond the storm center. If you take anything away from this story, it should be: Focus on impacts, how expansive they may be, and for how long.
The forecast as of this morning
Although Hilary weakened overnight on Saturday, the National Weather Service's San Diego office reiterated its dire warning to the region early Sunday morning:
There is a moderate-to-high risk of excessive rainfall — as much as three inches per hour in some areas — through Monday across Southern California and southern Nevada:
Along with the threat of extreme rainfall and life-threatening flash flooding, the storm could bring high winds and cause mudslides, widespread power outages, and even tornadoes.
California is under a state of emergency
Governor Gavin Newson proclaimed a state of emergency for California ahead of the storm on Saturday. Los Angeles is activating its Emergency Operations Center. And San Diego County is experiencing its first-ever tropical-storm warning.
Communities in Southern California's San Bernardino hills have been ordered to evacuate. State beaches in Orange and San Diego counties are closed, as are all state parks in the path of the storm.
Scary floods struck Mexico's Santa Rosalía on Saturday night
At least one drowning death was reported in the community, which is on the east coast of Baja California Sur.
Meanwhile, in the Atlantic
The 2023 hurricane season may be about to kick into full gear:
This post has been updated throughout.