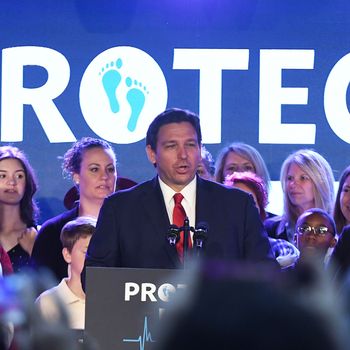 Ron DeSantis won't be able to avoid the divisive abortion issue while visiting California.
Photo: Paul Hennessy/SOPA Images/LightRocket via Getty Images
It's becoming clearer every day that abortion policy has become a real and abiding problem for the Republicans who worked so hard to return the subject to the political realm by reversing Roe v. Wade. Wherever they can, GOP politicians are changing the subject and running from the consequences of their identification with the anti-abortion cause. But the grip of the anti-abortion movement on the national party base means the GOP's presidential candidates are more or less stuck with a deeply unpopular position. The contradiction is making abortion a wedge issue for Republicans even as it unites Democrats.
A good example of the problem for the GOP is arising in California, whose Republicans are badly outnumbered and need not only independent but Democratic votes to win contested elections. A group of Republican activists are preparing to formally disassociate themselves and their party from the fight to abolish reproductive rights and other reactionary culture-war goals via changes in the state party platform at an upcoming GOP convention in Anaheim, as the Los Angeles Times reports:
A rebellious campaign within the California Republican Party to break away from its historic opposition to abortion and same-sex marriage is dividing the party weeks before planned appearances by former President Trump and other GOP White House hopefuls.




A proposed platform overhaul, which could be voted on at the state GOP's fall convention in Anaheim, is a remarkable break from conservative dogma in the state that nurtured Presidents Ronald Reagan and Richard Nixon.




"It's a seismic shift but it's a shift born out of practical necessity. Look at what's happening not just in California but in much more conservative states, realizing antiabortion, anti-same-sex marriage stances are no longer tenable," said Jessica Levinson, an election law professor at Loyola Law School. "I think it shows their acknowledgment that the sand has shifted underneath their feet."
The platform revisionists are currently in charge of the process; the draft platform omits opposition to same-sex marriage and also merely promotes "adoption as an alternative to abortion." But there's no question there will be blowback at the convention. And the battle to keep California Republicans pure and unpopular on issues like abortion will be intensified by the presence of presidential candidates — including abortion hard-liners Ron DeSantis and Tim Scott, and the indirect author of the Supreme Court's reversal of Roe, Donald Trump — who in turn will be under pressure to take sides. If it could be done quietly, the new platform might prove helpful:
If the proposed modifications are adopted, it would place the party's platform closer to the beliefs held by most Californians and Americans.

More than three-quarters of California adults did not want federal protection for access to abortion to be overturned, according to a 2021 poll by the Public Policy Institute of California. That included 59% of Republicans.
But unfortunately, it won't be quiet:
"This will be extremely controversial and will take a convention that is supposed to be about unifying the party and instead it ends up becoming a big feud," said Jon Fleischman, a former state GOP executive director. "It's the last thing the party needs."




He described it as "a big middle finger" to the presidential candidates who are scheduled to speak at the convention, "all of whom embrace the various party planks that are proposed for removal.".
Said candidates are likely to give "a big middle finger" right back. As they arrive in Anaheim, candidates like DeSantis and Scott will be totally focused on virtue-signaling to the conservative Evangelicals of Iowa, where they have an outside chance of slowing the Trump Train's progress toward the 2024 presidential nomination. That they could make life difficult for California Republicans in November 2024 will not be a major concern. And that's a major problem for Republicans not just in the Golden State but wherever they must run in competitive contests and hold on to pro-choice Republicans, independents, and a few persuadable Democrats.