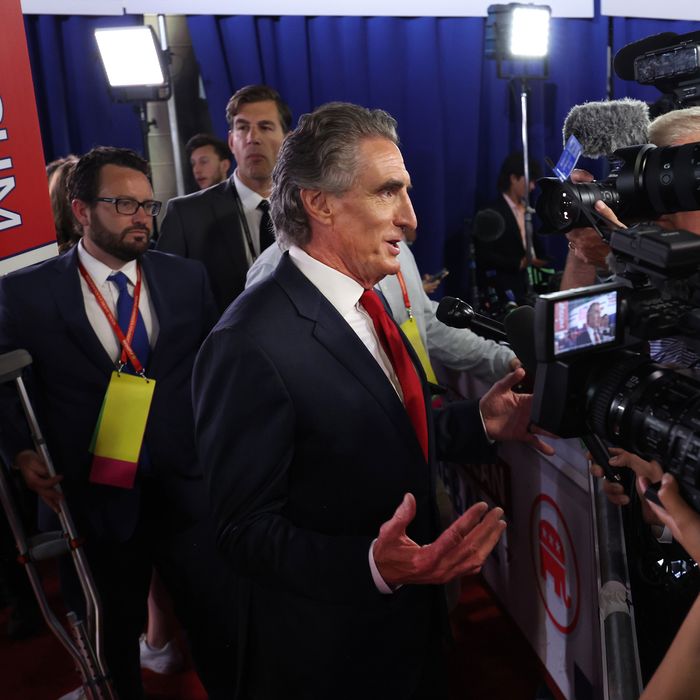 Doug Burgum in spin mode after the first Republican debate.
Photo: Scott Olson/Getty Images
Seven Republican presidential candidates have already qualified for the second Republican National Committee–sanctioned debate on September 27 in Simi Valley, California. One of them, Donald Trump, hasn't definitively indicated if he'll show up, but it's unlikely. Two candidates who were at the first event on August 23, North Dakota governor Doug Burgum and former Arkansas governor Asa Hutchinson, have not qualified for the stage at the Ronald Reagan Library. Hutchinson is definitely going to struggle to get there. But Burgum has an asset Hutchinson does not possess: an obscenely fat wallet.
The former tech entrepreneur raised a lot of eyebrows by taking a novel approach to the donor requirement set up by the RNC for participating in the debate in Milwaukee: He went out and bought them. That's right: Every $1 donor to Burgum's campaign (up to his 50,000 goal) received a $20 gift card. It was an approach the RNC allowed, even though it made a mockery of the underlying idea that candidates should show financial support beyond their own bank accounts.
So Burgum has already satisfied the donor requirements for the second debate. But the polling thresholds are another matter. The RNC is requiring a 3 percent showing in either three national polls or one national poll and two early-state polls (all meeting the RNC's somewhat vague criteria). Burgum's run a lot of ads in early states, so he was able to reach 3 percent in one Iowa and one New Hampshire poll. It's the national-poll requirement that's a real problem for him. Burgum's peak performance in the national polls compiled by RealClearPolitics is one percent. He and his backers are trying to do something about that, as Politico reports:
A super PAC backing GOP presidential candidate Doug Burgum is launching a huge national ad campaign in an effort to vault the North Dakota governor into the second debate next month.




Best of America PAC on Wednesday reserved over $4 million in advertising set to run nationally on Fox Business Network, Fox News Channel, the History Channel, Newsmax, TBS, TNT on the Fox broadcast network. The ads are set to run from Aug. 30 to Sept. 24, the day ahead of debate qualification.
You might wonder who's contributing so much money to a super-PAC set up to help someone who's crazy rich himself. Turns out Burgum runs in some pretty fast circles, per a CNN breakdown on the $11 million raised by the Best of America PAC by mid-year:
Major donors include Frederick Burgum, a family member who gave the group $2 million; Miles White, the former CEO of Abbott Laboratories, who also gave $2 million; Robert Kagle, a Silicon Valley venture capitalist, who gave $1 million; and Gary Tharaldson, a real estate and hotel developer who is the richest man in North Dakota, who also gave $1 million.
Will it work? That's hard to say: Tripling national polls numbers is no easy task, and it's unclear whether Burgum's folksy economy-focused message is going to light up Republican voters accustomed to hate-filled pyrotechnics from other candidates. If he does make the stage in Simi Valley, he probably needs to make a stronger impression than he did in the Milwaukee debate. Even a ultra-wealthy politician with rich and generous friends and family members can't keep perpetually buying a debate microphone unless he's got something compelling to say. But I'm sure poor Asa Hutchinson wishes he had the same chance to improve his fortunes via very deep pockets.