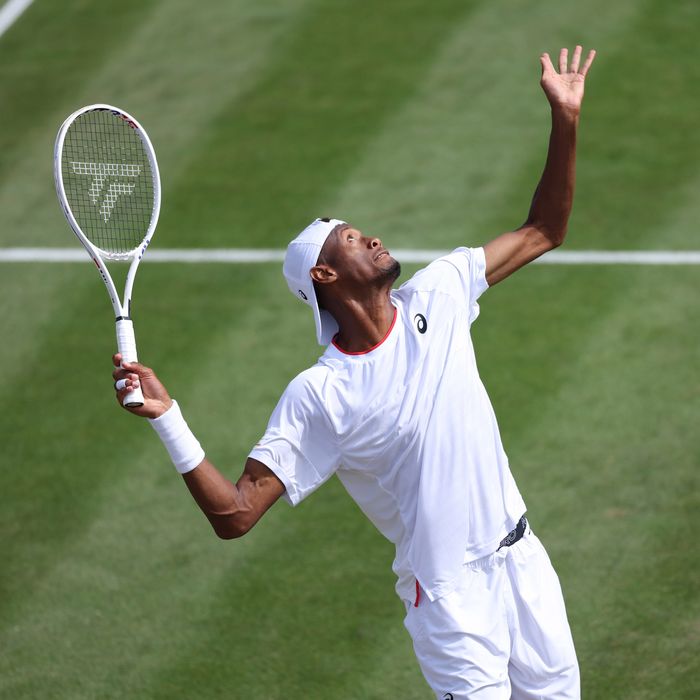 Photo: Antoine Couvercelle/DPPI/Shutterstock
Tennis has always put a premium on prodigies. It insists on anointing its Great Ones well before they can legally order a scandalously priced novelty cocktail at the U.S. Open. Hype and heat surround players like Coco Gauff or Carlos Alcaraz, who won significant titles before they left their teens and project a decade of dominance to come. American tennis is having an especially forward-looking moment thanks to a lively raft of stars and maybe-stars in their early 20s who rack up shoe, watch, and beverage endorsements every time they have a solid week. After a roughly decade-long lull, there are now three young U.S. men ranked in the top 15.
Into this influencerish mix comes an unlikely interloper: Chris Eubanks, a 27-year-old journeyman and part-time TV commentator whose abrupt surge earlier this year lifted him out of the anonymous rank and file and into the glamour of Wimbledon's second week. "Getting noticed a lot more, people wanting to take pictures and sign more autographs — that's probably the biggest thing," he tells me of his sudden crossover into the popular tennis consciousness. He has just freshened up after winning a doubles match at the Cincinnati Masters, after which he'll fly to New York to compete as the 28th seed at the U.S. Open. An appearance on Good Morning America has not traditionally been part of his pre-Open prep. He typically spends that week scrambling for a spot in the draw; now, he could see his matches scheduled in prime-time slots. This year, he won't have to face a foe ranked higher than No. 69 in his first two rounds, though in the third, he could take on the seventh seed, Stefanos Tsitsipas — whom he beat in a five-setter last month.
Eubanks speaks as though he's splitting the difference between caution and joy — savoring the upswing while conscious of how precarious a perch atop tennis can be.
Before this season, Eubanks had spent years oscillating between No. 250 and No. 150 in the world rankings. His name was known only to studious fans of the college game (he was a two-time All-American at Georgia Tech) or the pro tour's minor leagues. I knew him as a fixture in the qualifying rounds before the U.S. Open, a mini-tournament where lower-ranked players vie for precious slots in the main event. Once you've seen Eubanks play, however, it's hard to forget the image. With his 180 pounds distributed across a 6-foot-7 frame, he cuts a singularly twiggy silhouette on court; it's not hard to grasp why his friend (and former U.S. Open champ) Sloane Stephens once dubbed him "daddy long legs." Like so many tall American dudes before him, Eubanks makes a living off a colossal first serve and forehand. Unlike most of them, he rounds it out with a winsome one-handed backhand inspired by Roger Federer — though these days he sometimes wishes he had opted for the sturdy functionality of a two-hander. Eubanks grew up and built his game in Atlanta, which he calls the mecca of Black tennis. He's quick to shout out his predecessors: As a kid, he trained with Donald Young, the great American hope of the late aughts; he has now surpassed Young's top career ranking (No. 38). He's close with Jarmere Jenkins, a college standout and hitting partner for Serena Williams, a connection that eventually got him into practice sessions with the recently retired titan.
Throughout 2023, Eubanks's goalposts have shifted so radically that even he has occasionally lost track of them. At the start, his focus was breaking into the top 100 in the world rankings, an obsession that had him glued to the rankings app on his phone. On the precipice of his feat, he stalled out, losing four straight matches in the spring. He deleted the app, dialed in, and crossed the long-awaited threshold with a quarterfinal run at the Miami Open. On the rain-spattered hard courts of South Florida, Eubanks had three effective hype men by his side. One was his friend, the top-ten player Frances Tiafoe, who enjoyed a breakout of his own last season and steeled him through a tight match with a locker-room pep talk. The second was Jamie Foxx — just "Foxx," as Eubanks calls him — who has followed his career for years and flew out to cheer him on and take him out to dinner. The third was caffeine: Eubanks has never been a coffee drinker, but during one late-night, rain-delayed match against Adrian Mannarino, he consumed a heroic dose. "It's 10 p.m., let's just try a double espresso. My coach thinks it might've been four — each espresso was actually a double," he tells me. "And when I came on court, I was completely locked in. I had never seen the ball so big in my life." Despite these salutary effects, Eubanks tells me he hasn't yet incorporated the elixir into his daily tennis ritual and is saving it for cases of emergency.
After Miami, the wins piled up so quickly that Eubanks was almost blindsided by his progress. In a talk show with fellow American players in May, Eubanks casually laid out a career ambition: "To be able to tell people that don't know tennis, 'Yeah, I quartered at Wimbledon' … it's a different level of respect." When he said those words, Eubanks had never played in the main draw of the iconic grass-court event, and he hadn't gotten traction at the other majors, either. It sounded like a distant vision, a grade-schooler laying out his goal to become a paleontologist. A few weeks later, he won his first tour-level title on the grass at Mallorca. A few weeks after that at Wimbledon, he defeated No. 12 seed Cameron Norrie and fifth-seeded Tsitsipas, carving his way into the quarterfinals. As Eubanks told me, he hadn't even realized he'd actualized his goal until his own prophecy recirculated on social media. Life had been moving too fast to process in real time. "While I was in Wimbledon, I was just kind of looking at the next match. And then it wasn't until after I was already in the quarters that I believe they started reposting it and then I saw it on my feed. And I said, Oh man, I did say that. That's really, really cool."
While he has always possessed powerful offensive shots that easily turn points in his favor, he had long struggled to string together consistent wins. When I ask what clicked in 2023, his answer is characteristically multilayered. There's the nuts-and-bolts part, which includes getting his first serve in "62 to 72 percent" of the time. When a player can serve in the high 120s, as Eubanks does, that accuracy almost guarantees that he will win his own service games. As he sees it, this puts his opponent under scoreboard duress and frees him up to experiment a bit with his own game. He also mentions refining the rituals between matches. He is now more fastidious about "all of those small minor details that I was fairly inconsistent with throughout my career": extra gym workouts and lots of time lying on the physiotherapist's table. A focus on process allows him to weather wins and losses alike with a clearer conscience. "When I get into big moments or big points throughout the course of the match, I don't have to really hope that things go well — I just trust that it is going to go well because I know I did what I was supposed to do to make it go well," he says. "If I've checked all my boxes, when I go on the court and lose, I can hold my head high and move on to the next week. Whereas before, I would kind of get down on myself and question, What am I not doing it right?"
It's not uncommon for a journeyman like Eubanks to run hot for a few months and then recede back into the fold; he says he hopes to prove his moment "wasn't just a temporary blip." In tennis, winning can be a virtuous cycle. More ranking points means easier entry into bigger tournaments where you can earn even more ranking points — and money. Still, in the middle of the liveliest such cycle of his career, Eubanks always remembers the fallow years. Unlike the prodigies who blazed straight to the top of the rankings, he is deeply familiar with the unglamorous side of tour life. On the Challenger circuit, which sits a rung below the pro tour you see on TV, audiences are scant, payouts are modest, and a week without sufficient wins can actually put a player in the red once the bills for international travel, lodging, and coaches are paid. He says fans don't quite grasp what players have to do to get their bodies ready to compete — not just all the time on the court and at the gym but physically getting themselves from point A to point B. His past is riddled with travel horrors both domestic and international. One canceled flight left him renting a car from the airport to drive from Charlotte, North Carolina, to Charlottesville, Virginia, arriving at 4 a.m. to prep for a match later that day. (He won.) Another hellish itinerary from earlier this year: delayed flights from India to Australia to New Zealand to Australia, a "massive sinus headache," a middle seat (no small ask for a 6-foot-7 guy), the confiscation of his reels of tennis strings (apparently a security risk), and the loss of his luggage containing his tennis clothes (he bought new ones on arrival).
His 2023 season has been a financial windfall that should ease some of that friction. Heading into the Open, Eubanks made $1,155,850 in prize money, almost exactly the sum of his winnings across his six previous seasons as a pro. The £340,000 he made in five matches at Wimbledon exceeds what he had previously earned in any calendar year. I ask if this influx of cash led him to splurge on some travel comforts, but his stint in the minors taught him discretion. "It's amazing. I tell friends all the time, when you don't have as much disposable money to throw around, it seems there's a lot of things out there that you want," he says. "But in my case, after Wimbledon hit and everything was going well, I was like, I don't really want that stuff anymore. The income in tennis is very up and down, very hot and cold. So I'm very conscious of saving for rainy days. You have to make sure you're taken care of in the time in which things aren't going well," either because of injury or a loss of form. His one plan is to reinvest in his career: a full-time physiotherapist or strength and conditioning coach who could travel with him year-round, tending to the battle scars every player accumulates over 70-odd matches all over the globe. In the single-elimination format of tennis, the more you win, the more you play, and the more mileage on your legs.
There's one question I pose to Eubanks even though I already know the answer: Do you consider yourself a tennis nerd? "Yeah, a little," he says, playing it cool though I can see right through him. It's not just that he can walk me through the precise scoreline and emotional narrative of every match he has ever played; lots of athletes have that level of recall. But I've seen Eubanks reel off esoteric historical stats and dissect the tactics of colleagues he has never played like an ultra-savvy redditor who happens to serve 131 mph. This unabashed nerdery has served him well in his side hustle as a commentator for the Tennis Channel. Ask him a technical question and he eases into elegant exposition, his sentences widening into paragraphs. Eubanks says he enjoys the task of interpreting the action on court for the layman at home — noticing players' tendencies, explaining why a particular shot is so difficult, even mastering the art of silence when the on-court drama deserves some space. (He's a chatty guy; that silence may not come so naturally.) There's also a therapeutic, self-serving function to this gig. "When I'm explaining it to the viewer, it's like I'm subconsciously telling myself, Hey, these are some things I need to be doing when I'm playing," he says. "Well, Felix Auger-Aliassime does this extremely well. Maybe that's something I can take myself." For the tennis fan, the only downside to Eubanks's success is that it will get harder for him to squeeze this moonlighting into an increasingly busy slate of tennis and media obligations.
Eubanks's on-court results have risen to match the intricacies of his tennis mind, and his body is holding up its end of the bargain. The question is where it can take him next. In life, Eubanks is a young man, but in tennis, he is middle-aged. Fortunately for him, his game style should help with longevity. Big servers like Ivo Karlovic and John Isner have managed to stretch their careers toward 40 because their deliveries earn them quick, painless points well after their mobility has deteriorated. Eubanks may yet have another decade of raining fire from the baseline. Those years won't all be as flush as 2023. But if the wins dry up, Eubanks says he will embrace the humbler grind once again. "You're never too big for the Challengers," he tells me. "There have been many great players who've had to go up and down there. If that were to happen, I'd be ready for it."