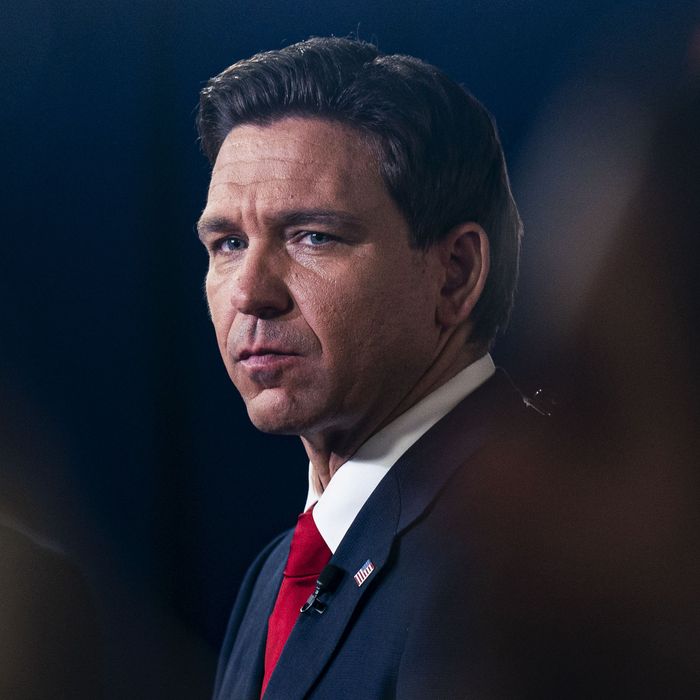 Photo: Al Drago/Bloomberg via Getty Images
Governor Ron DeSantis was heckled and booed at a Sunday vigil held to honor victims of the racist mass shooting at a Jacksonville store the previous day.
The boos began from the moment the Florida governor was introduced and continued as he tried to deliver his remarks. DeSantis acknowledged Ju'Coby Pittman, the city councilwoman who organized the prayer vigil, and promised assistance from the state government to go toward security for Edward Waters University, a historically Black university that the gunman initially visited prior to the shooting.
"We're not going to allow these institutions to be targeted by people," he said, stopping as the noise from the crowd grew even louder.
At that moment, Pittman got up and grabbed the microphone from the stand and addressed the hundreds of people gathered, telling them to let DeSantis continue.
"It ain't about parties today. A bullet don't know a party," she said.
The BBC reports that DeSantis was ultimately able to finish his speech, reiterating comments he had made the day of the shooting.
"The fact of the matter is you had a major-league scumbag come down from Clay County here and what he did is totally unacceptable in the state of Florida," he said. "We are not going to let people be targeted based on their race. We're going to stand up and we're going to do what we need to do to make sure evil doesn't triumph in the state of Florida."
During his tenure, DeSantis has faced criticism for his weakening of gun laws statewide, as well as his ongoing war against what he calls"anti-woke" ideologies, which has resulted in drastic changes to Florida school curriculums and a rejection of a planned AP African American Studies course.
On Saturday, Christopher Palmeter, a 21-year-old white man, entered a Dollar General store and shot three people before killing himself. The victims have been identified as Angela Michelle Carr, 52; Anolt Joseph "AJ" Laguerre Jr., 19; and Jerrald Gallion, 29 — all of whom were Black. The gunman had first stopped by the university, which was less than a mile away. First Coast News reports that he encountered on-campus security and left after refusing to identify himself.
The New York Times reports that the shooter was wearing a tactical vest and had two legally purchased weapons: a Glock handgun and an AR-15-style rifle. The gunman left behind a manifesto full of racist writings on his computer, which Jacksonville sheriff T.K. Waters described as "the diary of a madman," per the Associated Press. The Justice Department has opened a federal hate-crime investigation in the wake of the shooting.