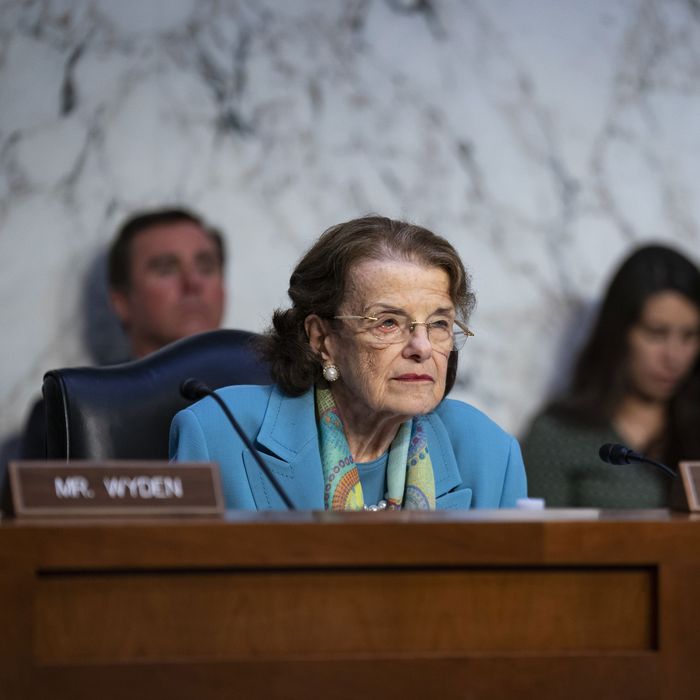 Photo: Al Drago/Bloomberg via Getty Images
California senator Dianne Feinstein went to the hospital on Tuesday after a fall at her home in San Francisco. The news, first reported by TMZ, was confirmed in a statement by the 90-year-old politician's team on Wednesday morning.
Feinstein's team added that she had tripped over a chair in her kitchen in the early afternoon and was admitted to the University of California, San Francisco Medical Center "as a precaution."
Concerns for Feinstein's health and ability to perform her job have been circulating since at least 2020, when staff members for the senator told The New Yorker that her short-term memory was deteriorating to the point that she would forget a briefing moments after it happened. But the past year has amplified those concerns to a much greater level. Feinstein spent three months out of the Senate after being hospitalized due to shingles in February, and when she returned, the left side of her face was frozen in place and aides pushed her around the Capitol in a wheelchair. She had not disclosed that the shingles had caused facial paralysis and a balance impairment. She also had a case of encephalitis — a rare complication from shingles — that her team claims was "resolved" in March.
Upon her return, Feinstein appeared confused in brief interactions with reporters, telling Slate that she was never on leave and that she had "been voting" the entire time she was recovering. She incorrectly claimed that she did not have encephalitis, but that it was just a "really bad flu." Amid calls to step down, Feinstein also appeared confused at a hearing in late July, intending to deliver a speech at a Senate Appropriations Committee meeting when she was just supposed to vote yes or no. "Just say aye," Committee Chair Patty Murray told her. The ailing senator did as instructed.