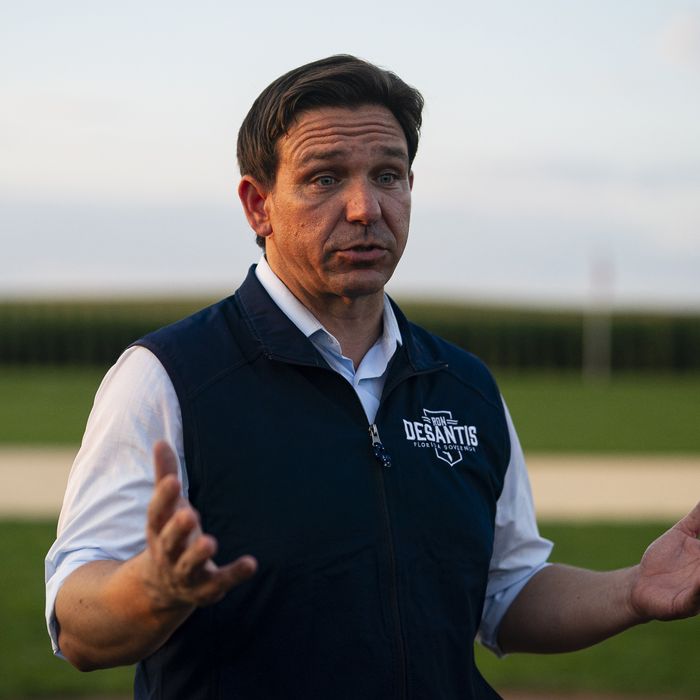 Photo: Bloomberg/Getty/Bloomberg via Getty Images
Ron DeSantis makes a big show of picking on mask-wearing children, teachers, and LGBTQ+ people, but he's repeatedly proven himself no match for Donald Trump, the biggest bully U.S. politics has ever seen. Despite predictions that the Republican presidential primary would quickly turn into a two-way race between the Florida men, Trump has managed to maintain a huge polling lead over DeSantis, partly through the use of schoolyard intimidation tactics. Trump saddled DeSantis with a variety of juvenile nicknames, refused to invite him to major events, insulted his looks behind his back, and relentlessly mocked him for the weird way he (allegedly) eats pudding.
Now Trump is trying to start a rumor that DeSantis is quitting the presidential race, and he isn't even being sneaky about it. On Monday, Trump shared some hot gossip with his 6.4 million Truth Social followers, claiming "rumors are strong in political circles" that DeSantis would soon abandon his presidential campaign to run for the Senate against fellow Republican Rick Scott, who is up for reelection in 2024:
As FloridaPolitics.com pointed out, this rumor (which Trump originally misspelled as "roomer") doesn't really make any sense:
… DeSantis has tried to run for Senate once. After his second term in the House, he launched a bid for Marco Rubio's Senate seat, but abandoned it to run for re-election once Rubio decided he wanted another term.




If DeSantis were to run against Scott and win, he would leave the Governor's Office midway through his second term. While that's understandable for a run for President, there is little indication that DeSantis has an interest in leaving an executive position to be one of 100 Senators.
It seems highly unlikely that DeSantis would give up the last two years of his term as governor to primary a GOP senator. But of course, Trump's intent probably wasn't to share plausible information but to add to the narrative that the DeSantis campaign is flailing. (While DeSantis has been plagued by bad news and he isn't closing the gap with Trump, his poll numbers have not "absolutely crashed.")
DeSantis has never been good at neutralizing Trump's bullying; his standard, cringey response to Trump's nicknames is that he can call him whatever he wants "just as long as you also call me a winner." The campaign's response to Trump's "rumor" was similarly uninspiring. Bryan Griffin, a press secretary for DeSantis's campaign, posted on X:
This is fake news. Clearly, Donald Trump and his army of consultants are panicked about @RonDeSantis' winning debate performance and the strong momentum that has followed. They know this is a two-man race, and we will carry this on to a win in this presidential primary. Instead of pushing fake news from New Jersey, the Trump campaign should be focused on getting their candidate on the campaign trail in Iowa and on the debate stage before it's too late.
DeSantis didn't clearly win the first GOP debate, the primary is not a two-man race, and "fake news" is Trump's line. The governor should probably work on his tactics for countering Trump, but there may not be much time. A lot of people are saying he won't be in the race for long.