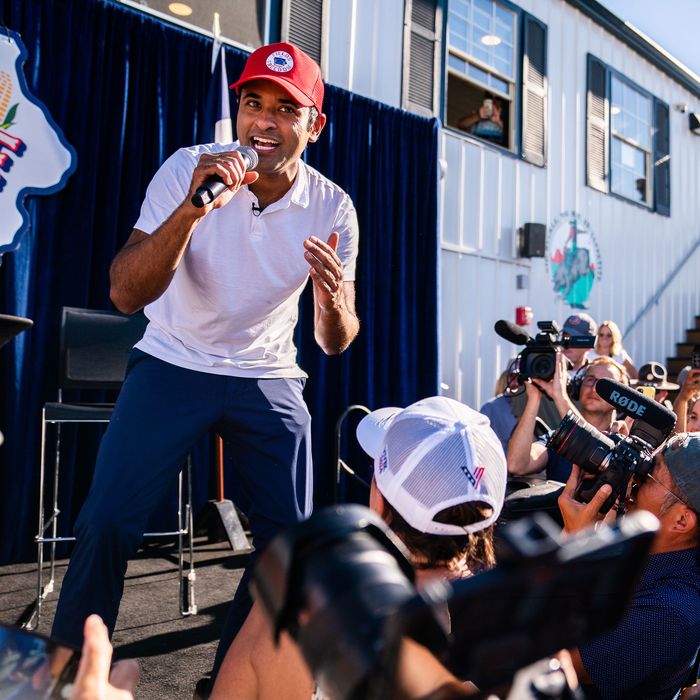 Photo: Demetrius Freeman/The Washington Post via Getty Images
If you had one shot to seize everything you ever wanted in one moment — that is, to get a major presidential candidate to stop rapping your songs on the campaign trail — would you capture it or just let it slip? Eminem is going with Option A.
Earlier this month, businessman-turned-presidential-hopeful Vivek Ramaswamy awkwardly rapped "Lose Yourself" to prospective voters at the Iowa State Fair, drawing national attention to his history of off-the-beat rhyming under the name Da Vek. Now, Eminem has sent a letter to his own publisher, BMI, requesting that they revoke the Ramaswamy campaign's license to use his music on the trail.
Eminem, who hated the last Republican presidential candidate enough to record a career-low freestyle diss track, may not be a fan of Ramaswamy's political views. Or maybe he just doesn't like the way he butchered his most famous song like a guy at karaoke who forgets how hard it is to rap the whole verse of one of his songs and not just the end of each bar. Either way, this may be a first in modern American politics: While Republican candidates get sent cease-and-desist letters all the time from artists who don't want to be associated with them, usually it's just for playing the songs at rallies — not for actually performing them.
Ramaswamy has not yet responded to the letter, first reported by the Daily Mail. But knowing that Eminem wants nothing to do with him could be a blow: While at Harvard in 2006, he told the Crimson that "Lose Yourself" was the theme song to his life.