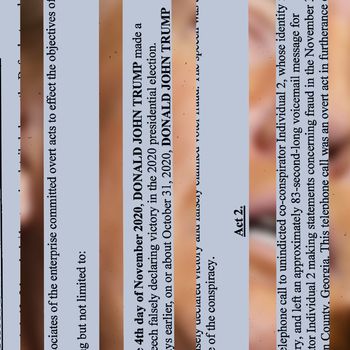 A fourth 2023 criminal indictment of Donald Trump covers some familiar ground.
Photo-Illustration: Intelligencer; Photos Getty Images
In the new Georgia indictment of Donald Trump and a host of associates for crimes associated with his attempt to overturn the 2020 presidential election in that key state, the very first of many "acts of racketeering activity and overt acts in furtherance of the conspiracy" occurs on Election Night:
On or about the 4th day of November 2020, DONALD JOHN TRUMP made a nationally televised speech falsely declaring victory in the 2020 presidential election.
That's certainly a charge almost anyone can understand. For most Americans, the realization that Trump wasn't going to accept defeat at the hands of Joe Biden in 2020 arrived in (or, if they heard about it the next day, soon after) the wee hours of Election Night, when the then-president claimed victory based on ephemeral leads he had in battleground states and demanded that election officials stop counting mail ballots received by Election Day. This is how he put it in the early-morning hours following the election:
This is a fraud on the American public. This is an embarrassment to our country. We were getting ready to win this election. Frankly, we did win this election. We did win this election. So our goal now is to ensure the integrity for the good of this nation. This is a very big moment. This is a major fraud in our nation. We want the law to be used in a proper manner. So we'll be going to the U.S. Supreme Court. We want all voting to stop. We don't want them to find any ballots at four o'clock in the morning and add them to the list. Okay? It's a very sad moment. To me, this is a very sad moment, and we will win this. And as far as I'm concerned, we already have won it.
With these remarks, Trump launched the myth of the "stolen" or "rigged" election, based on the factually erroneous idea that mail ballots received by — but counted after — Election Day were "cast" after Election Day, making them fraudulent. This laughable gambit did not come as a surprise to the many journalists who, for months, had predicted that Trump's relentless attacks on voting by mail were designed to set up a "red mirage" scenario, in which he'd announce himself the winner based on the in-person Election Day votes he had pushed his supporters to cast, knowing they would be the first to be counted in most jurisdictions.
Turns out the Fulton County grand jury heard evidence that the Election Night scam was premeditated as well, as the indictment shows:
On or about October 31, 2020, DONALD JOHN TRUMP discussed a draft speech with unindicted co-conspirator Individual 1, which falsely declared victory and falsely claimed voter fraud.
This charge syncs with contemporaneous reporting by Axios on November 1, 2020, that Trump was talking about his Election Night plans well before he had any idea what the results would show:
President Trump has told confidants he'll declare victory on Tuesday night if it looks like he's "ahead," according to three sources familiar with his private comments. That's even if the Electoral College outcome still hinges on large numbers of uncounted votes in key states like Pennsylvania …




Trump has privately talked through this scenario in some detail in the last few weeks, describing plans to walk up to a podium on election night and declare he has won …




Trump's team is preparing to falsely claim that mail-in ballots counted after Nov. 3 — a legitimate count expected to favor Democrats — are evidence of election fraud.
Later accounts indicate that the timing of Trump's fraudulent victory declaration was thrown off by the early call of Arizona for Biden by Fox News — an act of disloyalty for which Trump remains angry at Fox executives to this day — but he went ahead with it anyway, setting the precedent on which all his later election coup activities were based.
The Election Night "red mirage" is one detail of Trump's 2020 election conspiracy that was not included in the otherwise quite parallel federal indictment of Trump by special counsel Jack Smith on August 1. Smith's tale of criminal activity begins in mid-November when Trump and his cronies began acting on their made-up election-fraud charges; presumably, in Smith's view, a jury might conclude that Trump lying through his teeth about the legality of mail ballots was simply an exercise of his "free speech" rights until he began doing something to turn the lies into action. Another complicating factor is that some of Trump's aides, in testimony to the congressional January 6 committee, professed to have been surprised by the victory claim, which they attributed to the influence of an apparently inebriated Rudy Giuliani. But perhaps Fulton County district attorney Fani Willis and her investigators now have clear evidence of premeditation involving at least one (so far) unnamed co-conspirator — potentially a witness in the Fulton County trial. Hearing that Trump was planning on denying a Biden victory before a single vote was counted should make the malignant audacity of his scheme a bit clearer.
The suggestion that Trump's criminal conspiracy predated the election may not matter that much to the outcome of proceedings in which there is likely to be massive evidence of misconduct. But it will bring the narrative into line with the shared experience of many millions of Americans who stayed up late on November 3 or woke up early on November 4 to discover that the country was dealing with a contested presidential outcome because the incumbent could not accept defeat.