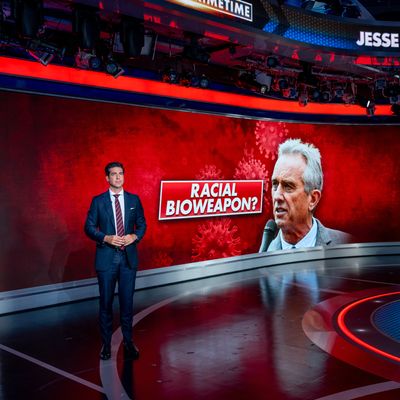 Photo: Roy Rochlin/Getty Images
Tucker Carlson's surprise ouster from Fox News in April promised to answer a long-standing question regarding the network: Is the host at the 8 p.m. hour the star of the show, or is it the prime-time hour that draws in the audience? Four months later, an answer is becoming clearer.
When a rotating cast of Fox News regulars hosted the 8 p.m. slot in the immediate weeks after Carlson left, viewership dropped to 1.49 million per night, roughly half of the industry-leading audience under the ex-host. As the Washington Post reports, the numbers for the entire prime-time lineup were down in the first post-Carlson week, from 2.6 million viewers to 1.6 million. For a week or two there, the network actually lost its top spot on cable news to MSNBC.
But with longtime on-air talent Jesse Watters providing some regularity in the prime-time billing since July 17, the audience is bouncing back. Nielsen ratings show that Fox averaged 2.2 million total viewers from 7 to 11 p.m. over the past four weeks, up from 1.6 million in the previous four-week period. Jesse Watters Primetime has averaged 2.4 million viewers, which is about 60 percent more than the period of revolving hosts.
Watters, a Fox News regular for close to two decades, is well known among the network's devoted audience as a younger, slightly snarkier version of Carlson — and apparently without some of the baggage of his predecessor. But he's still got a long way to go before pulling in numbers like Carlson, who was drawing around 3.3 million viewers per night in March.
Carlson, meanwhile, may be having his own problems keeping his audience after getting booted out of the Murdoch empire. As he reportedly courts benefactors to fund his own media enterprise, the viewership on his show hosted on Twitter has declined considerably since it launched in May. And a biography that debuted last week sold only 3,227 copies in its first week — not a great sign that his fan base is willing to eat up everything that comes out about him.