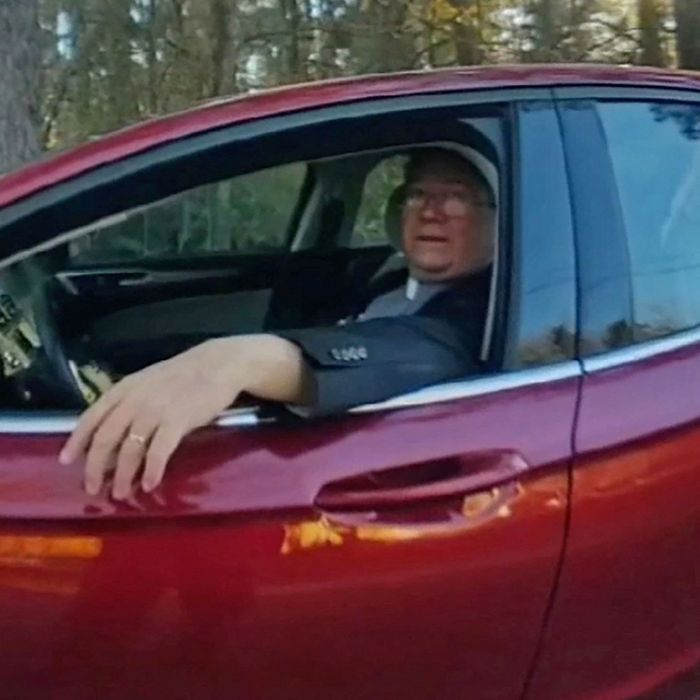 Photo: COBB COUNTY POLICE/via REUTERS
On the morning of December 15, 2020, Reverend Stephen Lee was far from his home in Illinois, sitting in a red Ford Fusion outside the house of Georgia poll worker Ruby Freeman, who just called the police on him.
"I'm a pastor and I'm also working with some folks who are trying to help Ruby out and also get to some truth of what's going on," Lee told the officer who arrived at the scene, according to body-cam footage obtained by Reuters last year. Over the previous 24 hours, Lee had knocked on Freeman's door and passed a message to her neighbor letting her know that he could help her make things right.
Based on a deceptively edited video distributed by Donald Trump's team, Lee erroneously believed that Freeman and her daughter, both poll workers in Fulton County, had taken suitcases full of ballots for Joe Biden and scanned them after hours without supervision. Trump allies hoping to overturn his loss in Georgia considered this the "smoking gun" showing evidence of voter fraud. "I've got some pro bono service for her if she's interested," Lee told the officer, adding that "she's terribly spooked."
For the 20 years leading up to that moment, Lee had dedicated much of his life to helping people in crisis, traveling the country to minister to Americans who lived through hurricanes, mass shootings, and terrorist attacks. But by showing up at Freeman's house that morning, he stumbled into a wide-ranging conspiracy that threatens the former president of the United States with an unpardonable racketeering charge. Deep into the 98-page indictment of Trump in Georgia, Lee was named as one of 18 co-conspirators, charged with attempting to influence witnesses and conspiring to solicit false statements and writings. Prosecutors described his action as "an act of racketeering activity … in furtherance of the conspiracy" to overturn the election. (A representative for Lee did not respond for requests for comment and he has yet to answer the charges in court.)
Lee, a 70-year-old Lutheran pastor, is unlike most of the other figures charged in the indictment — politicians and political activists working directly with the Trump campaign to pressure state officials to change the vote count. After serving  as a sheriff's deputy in California in the 1980s, Lee was ordained as a minister in 1992 and began serving as a police chaplain. In 1999, after moving to Colorado Springs, he was the head chaplain for the Bureau of Alcohol, Tobacco, and Firearms agents who responded to the Columbine school shooting.
The event stayed with him. "More than any incident in my experience, Columbine remains a 'black hole' of residual pain and agony," he recalled in July 2001. Two months later, he would travel to New York to serve as a chaplain for first responders after 9/11. "They often just need somebody to hold their hand and be alongside them," he told the Palo Alto Weekly back then. With groups he founded, such as Peace Officer Ministries and Quick Response Team Ministry, Lee traveled the country to natural disasters like Hurricane Katrina and mass shootings, including those at Virginia Tech and in Las Vegas. In a blog post about the Pulse nightclub attack in 2016, he described his crisis ministry: At mass shootings, which he called "demonic births," Lee and other pastors would break into small groups with cops on the scene to "mitigate the emotional (here I add 'spiritual') impact" of the violence. "We must accept our human limitations in preventing evil, sometimes tough for first responders to do, but we also need to realize we can turn these frustrations over to a loving God who walks with us through the shadowed valley," he wrote. He shared these teachings to Christian police officers in self-published books like Backup on the Beat and God's Word for Peace Officers.
During the 2016 election, Lee became enamored with Trump. He traveled to New York City to pose in front of Trump Tower, where he claimed to have "briefed a Trump-transition team adviser on a volunteer federal law enforcement chaplaincy proposal." After the trip, he wrote: "The president has issued a clarion call to make America great again and drain the swamp. No matter how we voted in the recent election, we should all support these noble goals."
After Trump lost the 2020 election, Lee went to Georgia to help prove the outgoing president's bogus claims of voter fraud. After he failed to speak with Ruby Freeman, prosecutors say he contacted Harrison Floyd, the leader of the group Black Voices for Trump who was tasked with rallying African American voters to the Trump campaign. (Lee believed that Freeman, a Black woman, was afraid to speak to him because he was white.) Floyd then reached out to Trevian Kutti, Kanye West's former publicist, who then told Freeman's neighbor that he was a "crisis manager" who could help her. He reportedly threatened her with jail time unless she admitted to the election-fraud scheme. After months of harassment by Trump supporters, Freeman and her daughter were cleared of any wrongdoing — while Lee, Floyd, and Kutti were all charged in the indictment. (Floyd and Kutti did not respond to requests for comment.) It is still unclear to what extent — if at all — Lee was in contact with the Trump campaign. But a man who has dedicated his life to upholding the law has now found himself on the wrong side of it.
According to Religion News, Lee remains an emeritus pastor at his church in Illinois and gave a sermon as recently, preaching on the Book of Job, the Old Testament exploration of divine justice. It is a theme he has considered throughout his career in law enforcement and ministry. In an interview in 2000, he mulled over the meaning of the law. To Lee, the law's "primary function" is to reveal that "we've fallen short" of God's glory: "It serves as a mirror that shows us that the law will not save us and will ultimately condemn us."
With one hour before the deadline to turn himself in expired, Lee was booked into the Fulton County Jail, becoming the last of the 19 defendants to surrender.
MORE ON THE TRUMP GEORGIA INDICTMENT
See All