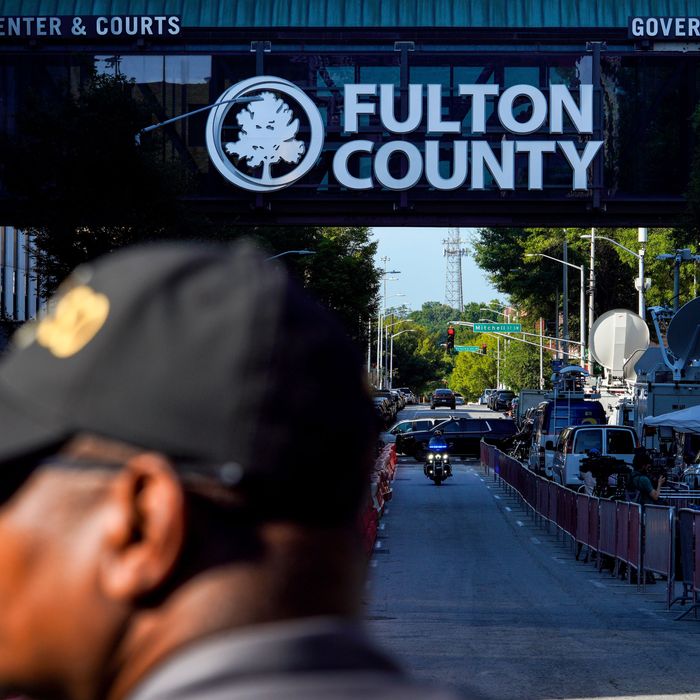 Photo: Ben Hendren/Bloomberg via Getty Images
As a decision looms in Georgia's investigation into Donald Trump's effort to overturn the 2020 election there, the public might've inadvertently gotten a preview of potential charges against him.
Reuters reported that a document was posted on Fulton County's court website Monday detailing numerous felony counts against the former president. The document, which was filed on August 14, listed the case of The State of Georgia v. Donald John Trump as being "open."
The charges named included violating Georgia's Racketeer Influenced and Corrupt Organizations Act (also known as RICO), conspiracy to commit forgery, and making false statements. The document was removed from the site altogether following the Reuters report.
Fani Willis, the Fulton County district attorney, is expected to return several indictments in her 2020-election inquiry imminently, in what would be Trump's fourth criminal indictment. In response to the document's posting, Willis's office confirmed that no charges have officially been filed in the matter as of Monday.
Hours later, Trump's team accused Willis of being up to no good with the posting, which they said was "not a simple administrative mistake," according to the Atlanta Journal-Constitution.
"The Fulton County District Attorney's Office has once against shown that they have no respect for the integrity of the grand jury process," said Trump attorney Marissa Goldberg. "A proposed indictment should only be in the hands of the District Attorney's Office, yet it somehow made its way to the clerk's office and was assigned a case number and a judge before the grand jury even deliberated. This is emblematic of the pervasive and glaring constitutional violations which have plagued this case from its very inception."
Adding to the chaos, the county clerk's office called the goof-up a "fictitious document," adding that such "documents that do not bear an official case number, filing date and the name of the clerk of courts are not considered official filings and should not be treated as such."
It may soon be clear whether the reported charges ultimately line up with the ones Willis intends to seek. The Journal-Constitution reports that the grand jury in the case appears to be moving faster than expected in completing its work. Two witnesses who were scheduled to testify before the panel on Tuesday, former lieutenant governor Geoff Duncan and journalist George Chidi, testified Monday instead.