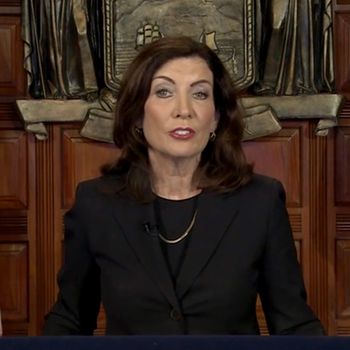 Photo: @GovKathyHochul/Twitter
Governor Kathy Hochul is calling on President Joe Biden to provide the state with more federal aid in the wake of an ongoing influx of asylum seekers settling in New York.
During a speech Thursday afternoon, the governor said that she had sent a letter to Biden outlining four areas that need to be addressed with increased money and action from Washington. Hochul said the state and New York City have expended "enormous resources" to assist thousands of incoming migrants, many of whom were directed to the state by Republican governors, who she said were looking to "score cheap political points." But she made it clear that additional outside help is needed.
"This crisis originated with the federal government and it must be resolved through the federal government," she said.
In her letter, Hochul reiterated her and Mayor Eric Adams's call to expedite work authorizations for asylum seekers, an action both leaders have said would ease some of the pressure on the local and state governments as well as shelters by allowing prospective workers to earn money to support themselves and their families. She said the state Labor Department will begin a program that will help connect migrants to employment opportunities in anticipation of an accelerated authorization process.
The governor also called on Biden to provide additional financial assistance to the state, asking for funds that will be allocated toward medical testing and transportation, as well as to local school districts that are receiving new students from migrant families. She noted that the state government has committed more than $1.5 billion so far and that it could expend around $4.5 billion next year, based on current projections. In the city, Adams has previously said the asylum-seeker crisis will ultimately cost $12 billion. Hochul is also calling for Washington to reimburse the state government for costs related to the deployment of nearly 2,000 National Guard members to the city, expenses that total more than $22 million a month.
"This is a financial burden the City and State are shouldering on behalf of the federal government," Hochul wrote.
On the subject of housing, the governor is asking for help in identifying federally owned sites that could be used as potential shelters for asylum seekers. Most recently, Hochul and the White House have engaged in talks about housing migrants at Floyd Bennett Field in Brooklyn and reached a tentative agreement to use the airfield, per Gothamist.