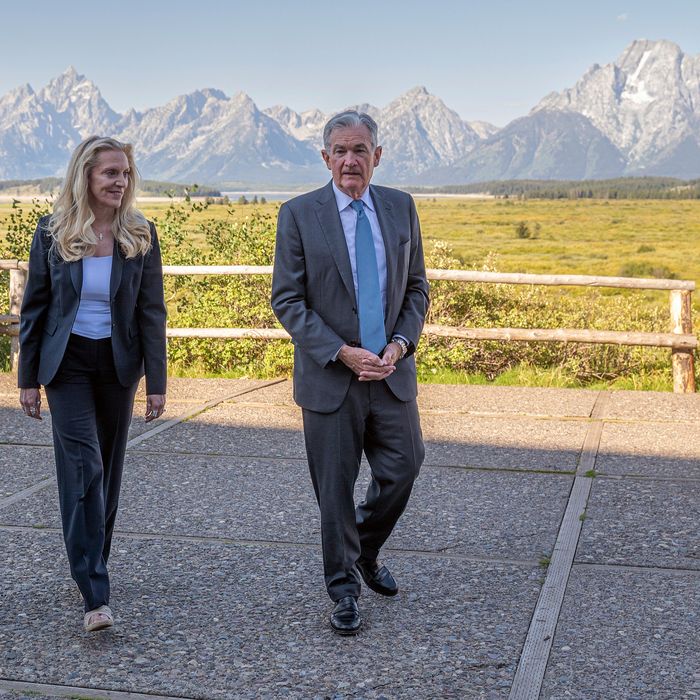 Powell's major speech in Jackson Hole last year was a turning point. He's giving another one on Friday.
Photo: David Paul Morris/Bloomberg via Getty Images
A year ago in Jackson Hole, Wyoming, at the Federal Reserve's annual gathering at the foot of the Tetons, Jerome Powell gave a sobering warning. "While higher interest rates, slower growth, and softer labor market conditions will bring down inflation, they will also bring some pain to households and businesses," the Fed chair said, predicting an uptick in unemployment. "These are the unfortunate costs of reducing inflation."
But Powell was wrong. While inflation has come down from 8.5 percent then to 3.2 percent in July, the unemployment rate has remained the same, at 3.5 percent, after falling slightly last month. In June, stocks officially reentered a bull market. And while until recently, everyone from economists to CEOs to stock investors was worried the Fed might cause a recession by hiking interest rates, that now appears less and less likely as the economy expands, not shrinks, with GDP growth accelerating in the second quarter to 2.4 percent. The Fed staff themselves "are no longer forecasting a recession," Powell said in July. Even the commentator Kyla Scanlon, coiner of the term "vibecession" — bearish vibes without the economy actually receding — has basically declared it over.
As the Fed once again gathers this week in Wyoming, with Powell set to deliver another highly anticipated speech on Friday, there is a burgeoning sense of optimism in the air. "I think we're probably okay, and then we could be really happy," says Dean Baker, senior economist and co-founder of the Center for Economic and Policy Research. "Frankly, I think it would be crazy not to be."
The unexpectedly rosier outlook has many observers applauding Powell for pulling off what not too long ago appeared highly unlikely, if not impossible: taming inflation with an unprecedented sequence of supersize interest-rate hikes — without throwing the economy into shock or precipitating mass layoffs. "It had never been done before, and not even Larry Summers was saying to raise rates that quickly," says Jason Furman, a Harvard economist and former adviser to the Obama White House. (Last year, he told me he had trouble imagining how inflation would come down to current levels without a recession.) "They sort of went further and faster than what their critics were calling for, and I think that was really impressive to have grasped it was possible and necessary."
Congratulations for Powell are pouring in. A Bloomberg headline last week praised "The Economic and Political Genius of Jay Powell," while Barry Ritholtz, an investor and financial blogger, wrote, "Dear Jay, Mazel tov! You beat inflation and avoided a recession. Revel in the sweet taste of victory as you fly-fish with other central bankers at the annual symposium in Jackson Hole, Wyoming." A Reuters columnist recently mused that "Jerome Powell may lay claim to being the most successful Fed chief in history."
Unlike his predecessors, Janet Yellen and Ben Bernanke, Powell does not cut the figure of an erudite economist. An investment banker before serving in the Bush administration, he then spent time in private equity at the Carlyle Group. One of his greatest accomplishments was simply ignoring Donald Trump — who has called Powell an "enemy" and likened him to Xi Jinping — and his entreaties to lower interest rates.
But while the Fed has so far threaded the needle between inflation and a recession, no one, not even Powell himself, is really sure how. After all, higher interest rates, historically, have come with nasty side effects, from job losses to slowing growth.
"The strength of the U.S. economy has surprised everybody, including the Fed," says Mohamed El-Erian, the chief economic adviser at Allianz and the president of Queens' College, Cambridge. El-Erian, who has criticized the Fed for being slow to react to inflation, told me last fall that there was a "low probability" of avoiding recession, which he called "tragic." "It's not as if the Fed provided for a stronger economy," he told me this week. "The Fed was lucky to have a stronger economy."
Indeed, Powell's prediction about the necessity of "pain" to fix inflation was just one of several things, economists now agree, that the Fed chair has gotten wrong since the pandemic. The first was mistakenly believing that the high inflation coming out of the COVID crisis in 2021 was a temporary phenomenon ("transitory," in Fed-speak). When inflation didn't go away as quickly as the Fed hoped, the central bank still waited too long to raise interest rates in order to cool off the economy, only beginning to hike them in March 2022. It was easy to see in hindsight that Powell had been caught flat-footed. By that summer, inflation surpassed 9 percent.
In elite economic circles, there's a feeling that the Fed has succeeded in spite of itself. "They have consistently underestimated inflation and overestimated unemployment," El-Erian says. "They thought that the economy would be hit much harder, and they thought unemployment would be hit much faster, and they've been wrong consistently on both."
Economists are questioning whether it's Powell and his monetary policy that deserve the credit for falling inflation, or other factors outside of his control, such as energy prices. "Everyone always complains about the Fed, and basically when the data is bad, everyone's going to think they're idiots, and when the data is good, everyone's going to think they're geniuses," Furman says.
Now there's growing talk that Powell's inflation target itself — 2 percent — is also wrong, with economists like El-Erian and Furman suggesting that we all get comfortable with the slightly higher levels we're at now rather than risk a recession trying to go lower. They will be watching Powell's speech Friday looking for signs that the Fed chair is open to changing his mind.
One thing even critics agree Powell has done well is course-correcting when he has erred. "He gets credit for acknowledging his mistake and doing something about it," says David Wessel, a senior fellow in economic studies at Brookings. In November, Powell told Wessel in an interview at Brookings that he regretted giving a certain type of forward-looking guidance, and "that I probably wouldn't do again."
Even amid the accolades, no one expects Powell to take a bow in Jackson Hole this week. As Fed chair, he knows that no one will be too upset if the economy turns out better than he predicts. Besides, there's still the possibility that conditions will sour — some economists fret about another Silicon Valley Bank–like collapse, and inflation could always return.
"He helped steer us towards this nirvana of the soft landing. He will get credit if we have a soft landing, he'll get the blame if we don't, that's inevitable," Wessel says. "I think that it's somewhere between a mystery and luck, and we have to be careful that we're not about to just turn the corner" — into a recession.