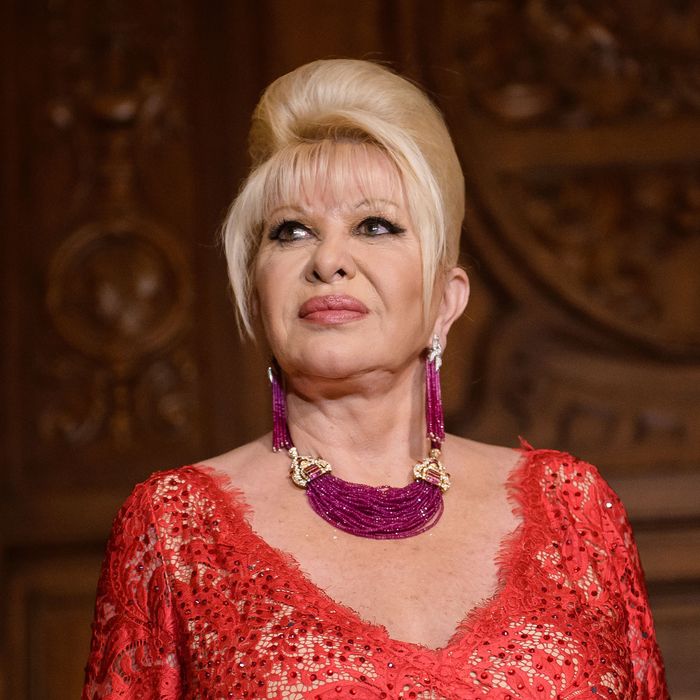 Photo: Noam Galai/Getty Images
It's been more than a year since Ivana Trump died from injuries she suffered in a fall, and one of the biggest mysteries surrounding her death remains unsolved. Donald Trump's ex-wife, the mother to their three children Don Jr., Ivanka, and Eric, was known for her opulent style. Yet for some reason, she was buried in a simple grave at Trump National Golf Club in Bedminster, New Jersey, a property the mogul purchased a full decade after their divorce, which seemingly had no special significance for Ivana.
Two of the top theories on this bizarre move were that Donald Trump legitimately considers the spot beautiful, and that this was the culmination of his 15-year quest to turn Bedminster into a cemetery. But if that's the case, why did he let Ivana's gravesite become overgrown and patchy in the past year?
Over the weekend, the Daily Mail reported that Ivana's grave is now "barely visible." As of Friday, August 11, the gravesite was "cordoned off preventing well-wishers from approaching the area to pay their respects." Photos obtained by the outlet show grass covering the edges of a simple plaque that reads simply "IVANA TRUMP" with the dates of her birth and death. There are brown patches of grass on the grave, and weeds growing close to the headstone.
While Donald Trump made Mar-a-Lago, his Palm Beach, Florida resort, his primary residence in 2019, he still spends plenty of time at Bedminster. He was at the club last week hosting the LIV golf tournament. Two of Ivana's children, Ivanka and Eric, were at the club in recent days as well, filling in for their dad at the tournament while he made an appearance at the Iowa State Fair.
The Daily Mail did get an explanation for the state of Ivana's grave, but it wasn't very good. The outlet reported, "A Trump official said the soil and foundation needs time to fully set, at which time a larger headstone will be used." I am not an expert on gravestone installation, but the soil has been setting for more than a year. And that doesn't explain why Bedminster groundskeepers aren't taking better care of the gravesite.
So what should we make of this strange development? Naturally, conspiracy theories are flying again on social media, but I can't engage with ludicrous claims that the grave actually contains secret documents, not Ivana's remains. So for now I am going to chalk this up to Donald Trump getting excited about being a cemetery proprietor but having little interest in performing the job competently, much like his approach to being president of the United States.