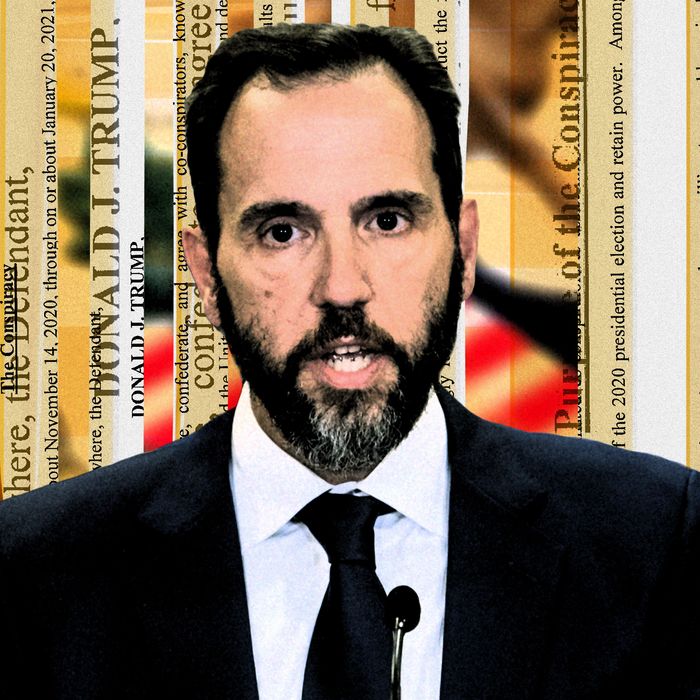 Photo-Illustration: Intelligencer; Photos: Getty Images/Department of Justice
Special Counsel Jack Smith is seeking to try Donald Trump early next year for his attempt to overturn the 2020 election results, a move that could see the former president in a courtroom during the height of his reelection campaign.
On Wednesday, Smith's team submitted a potential schedule for the proceedings, proposing that jury selection begin on December 11, 2023 with the trial starting on January 2, 2024 following the winter holidays. In the court filing, the Justice Department estimates that the trial will "take no longer than four to six weeks," adding that the defense will have about five months in order to review discovery.
If Judge Tanya Chutkan approves the DOJ's timeline — which is a big if — one of the most highly anticipated federal court cases of all time would fall just as presidential primary season really gets going. The Iowa Republican caucus is slated to beginning on January 15, 2024. Chutkan is expected to decide upon a date during an August 28 hearing.
Prosecutors said that the nature of the charges alleged in the case require the proceedings to be held swiftly.
"A January 2 trial date would vindicate the public's strong interest in a speedy trial — an interest guaranteed by the Constitution and federal law in all cases, but of particular significance here, where the defendant, a former president, is charged with conspiring to overturn the legitimate results of the 2020 presidential election, obstruct the certification of the election results, and discount citizens' legitimate votes," they wrote.
But Trump's legal team will have the opportunity to submit its own proposed schedule for the trial and will likely ask for a much later date. The former president's lawyers have previously sought to delay legal proceedings until after the 2024 election, claiming that Trump wouldn't be able to receive a fair trial while running for reelection.
Renato Mariotti, a former federal prosecutor, called the proposed schedule "a very aggressive proposal by Jack Smith's team."
"I would think of this proposal as an "anchor" meant to put a marker down and orient the discussion towards a very early/quick trial date in the January 6th case," he said in a tweet.