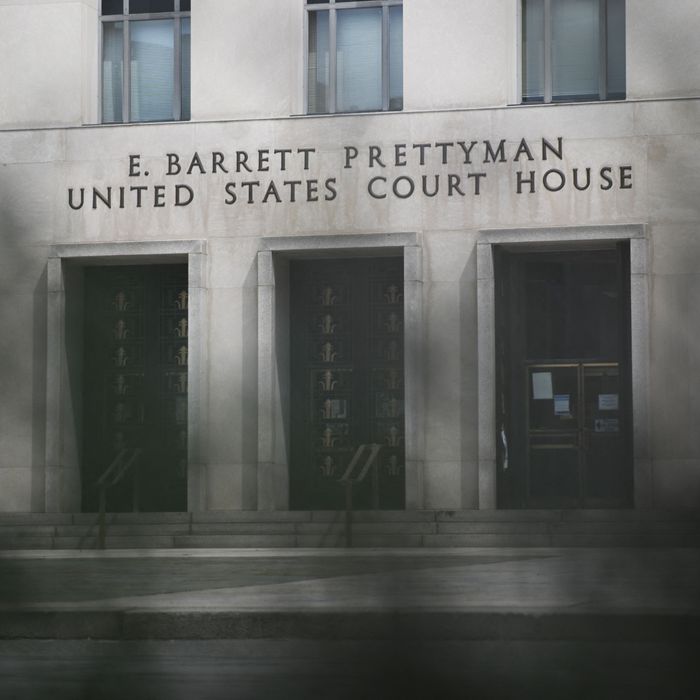 Photo: MANDEL NGAN/AFP via Getty Images
The federal judge overseeing Donald Trump's election case said on Friday that the former president will be subject to a limited protective order barring him from publicly sharing sensitive information provided by the prosecution.
Prosecutors working for special counsel Jack Smith argued for a more restrictive order stopping Trump from sharing any information handed over in discovery, fearing that he would use the process for "political purposes" during the upcoming presidential election. But Judge Tanya Chutkan said that prosecutors did not provide good cause for all discovery materials to be subject to the protective order — adding that she would "not factor into my decisions how it will factor into a political campaign." Chutkan ultimately sided closer to the Trump team's position, which argued that only "sensitive" materials, like grand jury documents, be out of bounds for Trump to discuss.
Her compromise was to allow Trump to review sensitive grand-jury information without a lawyer looking over his shoulder. To stop him from taking pictures or making copies, the former president would not be able to bring his cell phone or any other device into the room. "Your client's defense is supposed to happen in this courtroom, not on the internet," Chutkan told Trump's attorneys.
"Mr. Trump, like every American, has a First Amendment right to free speech," she said. "But that right is not absolute." Chutkan, who has handed down severe sentences in prior cases related to the Capitol riot, warned Trump's attorneys that an earlier trial may be necessary if their client makes "inflammatory statements" that could potentially taint the jury pool. "I will take whatever measures are necessary to safeguard the integrity of these proceedings," she said.
The argument over the protective order began last week when Trump posted a vaguely threatening message on Truth Social: "IF YOU GO AFTER ME, I'M COMING AFTER YOU!" Prosecutors included a screenshot of the message in their motion for an expansive protective order, arguing that Trump could use the information to intimidate witnesses. As Trump flailed online calling for the recusal of Chutkan, his legal team argued that the protective order would be an "overbroad" attempt to silence their client during his third run for the White House.
Even a strict protective order would not function as a gag order barring Trump from speaking about the case. For example, Trump is subject to a similar protective order in the case in Manhattan regarding his hush-money payments to Stormy Daniels — and that certainly hasn't stopped him from speaking publicly or trash-talking the district attorney prosecuting the case, Alvin Bragg.