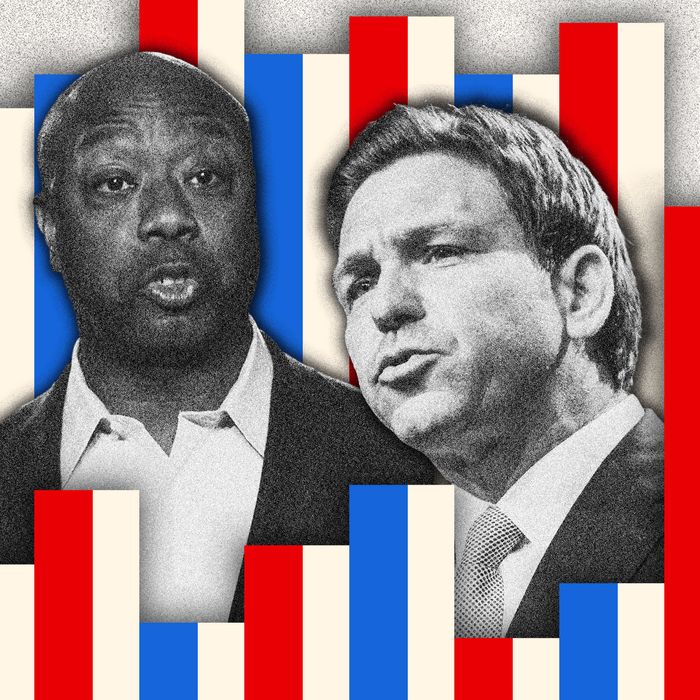 Can DeSantis catch Trump, or will he be caught by Scott?
Illustration: Intelligencer; Photos: Getty Images
Normally it's not a good idea to pay too much attention to any one political poll. But an exception can be made for the Iowa poll just released by the Des Moines Register in conjunction with Mediacom and NBC News. This gold-standard poll, conducted for many years by Ann Selzer, is something of an institution in Iowa. And given very limited Iowa polling this year along with the first-in-the-nation caucus's emergence as a potential Achilles' heel for Donald Trump, Selzer's latest findings will echo around national political circles for some time.
As it turns out, the poll showed very little recent movement in Iowa among the Republican candidates who have been concentrating on the state (most recently with appearances at the Iowa State Fair). Selzer shows Trump leading as the preferred candidate of 42 percent of likely caucusgoers (almost exactly where other polls have placed him in the last several months). Ron DeSantis, who has devoted enormous resources to Iowa, is at 19 percent; the most credible recent Iowa poll from New York Times/Siena had him at 20 percent. And like every survey of the state's Republicans since early summer, the Iowa poll shows Tim Scott as the candidate to watch among the also-rans, with 9 percent. His campaign has also made a sizable media buy in Iowa for the autumn.
The numbers could have been worse for DeSantis, whose national campaign has been in a swoon for weeks now. Selzer shows him with a solid favorability ratio of 66 percent to 29 percent (basically the same as Trump's), and enough second-choice preferences to illustrate a path to victory if Trump stumbles. The Florida governor is also holding off Scott and other rivals more handily than he is in other early states (especially New Hampshire and South Carolina). But Trump's Iowa supporters are significantly more likely than DeSantis's to say they've made up their minds to support the former president, and Selzer says her data shows him gaining strength after his fourth criminal indictment in Georgia on Augusst 14. Trump is also running especially well (at 47 percent) with self-identified Evangelical voters, a key Iowa GOP constituency that he lost in 2016 on the way to losing the caucuses to Ted Cruz.
Five months before the 2024 caucuses, Ron DeSantis really needs to play error-free ball in Iowa. While the state's caucus system places a premium on ground organizing, its highly politicized voters will be paying close attention to national-campaign developments like the August 23 and September 27 candidate debates, which Trump will apparently skip, making DeSantis potentially the big star or instead a pincushion. Tim Scott and the rest of the GOP field will be looking for debate breakout moments. If DeSantis can survive the next few weeks, he could get some help in Iowa from potential allies like popular governor Kim Reynolds (who made it clear this weekend she might yet abandon her position of neutrality) or Evangelical kingmaker Bob Vander Plaats.
But the bottom line is that Trump currently holds a 40-point lead over DeSantis nationally (according to the RealClearPolitics polling averages) and, despite a perception of vulnerability in Iowa, hasn't really lost any ground there. As Steven Kornacki points out, there's no past example of a candidate with Trump's current lead in the Iowa poll ultimately losing the caucuses:
So DeSantis is down but not out, and it's anyone's guess as to whether he should worry more about Scott and other rivals nipping at his heels or about Trump's remarkably durable support among Republicans and his ability to deny opponents the attention they need to give him a real challenge.