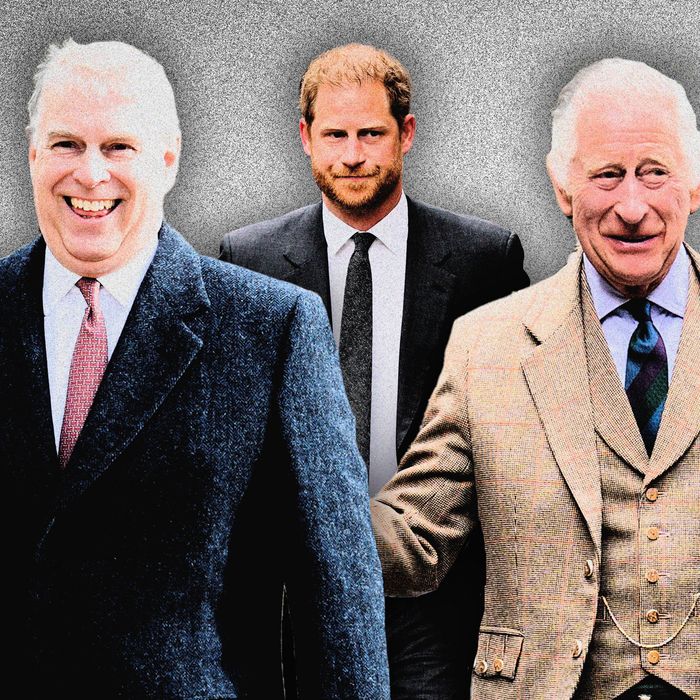 Photo-Illustration: Intelligencer; Photos: Getty
In a shocking development from Britain's royal family, this week, Prince Andrew, the disgraced brother of King Charles, got a ride to church with Prince William and Kate Middleton.
If carpooling to church doesn't seem like that big a deal, you probably haven't been keeping up with the royal drama over the past few years. To recap, after Jeffrey Epstein was arrested in 2019, Prince Andrew's friendship with the (now deceased) sex offender as well as his (now convicted) associate Ghislane Maxwell received new attention. Then, in 2022, the prince settled a civil suit brought by alleged Epstein victim Virginia Roberts Giuffre, who accused Andrew of sexually abusing and raping her as a minor. He did not admit any guilt, but he reportedly paid around $13 million to settle the suit.
The royal family responded to these horrifying allegations and Andrew's disastrous attempt to defend himself in a BBC interview by gradually diminishing his role in royal life. Andrew stepped back from public duties in 2019, then in 2022 he lost his military titles, his royal patronages, and the right to style himself as "his royal highness." Andrew didn't fully disappear from royal life, supposedly because he was Queen Elizabeth's favorite son. But Charles and William reportedly did not even want to be photographed with him, and it was widely assumed that he'd be treated far more harshly after the queen's passing.
Initially, it seemed that was exactly how Charles was handling his brother. Like Prince Harry — who stepped down from royal duties in 2020, moved to America, and published a tell-all memoir — Andrew was not allowed to wear a military uniform to Queen Elizabeth's September 2022 funeral or salute her coffin. A few months later, Charles reportedly told Andrew that he no longer had access to his suite of rooms at Buckingham Palace. And throughout the first half of 2023, there were reports that Charles was trying to evict Andrew from Royal Lodge, his longtime home in Windsor, and move him into the much smaller Frogmore Cottage, Harry and Meghan Markle's former home. But the Duke of York was "refusing to budge," according to The Independent's sources, despite fears that Charles might "turn off the utilities to get him out of there."
Yet, there Andrew was, nestled in a car with William and Kate on Sunday at Crathie Kirk, the church the royals attend during their summer stays at Balmoral Castle in Scotland. William drove to the church with his uncle in the passenger seat and his wife in the back seat. Andrew and Kate switched seats on the way back.
William, who has been dealing with his own (far less scandalous) image problems recently, reportedly had no interest in participating in this show of support for Andrew, but his objections were overruled by the king. Per The Mirror:
The monarch has made it clear to the senior royals that Prince Andrew would not be shut out any longer and suggested the Prince of Wales would be the one to drive him to church in Scotland last Sunday, sources have revealed. His appearance alongside the future king and queen, while knowing they would all be photographed, has been seen as a major boost in the York camp towards the Duke's rehabilitation.




… After the public declaration of support from William and Kate, with Andrew riding in the car to and from the service in Balmoral where the royals are on holiday, one source said: "It's more than he (Andrew) could have wished for."
And Charles's royal rehabilitation scheme didn't stop there. The entourage also included Lady Susan Hussey, a longtime lady-in-waiting to Queen Elizabeth, who left her role last year after making prejudiced comments to a Black guest at a Buckingham Palace reception.
Neither Andrew nor Lady Susan are expected to resume their formal royal roles. A source told The Telegraph that the king is "absolutely resolute" that there can be "no return to public duties" for Andrew. And People reported, "Though Lady Susan's latest appearance signifies that she remains within the royal fold, she is no longer a member of King Charles's team."
So why are the royals embracing these rogues if their duties aren't actually changing? Maybe Charles just wants to remind us that he's the monarch and he doesn't really care what the plebs think of him. Or maybe he's just been in a forgiving mood.
One thing seems clear, though: The king's magnanimity does not extend to his youngest son. Harry is set to be in England, without his wife, for the Well Child Awards on September 7, a day before the anniversary of Queen Elizabeth's death. The Daily Beast reported that he "is not likely to see his father or brother, and will not be expected to attend any private or public family gatherings to mark the late queen's passing." Supposedly, William and Kate are "irritated" that Harry will be in town, as his presence might "overshadow their plans" to memorialize the queen.