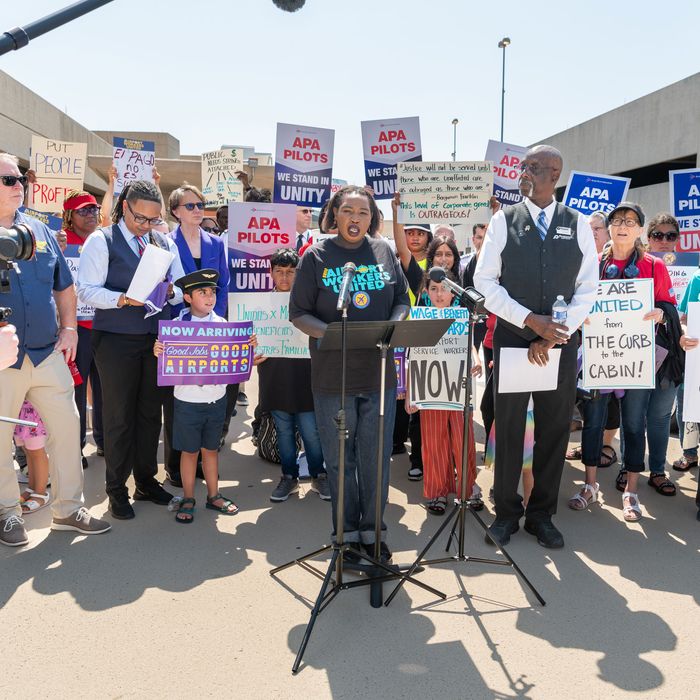 Airline contractors at Dallas Fort-Worth airport in June.
Photo: Avi Adelman
Atoung Angis struggled with an infection in her mouth so painful it sent her to the hospital. There, doctors pulled two teeth and admitted her for three days while they monitored her recovery. Her employer, a contractor for American Airlines, was not so patient. "You better come to work because we do not have sick days," she remembers being told. Though she was fortunate to not lose her job as a passenger-service worker at the Dallas–Fort Worth International Airport, her hospital stay still cost her: She lost three days of pay.
Then the blows began to fall. First, Angis fell behind on rent. She got evicted in late 2022, and because she couldn't find space in a family shelter, she had to send her 4-year-old daughter to live with relatives. With ten people already there, there was no room for Angis, so she moved into a women's shelter, where she has lived for nearly 11 months. To get to work, Angis takes a bus and a train from the shelter, a commute that takes around two hours each way. (When her hours were cut at the height of the pandemic, she lost her car after defaulting on payments.) A judge ordered her to pay $2,000 after her eviction, and the debt got sent to a collection agency. She says that thanks to a post-judgment interest rate, she now owes $5,000.
Airports couldn't run without thousands of airport-service workers like Angis, who clean airplane cabins, help handle baggage, and assist unaccompanied minors, among other duties. Angis is a wheelchair assistant, helping passengers with disabilities get to and from their flights. It can be physically taxing work, and she does it for $12 an hour, up from the $6 wage she earned when she started working at the airport 20 years ago. Back then, she tried to help her aunt pay family bills, but the aunt threw the money back in her face. "She was like, 'What is this?'" Angis remembered. "And I'm like, 'This is not my fault. I didn't do it.'"
Now, as organized labor captures national attention with a summer of strikes, Angis and airport-service workers across the country are leading a campaign of their own. They say the travel chaos experienced by so many passengers is owed, in part, to their exploitation. In June, contract workers for American Airlines at 14 major travel hubs organized rallies with SEIU to protest low wages and poor working conditions. Angis has spoken at the rallies, though she told me that she "is not a good speech person."
"But I'm like, I need to do this," she added. "This is important not just for me, but it's for my daughter and for my co-workers and for everybody else, so I need to muster up courage."
Airport-service workers want the Senate to include language in its reauthorization of the FAA budget that would raise their wages, and give them money for health-care benefits and paid time off, putting them on par with the federal government's contract workers. The campaign has been led by a coalition of unions including UNITE HERE and SEIU, the latter of which represents nearly 40,000 airport-service workers. Angis isn't one of them, but she wants to change that, too, and is organizing for a union.
A union and a living wage might keep her American Dream alive. When Angis and her family fled Sudan in the late 1990s, they received offers for asylum from the U.S., Canada, and Australia. They chose the U.S. "Through the media, they just tell you all the good stuff about U.S. — the best country in the world. It's the land of opportunity. They give you everything you need. And that was my impression," she said. The past 20 years working at a poverty wage have shown her the reality.
That reality is widespread for airport workers. Shellilyn Marie makes $13.85 an hour as a passenger-service assistant at Arizona's Phoenix Sky Harbor International Airport, where it was recently 100 degrees when she started her shift at 5 a.m. Her co-workers have passed out, she told me, and they don't get enough breaks to hydrate and rest. Like Angis, she struggles to survive on her pay. "We don't live paycheck to paycheck," Marie said. "I'm literally living day-to-day because my wages barely cover my expenses." She provides wheelchair assistance to passengers with disabilities and, like Angis, isn't allowed to ask for tips. Some customers tip anyway, though many are traveling for health reasons and have little money to spare. "We depend on these tips from these disabled people, which a lot of times they don't even tip because they're on a fixed income and they're not aware that they're supposed to tip," Marie said. The workers and the passengers are trapped, often, in the same web of poverty.
While workers struggle, major airlines rake in billions. Though Angis and Marie both work for contractors, the airlines they service are largely responsible for their poor working conditions, according to Rob Hill, the executive vice-president of SEIU 32BJ. "If you're traveling, you would think of them as people who work for the airline that you're traveling on, but in fact, a good chunk of them are contracted out to other companies," he said. "And the airlines have done that to essentially force companies to bid the work for whoever can pay the least. That's driven the wages down for the contracted workers [and] for direct workers as well." Airlines treat contracted workers "like second-class citizens that they claim don't work for them," he added. "But in fact, the airlines control what they make and what their conditions are, which are pretty horrible."
Joy Vaughn, who works principally with American Airlines passengers at Dallas–Fort Worth, said that passengers often confuse her for a direct employee. "I am in an American Airlines uniform," she said. "I look just like an American Airlines employee, so a lot of people don't even know that I'm contracted or subcontracted through the company." When passengers are angry at the airline, they sometimes take it out on her. "If we can just get the public more involved and get people to see what we go through, because nobody knows what we go through," said Vaughn. "Nobody knows that months ago, a passenger threw a bag in my face and my nose was bleeding and busted. Nobody knows that. Nobody knows what we go through. I endure racial slurs every other day at work." People think that because she works for American Airlines, she's got it made, she added. "No, I don't have it made. I wish I did, but I don't," she said.
Hill believes that a successful campaign would improve conditions for workers and passengers alike. Angis might make her way out of the shelter, and passengers would encounter more stability when they travel. High rates of worker turnover contribute to travel chaos, Hill said. "All the airlines are short-staffed because they're refusing to pay people enough money to stay at the job," he said. As passengers contend with long lines and canceled flights, workers reckon with existential concerns. The dream that drew Angis and her family to America is in danger of falling apart.
"I expected it to be good, for everything to work out, but things don't just work out like that," she said. "I expected a better place to live, but my better opportunity turned into nightmares right now. I'm living my worst nightmare." Organizing is a strategy for hope. "It showed me that we can fight for what's right. We can fight for a better opportunity," she added. "We can also speak for other people, not just for yourself, but for other people. We can improve the work environment. We can improve everything."